Solar Impulse 2's penultimate stop in Egypt
Solar Impulse 2 has landed in Cairo, Egypt – its last stop before finishing its world tour in Abu Dhabi, where it all started last March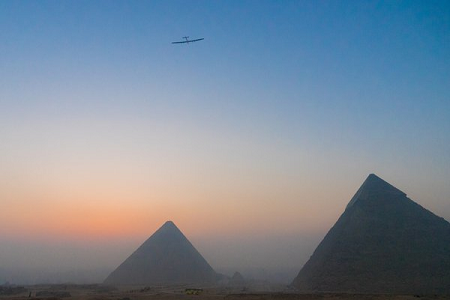 Solar Impulse 2 has landed in Cairo, Egypt – its last stop before finishing its world tour in Abu Dhabi, where it all started last March.
The plane had landed in Seville, Spain in June, completing the first solar-powered solo transatlantic flight.
Solar impulse departed from Spain last Monday and flew over Algeria, Tunisia, Italy and Greece to finish in Egypt and landing at around 7.10am (5.10am GMT).
The average speed of the plane during the journey was of 76.7km (47.7 miles) an hour for a distance of 3,745-km (2,327-mile) from Spain to Egypt, out of a total distance of 35,400-km (22,000-mile).
The two pilots, Bertrand Piccard and André Borschberg, want to demonstrate the power of new technologies and renewable energy sources thanks to their world tour.
Piccard said: "It's a new era for energy... I love to fly this plane because when you are in the air for several days you have the impression to be in a film of science fiction."
He added: "You look at the sun, you look at your motors, they turn for days and for days, no fuel. And you think that's a miracle. That's magic. It is actually the reality of today. This is what we can do with these new technologies."
During the flights, the two pilots alternate to take the commands of the plane, and take 20min naps.
Piccard said: "It is comfortable. But of course you need to train for that. You need to train to make some exercise in the capsule, in the cockpit, because otherwise after several days you cannot move your legs and your arms anymore."
But according to the pilots, solar-powered commercial planes will not be developed before long.
Piccard said: "But there will be passengers very soon in electric airplanes that we will charge on the ground. On the ground you can charge batteries and you can have short haul flights maybe 500 km with 50 people flying in these planes."