First 100% solar-powered airport expands its capacity
The world's first airport to be solely powered by solar energy is set to increase its capacity from 15.5 megatwatts (MW) to 21.5 MW to power its new international terminal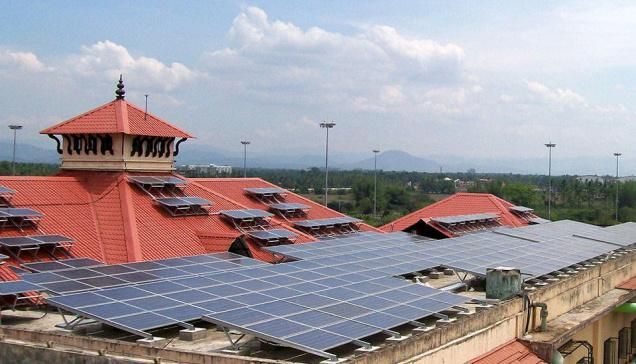 The world's first airport to be solely powered by solar energy is set to increase its capacity from 15.5 megatwatts (MW) to 21.5 MW to power its new international terminal.
In 2015, Cochin International Airport in southern India became the first airport to run on 100 per cent solar energy with the installation of a 12 MW solar power project.
The 46,000 solar panels provided more electricity than was required by the airport, promoting Cochin International Airport Limited to expand the project to 15.5 MW, with the excess electricity being sold to the grid.
To power the new terminal, the airport plans to generate an additional 6 MW through installations situated in three locations on the airport's grounds.
A total of 8,500 solar panels will be installed on the roof of the new solar carport, which can accommodate up to 14,000 cars and can generate at least 2.5 MW of power.
The parking lot will also host electric vehicle charging stations.
Two other installations will be located on the hangar premises and on the southern side of the airport complex.
Several other airports in the country are also looking to develop utility-scale solar power projects and as many as 143 airports across India will install a combined total of 148 MW of solar capacity – according to the nation's Minister for Civil Aviation.
In addition, plans laid out in India's union budget earlier this year, revealed that the nation's railways – the leading consumer of power – will become the country's leading producer of solar energy.
India's Finance Minsiter Arun Jaitley said that the project "is proposed to feed at least 7,000 stations with solar power in the medium term."
The move is a part of the Indian Railways' mission to harness 1,000 megawatts (MW) of solar energy by 2020.
Under the project, stations will be fitted with rooftop solar power systems in addition to the setting up of solar power plants through developer mode along with a long term Power Purchase Agreement (PPA) by the railways.
For the latest news on clean transport as well as renewable energy, sustainability and climate change sign up to our free newsletter here.