Paris 2024 ready to deliver the most sustainable Games ever, in line with the Paris Agreement
The Paris 2024 Olympic and Paralympic Games Bid Committee announces a bold strategy for the most sustainable Games ever – a unique celebration of passion and purpose to be shared with the world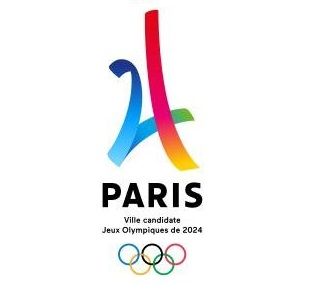 PRESS RELEASE - Paris, France – 31 January 2017 - The Paris 2024 Olympic and Paralympic Games Bid Committee announces a bold strategy for the most sustainable Games ever – a unique celebration of passion and purpose to be shared with the world.
As the first Games fully aligned with the Paris Climate Agreement, Paris 2024 offers a compact plan, the best transportation system at service of the Games, athletes and fans at the heart of a global city and innovative sustainability initiatives. Paris 2024 has 95% of planned venues as existing or temporary structures, setting the stage for spectacular competition venues with a ground breaking emissions reduction strategy resulting in a 55% smaller carbon footprint than London 2012, widely agreed to be the most sustainable Games to date.
Paris 2024 environmental safeguards and climate action strategies are at the heart of its planning which is fully aligned with the global climate deal agreed by nearly 200 countries at the Paris Climate Conference (COP21), ratified in November 2016.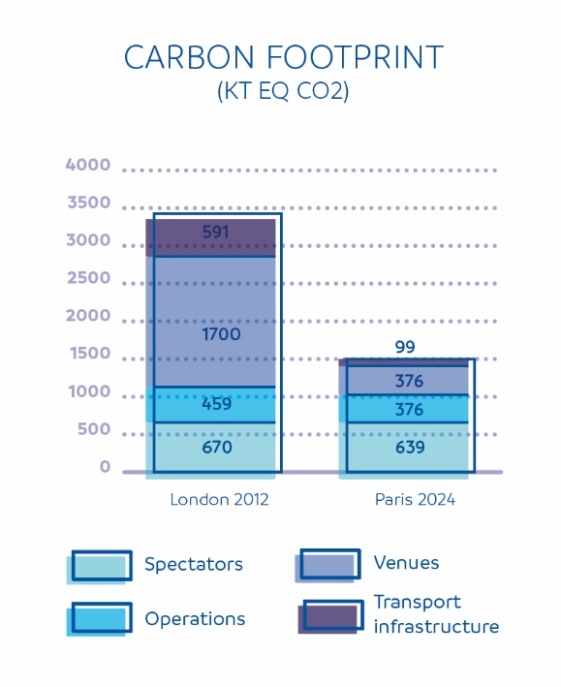 The impact of spectators will represent just over 40 per cent of the overall total thanks to a clean transport policy which includes innovations from RATP, a Paris 2024 Official Sponsor:
100% of spectators in public or shared transportation
85% of athletes 30 minutes away to competition sites from the Village
100% of energy will be green electricity
A compact project with close to three quarters of spectators within 30 minutes of Olympic and Paralympic venues by bike
A fleet of clean buses thanks to RATPA high performance rail network which links 85% of French cities with 100,000+ inhabitants to Paris in under four hours, while also connecting Paris to many other major European capitals
Low carbon and eco-designed buildings in the Olympic and Paralympic Village, a model of sustainable development, will ensure the impact of construction represents less than 30% of the total. The Village will target the use of 100% renewable energy and will have a strong zero waste policy. A fleet of zero emission vehicles for the entire Olympic and Paralympic Family and the use of temporary infrastructure during Games-Time will help reduce the running of the Games to less than a quarter of the total impact.
The Paris 2024 Olympic and Paralympic Bid Committee is also leading an ambitious carbon offsetting policy at both a national and international level and is on track to become the first carbon neutral Olympic and Paralympic bid campaign thanks to its action with the Caisse des Depots et Consignations - Paris 2024 Official Sponsor, who is neutralising the bid's carbon emissions. This sits alongside its strategic partnership with WWF France via a dedicated environmental committee. In addition, Paris 2024 is also targeting ISO 20121 certification: it will be the first time a bid committee has sought the international best practice certificate in sustainable event management.
Sponsored Content
This builds on a strong year for the city of Paris, which has further established itself as a global leader in environmental initiatives and at the forefront of the fight against climate change. In 2016 Paris beat 125 cities to be crowned World Wildlife Fund (WWF) Global Earth Hour City after it was judged a role model on climate action by an expert international jury. 2016 was also the year that saw Paris Mayor, Anne Hidalgo, elected President of the C40 Cities Climate Leadership Group, a network of the 85 biggest global cities, which work together to create sustainable and liveable cities for citizens. Last month Paris also picked up a prestigious C40 Cities Award, recognising it as one of the world's most inspiring and innovative cities tackling climate change.
More recently, organisers of all major sporting events in France signed a charter on sustainability with Paris 2024 and WWF France. This demonstrates, once again, the positive impact the Olympic and Paralympic bid is having on the country's sustainability policies.
Paris 2024 Co-Chair, IOC Member and triple Olympic Champion, Tony Estanguet, said:
"We are on track to be the most sustainable Games to date, allowing us to fully align with the groundbreaking Paris Climate Agreement, helping protect our planet for future generations. Paris 2024's commitment to delivering truly sustainable Games with a strong environmental legacy is one of the driving forces behind our Games of passion and purpose."
"Through our compact Games concept and innovative use of eco-friendly transport and infrastructure solutions, we are creating a blueprint for responsible event hosting and sustainable urban development, which we hope to share with the world. While the city of Paris' determination to fight climate change reaffirms its status as a global leader in environmental initiatives and action against global warming. Our strategic partnerships with WWF France and the Group Caisse des Depots et Consignations ensure a best practice approach to sustainability is right at the heart of our bid."
Anne Hidalgo, Mayor of Paris, said
"Paris is a global city and as a global city it is our responsibility to champion sustainable growth and development that doesn't negatively impact the environment around us. It is our duty to take outward facing approach to the issue of climate change and work collectively to help create a world that future generations can be proud of. This extends to our bid for the 2024 Olympic and Paralympic Games. We are working hand in hand with Paris 2024 and its partners to ensure the Games we create will contribute to a broader understanding on the hosting sustainable global events."