Solar power phone charger launched to support UNs energy target
Little Sun has launched the Little Sun Charge to support the United Nations' target of achieving global access to modern energy services by 2030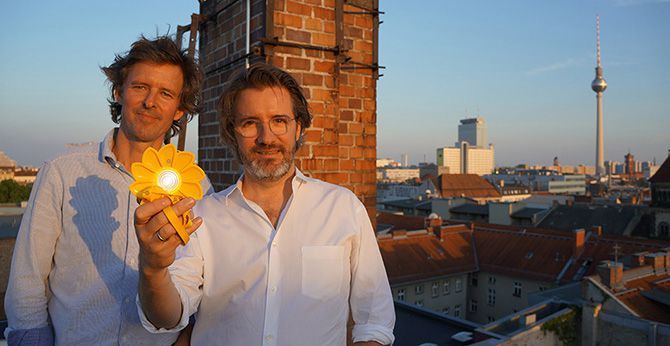 Danish-Icelandic artist Olafur Eliasson and Danish engineer and entrepreneur Frederik Ottesen have launched a solar power phone charger to support the United Nations' target of achieving global access to modern energy services by 2030.
The Little Sun Charge charges mobile devices and a built-in LED with solar energy and could revolutionise the telecommunications industry.
Eliasson (pictured left) and Ottesen (pictured right) have launched the charger on Kickstarter for €55 (£40) and the ultra-portable and fast-charging solar charger is designed to bring renewable energy to the consumer and to communities that live off-grid.
The Little Sun Charge follows Eliasson and Ottesen's successful Little Sun solar-powered LED lamp design aimed at bringing sustainable light sources to some of the 1.1 billion people worldwide who live without electricity.
The Little Sun lamp was designed as part of the UN Sustainable Energy for All Initiative to achieve universal access to modern energy services by 2030, established by the United Nations Secretary-General Ban Ki-moon.
Like the Little Sun, the Little Sun Charge features, a built-in LED, and high-efficiency solar cells.
The charger will fully power a smartphone after just five hours in the sun compared to most conventional solar chargers that take between eight and 20 hours.
Proceeds from the €50,000 Little Sun Charge Kickstarter will help support solar entrepreneurship in Africa and further Little Sun's mission to support the UNs SE4All initiative.
The designers said: "What is so great about solar technology is that it takes the sun – which is for all of us – and makes it available to each of us, no matter where in the world we are. The sun nourishes, it connects and empowers. Using sunlight, Little Sun Charge directly connects us with each other through our mobile phones."
Little Sun has distribution in over ten African countries, including in Zimbabwe, Ethiopia, Kenya, Senegal, and Ghana – as well as in Europe, Canada, Australia, Japan, and the United States.
Launched in July 2012 at London's Tate Modern, the Little Sun project has since distributed over 200,000 Little Sun lamps worldwide.