Coca-Cola launches new recycling campaign
Coca-Cola Great Britain has announced a new circular recycling campaign.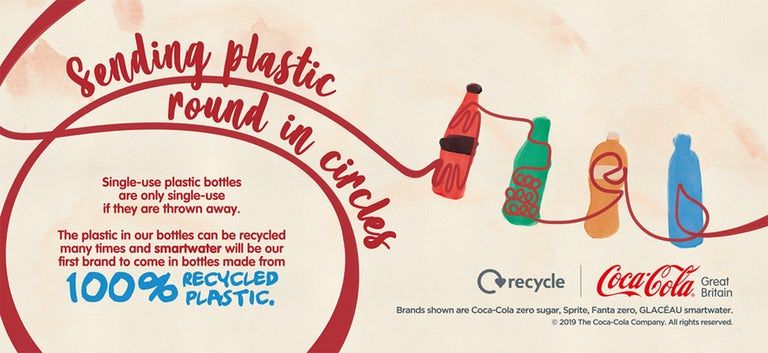 Coca-Cola Great Britain has announced a new circular recycling campaign.
As part of Recycle Now's Recycle Week, Coca-Cola has announced a new initiative calling on the public to help them ensure their plastic bottles go 'round and round in circles'.
The soft drink company's bottles and cans are all 100% recyclable, however they say that to ensure a transformation in the market, a reform of the recycling and recovery system in Great Britain is required.
This includes the introduction of a well-designed deposit return scheme, and secondly through using their packs and advertising to remind people their bottles and cans can be recycled.
Recycle Now campaign manager, Craig Stephens, says that the new initiative shows the company is "committed to making a difference to our environment".
Kris Robbens, marketing director at Coca-Cola Great Britain, said: "As well as taking action to make our packaging as sustainable as possible, it's important that we use our marketing and communications to encourage more people to recycle our bottles after they have enjoyed the drink. They are more likely to do this if they know they can be turned into new bottles again."
Recycle Week is not the only time that Coke have committed to a sustainable future. Last month, the number one mainstream water brand in the US, owned by Coca Cola, unveiled its new sustainable packaging scheme.
Dasani will sell a new HybridBottle that will be made with a mix of up to 50 per cent plant-based renewable and recycled PET material. They will also add up to 100 PureFill water dispensers to tackle the amount of plastic that is produced in the U.S.
Kris Robbens added: "Across all our brands we want to use more recycled material in all our packaging, however that requires more of it to be collected so that it can be reused to make new bottles."
Find out more about Coca-Cola's sustainability roadmap here.
Photograph: Coca-Cola