Philippines opens first commercial solar park in wake of Typoon Haiyan
President Benigno Aquino III opens 22MW San Carlos Solar Energy project and urges renewable energy developers to step up investment to mitigate the effects of climate change that have severely effected the country in recent years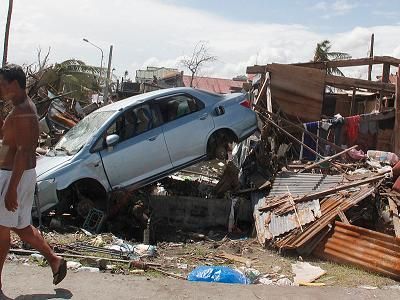 The President of the Philippines opened the country's first commercial scale solar park this week and urged renewable energy developers to step up investment to mitigate the effects of climate change that have severely effected the country in recent years.
President Benigno Aquino III opened the San Carlos Solar Energy project near the city of San Carlos and the park has a capacity of 22MW. The site was developed by international solar specialist Conergy and the first phase of the project has brought 13MW of capacity online.
The remaining capacity is due to go online in the coming months and will provide power for an estimated 13,000 local homes. The park is owned by San Carlos Solar Energy Inc. and was financed by ThomasLloyd Group, with development work undertaken by local specialist, Bronzeoak Philippines.
President Aquino praised the development and said it represents a historic achievement for the country's energy industry. The government in the Philippines has set a target of tripling renewable energy capacity in the country to over 15GW by 2030.
Aquino said: "Today, we are not just inaugurating a power plant; we are also making history. The San Carlos Solar Energy Inc is the first large-scale commercially-financed and commissioned solar power plant in the Philippines under our administration. Because of this new project, the Visayas grid will eventually benefit from an additional 22MW... (the project) displaces carbon emissions equivalent to the emissions produced by 14,805 tonnes of oil for each year of operations."
He went on to emphasise the importance of the project in the countires attempts to address the escalating risk of climate change as seen by last years Typhoon Haiyan.
The president said: "It serves as a shining example of the collective steps we are taking to minimize climate risk - the fruit of our efforts to ensure that future generations will not be subject to the same vulnerabilities as we are now. This is especially important in light of the Philippines' experience with Typhoon Haiyan, or Yolanda - a storm that ravaged a large part of the Visayas region six months ago. Not only did it challenge us to build back better more resilient communities, and to improve our disaster response mechanisms, it also underscored the adverse effects of climate change and showed the world the new normal of increasingly frequent and intense storms."
He recognised how the upfront cost of renewable energy technologies is prohibitive for emerging economies to justify the required investment. He urged stakeholders to scale up investment in clean energy particularly in light of a three-year solar incentive scheme the government has put in place to help mobilise investment.