Lavazza launches new 100% Compostable Eco Caps
Lavazza has become the largest coffee manufacturer to launch its own range of compostable one-cup pods.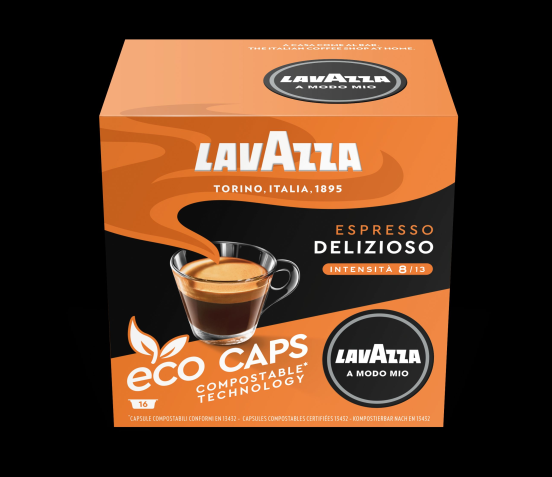 Lavazza has become the largest coffee manufacturer to launch its own range of compostable one-cup pods.
The Italian espresso giant is aiming to replace its entire range of at-home capsules with these new 100% industrially compostable capsules by the end of the year.
The compostable coffee pods will 'breakdown' in six months "without any price difference". The Eco Caps cost about £4.40 for 16 and are available to buy online and in-store now.
According to research by Lavazza, more than a third of people in the UK admit to throwing their used coffee capsules into the bin because they don't know how to properly dispose of them. Consumers today are confused about what can and cannot be recycled, with 72% admitting to feeling overwhelmed when attempting to understand the various recycling symbols.
When Lavazza Eco Caps are correctly disposed of, they biodegrade to become compost. Lavazza argue that they have applied the zero-waste principle of the circular economy (where nothing is waste but becomes a new resource) to the benefit of the environment, without compromising on taste or quality.
"For Lavazza Group, sustainability is fully integrated in the business strategy […] The new Lavazza Eco Caps replace the entire range of capsules for home consumption in UK, without any price difference. The Company is a firm believer in this major investment, which confirms our commitment to excellence, quality and sustainable development". David Rogers, UK Managing Director of Lavazza.

Lavazza is partnering with recycling experts, TerraCycle, to make the disposal of its 100% industrially compostable capsules more convenient for consumers. This has led to the launch of the Lavazza Eco Caps Composting Programme, a free nationwide composting solution for used coffee capsules in the UK.
As part of this partnership, a network of public access coffee capsule drop-off points will be set-up around the UK, enabling consumers to conveniently dispose of their capsules. The drop-off points will be easy to find via the interactive map on the TerraCycle website. Each drop-off point will earn TerraCycle points based on the amount of capsules that are deposited, which can be redeemed as a monetary donation to the charity or non-profit organisation of their choice.
Laure Cucuron, General Manager, TerraCycle Europe said: "Currently there is limited availability across the UK in terms of the industrial composting facilities needed to compost many products. So we are delighted to partner with Lavazza to provide consumers a simple yet effective way to ensure that the new Lavazza Eco Caps are composted correctly".
For more information, to find your nearest public access drop-off location go to www.terracycle.co.uk. You can also visit www.lavazza.co.uk for more information on the Lavazza Eco Caps range.
Photograph: Lavazza