G20 commits to greening $90trn of investments to 2030
Finance officials from the G20 major economies committed on Saturday to exploring ways of greening the $90trn of investments required up to 2030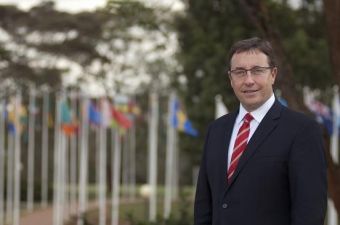 Finance ministers and central bank governors from the G20 major economies committed on Saturday to exploring ways of greening the US$90 trillion of investments required up to 2030 to achieve international climate targets.
Under the Chinese Presidency, G20 launched the Green Finance Study Group, co-chaired by China and the UK, to mobilise private capital for green investments.
Addressing the G20 finance ministers and governors in Shanghai, the United Nations Environment Programme (UNEP) Executive Director Achim Steiner (pictured) said: "Financing the green transition is essential for sustained prosperity over the long-term, and also to address the immediate concerns of finance ministers and central bank governors to promote growth, employment and financial stability."
UNEP is acting as the secretariat for the Green Finance Study Group, building on its two decades of experience in green finance.
The UNEP Finance Initiative has brought together over 200 public and private financial institutions since 1992 to catalyse change in the finance sector.
UNEP-FI's Portfolio Decarbonization Coalition currently oversees the decarbonisation of over US$600 billion of assets.
In 2014, UNEP launched the Inquiry into the Design of a Sustainable Financial System and its report, "The Financial System We Need", released in October 2015, highlighted innovative actions by central banks, finance ministries, stock exchanges, rating agencies and standards bodies, aligning financial market developments to sustainable development outcomes.
The required investments in green finance will have to come mainly from private financial and capital markets.
A Green Finance Task Force co-convened by the People's Bank of China and UNEP identified in 2015 a set of 14 proposals covering fiscal, regulatory, judicial and institutional innovations to encourage sustainable finance.
Its report estimates that while China will need up to US$600 billion a year in green investments, at least 85 per cent will have to come from the private sector.
In a meeting with Mr. Yi Gang, Deputy Governor of the People's Bank of China, Mr. Steiner discussed the opportunities for continued cooperation between UNEP and the PBoC.
Mr. Steiner also met with senior executives from the Asian Infrastructure and Investment Bank, the Industrial Development Bank and the New Development Bank (formerly the BRICS Bank).
In Shanghai, Steiner delivered a lecture to students and academics at Tongji University, UNEP's partner on the UNEP-Tongji Institute of Environment for Sustainable Development.