Frank Campbell discusses Eaton's outlook on sustainability and the future of the energy industry
We recently spoke with Frank Campbell, Europe, Middle East and Africa (EMEA) President at Eaton—a global power management company and Platinum sponsor of the upcoming 9th Sustainable Innovation Forum—about the energy industry's future, Eaton's outlook on sustainability and the opportunities on the horizon.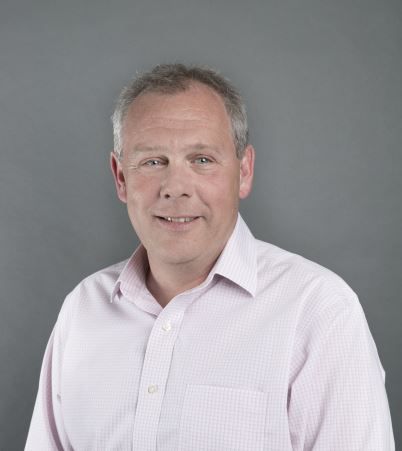 We recently spoke with Frank Campbell, Europe, Middle East and Africa (EMEA) President at Eaton—a global power management company and Platinum sponsor of the upcoming 9th Sustainable Innovation Forum—about the energy industry's future, Eaton's outlook on sustainability and the opportunities on the horizon.
What do you see as the biggest challenge facing the energy industry today?
Simply put, it's the pace of change. The world's population is skyrocketing towards 9 billion people by 2050, and the demand for reliable and affordable energy is accelerating. The rising urban population alone will create a 60% leap in the global energy demand from buildings, but we can also expect ever-greater pressure on goods, services and transportation systems.
At the same time, the ways we make and use energy are changing, which is challenging existing infrastructure. The rapid growth of information as we digitalize devices and demand more online content means a huge rise in the energy needed to store and manage data—all of which is increasing the global per capita carbon footprint.
While these 'megatrends' are accelerating, countries, governments and corporations around the world have committed to keeping global temperature rises below 2°C following the 2015 Paris Agreement. In essence, the energy industry is being challenged to halve emissions in the coming years even as demand doubles. To square that circle, we will need to innovate like never before.
What is Eaton's vision for the future of the energy industry?
We see a much broader and more flexible energy generation mix emerging that increasingly harnesses renewable sources, especially wind and solar. With the economic case for renewables becoming ever stronger, many countries are now at a turning point in how they generate power. By the mid-2020s, energy from new wind and solar installations will be cheaper than that from the average natural gas plant in Europe. This trend will only accelerate in the coming years, providing a major economic incentive for countries to prioritise the construction of renewable installations over traditional alternatives.
However, this increasing reliance on distributed and weather dependent generation will also lead to great volatility in the power supply. As a result, both the energy market and global regulations must adapt to enable us to harness the flexible resources needed to manage tomorrow's energy mix effectively.
In last year's "Beyond the tipping point", we commissioned a detailed economic study from Bloomberg New Energy Finance to understand how fast energy systems are changing and what level of challenge this creates. The follow-up report released this year, "Flexibility Solutions for High-Renewable Energy Systems", finds that flexible energy options—including storage and smart-charging electric vehicles—could enable the efficient integration of 80% or more renewable energy by 2040.
As this transformation plays out, we'll be part of the solution. We're already active in energy storage and microgrids, and are developing new technologies and power management systems to support grid operators, commercial building owners and more in a future dominated by a diverse mix of power sources and loads. We are confident that the future energy system will be much more sustainable, while continuing to operate efficiently, reliably and safely.
Where do you see the market going in the next few years?
As an innovator in power management solutions, that's obviously a crucial question for us! Right now, we're seeing strong demand from building and facility managers that want to meet new energy efficiency standards. Buildings consume around 30-40% of the world's energy and we're helping to reduce that dramatically with smart technologies like intelligent connected lighting, powered by smart sensors and highly efficient LEDs.
Affordable energy storage is another game-changing technology now entering the market. As electric mobility ramps up, the cost of Lithium-ion batteries continues to plummet, so we expect both markets to grow rapidly. As energy storage becomes ubiquitous, we won't just see the mass electrification of transport, we'll be able to optimize renewable power sources effectively and empower businesses and homeowners to make smarter energy decisions.
I think we'll see the market change radically as new players seize these emerging opportunities. For instance, a recent report we commissioned from Aurora Energy Research, "Opportunities in Electric Vehicle Charging at Commercial and Industrial Sites", suggests that developing the infrastructure to support millions of electric vehicles could amount to a €14 billion market opportunity in the UK and Germany alone. With a clear business case and funding likely to be readily available, we can expect Commercial and Industrial Sites to exploit this opportunity, ultimately helping to reduce emissions from cars by as much as 90%.
How does sustainability play into Eaton's day-to day decision making?
As active stewards of the environment, we're dedicated to building a better future for our planet and our fellow global citizens. We're focused on both becoming more sustainable ourselves and on enabling other organizations and people to do the same.
From highly efficient microgrids to intelligent power management, our most curious minds are working on forward-thinking solutions that enable customers to reduce their power consumption and emissions, while increasing productivity and profitability. Our recent partnership with Nissan is a great example. Our xStorage offering uses second-life batteries from Nissan LEAF electric cars and we have recently launched a ground-breaking 3MW energy storage system for the Johan Cruijff ArenA in Amsterdam, providing the stadium with a much more reliable, efficient and green power supply. Power can even go back into the Dutch grid in the event of an outage or emergency.
Of course, our commitment to sustainability doesn't just drive what we make, but how we make it. In our day-to-day operations, we're striving to prevent pollution, reduce emissions and conserve resources. We're transparent about our results too. More than 120 of our facilities now send zero waste to landfill and we've cut our greenhouse gas emissions by 42,000 metric tons since 2015—that's like replacing 1.4 million incandescent light bulbs with LEDs. We've also committed to a science-based target to further reduce our emissions between 2019 and 2030.
What do you think is the most crucial factor in reaching your sustainability goals?
Our people. We're confident we can deliver on our vision to improve quality of life and the environment because of our collective expertise and diverse range of perspectives. That's why we focus on attracting, engaging, developing and retaining exceptional people.
We continuously encourage and empower our workforce to think differently about our business, our communities and the positive impact we can have on the world. We enable employees to donate their valuable time, energy and skills to sustainability projects—whether within Eaton, or for the local community. Today, four-fifths of our people are proud to work for us, so we're doing something right!
Our employees' cross-sector knowledge, combined with our global reach and resources, also puts us in a unique position to accelerate energy innovation and enhance sustainability. We've invested around $3.1bn in R&D over the last five years, supporting a global network of six innovation centers and more than 10,000 dedicated engineers. Our research centers also collaborate with local academic institutions and national labs, acting as a force multiplier on our own investments and enabling even more rapid innovation and technological breakthroughs that drive sustainability.
You're joining us at the 9th Sustainable Innovation Forum – how important are the planned discussions at the event in your view?
They're absolutely critical. Now, more than at any other period in history, it's an incredibly exciting time to be working in the energy industry. We're seeing colossal changes in how energy is generated and stored, driven by technological innovation and significant cost reductions in renewable power.
We need to act decisively to accelerate a second electrification revolution, which will be critical to reducing carbon emissions. SIF18 is an invaluable forum to help everyone plan and prepare for the unprecedented change ahead and we look forward to helping the conversation move forward.
One highlight for us will be our vice president EMEA, Cyrille Brisson, joining a high-profile panel to talk about "Whole Systems Thinking for Low Carbon Energy Transition". The panel will examine how power systems must adapt to integrate decentralized renewable generation and support the phenomenal rise of electric vehicles and energy storage. Of course, we're also eagerly anticipating great conversations with many other attendees in seminars and on the show floor about how we can join forces to drive sustainability and make a healthier planet work.
Eaton is a Platinum sponsor of the upcoming 9th Sustainable Innovation Forum taking place alongside COP24, 9-10 December in Katowice, Poland. To learn more about the agenda, the panels, the speakers and how to register, visit the event's official website here.