World Environment Day Webinar - Solving the Air Pollution Crisis for Human and Planetary Health
With an estimated 92% of the global population now breathing unhealthy air, The World Health Organisation (WHO) has identified air pollution as the single greatest global health risk today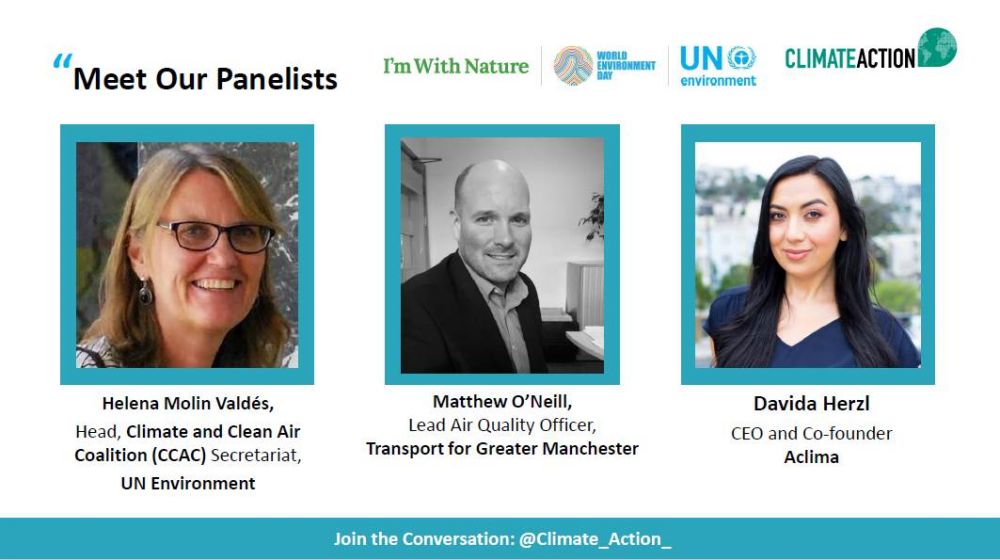 In Climate Action's special-edition World Environment Day Webinar, Helena Molin Valdés, Head of the Climate & Clean Air Coalition, Matthew O'Neill, Lead Air Quality Officer at Transport for Greater Manchester and Davida Herzl, CEO and Co-founder of Aclima, discussed solutions for tackling air pollution.
The Grave Risks
With an estimated 92% of the global population now breathing unhealthy air, The World Health Organisation (WHO) has identified air pollution as the single greatest global health risk today. Despite this, less than 10% of cities currently comply with the WHO clean air standards - meaning that action at city level is essential. According to Matthew O'Neill of Transport for Greater Manchester, reducing urban road traffic should be a major focus as road vehicle emissions contribute to 79% of harmful particulate matter (PM2) emitted annually.
Helena Molin Valdés, Head of the Climate & Clean Air Coalition, went on to emphasise that by reducing short-lived climate pollutants such as methane and black carbon, both emitted by road vehicles, it is possible to lower global warming temperatures by 0.6 degrees by 2050, preventing 2.4 million of the 6 million annual air-pollution related deaths.
Another major problem is the significant financial risk posed by air-pollution - it costs the global economy a total of USD 5.11 trillion a year in agricultural losses and healthcare. Davida Herzl of Aclima drew attention to the fact that climate measurement technology remains costly at present, making it difficult to measure and manage such a great economic risk.
Effective Management Solutions for Cities
Air quality management systems are a collection of air pollution strategies, designed with the aim of achieving clean air on a municipal, national and international level. As evoked by both Matthew O'Neill and Helena Molin Valdés, there are a number of successful strategies and measuring systems currently in place across cities.
In order to emphasise the effectiveness of successful monitoring systems, Helena Molin Valdés, of the Climate & Clean Air Coalition, drew upon the success of Santiago's 1989 agricultural burning ban, which has decreased pollution by 70% since its introduction, despite a tripling in the city's population. Helena added that effective monitoring systems can include green tax incentives which offer a no tax policy to vehicles that sit below the emissions threshold, travel bans on certain days of the week, and low emissions zones for trucks.
Other effective policy solutions, as described by Matthew O' Neill of Transport for Greater Manchester, include the introduction of Key Performance Indicators (KPIs) which allow for tracking and measuring of individuals' travel choices. For example, travellers might be incentivised to replace old, high-emission vehicles for newer, cleaner ones, or they might be encouraged to choose cycling, public transport and walking in place of private cars.
Sponsored Content
Davida Herzl of Aclima went on to stress the importance of high-quality data collection for successful management practice. Through equipping Google Earth street cars with their air pollution sensors, Aclima was able to provide mobile measurement with 10,000 times greater spatial resolution in mapping than stationary measurement. As emphasised by all three panellists, pollution levels in cities can vary significantly between zones, therefore quality data collection is crucial in order to achieve more precise air pollution management.
Increasing awareness through collective learning
All three panellists emphasised the importance of collective learning through shared access to data, as well as the value in increasing understanding through public awareness campaigns.
Matthew O'Neill of Transport for Greater Manchester highlighted the important role of initiatives such as 'cycle to work' days and workshops for schools to help educate people on the health risks associated with their daily transportation choices. Matthew also made reference to the work of UN Environment's Breathe Life campaign, which is encouraging a growing network of cities to work together on solutions for cleaner air.
Helena Molin Valdés of the Climate and Clean Air Coalition went on to reiterate the importance of the Breathe Life campaign in managing air quality at city level. As outlined by Helena, sharing resources such as air quality data across Breathe Life members offers the opportunity to harmonise air pollution modelling and emission indices calculating. It allows the public to visualise risks and understand solutions, whilst permitting policy-makers to share their progress.
Davida Herzl concluded the webinar by stressing the importance of mapping air pollution on a global scale, which she believes is possible through high-quality data logging. Evolving air quality data collection, she said, could allow individuals to make daily transportation choices based on how they translate into pollution patterns, for example by choosing to travel through areas of urban vegetation that offer protection from pollution.
For more from expert speakers looking to drive sustainable innovation join us at The Sustainable Innovation Forum 2017, taking place alongside COP23 in Bonn on the 13-14 November. Register for your place here.