The sports world's top sustainability experts launch "Sport and Sustainability International"
A global initiative to leverage the influence of sport to protect the environment and all the species that depend on it is off to the races with the formation of "Sport and Sustainability International"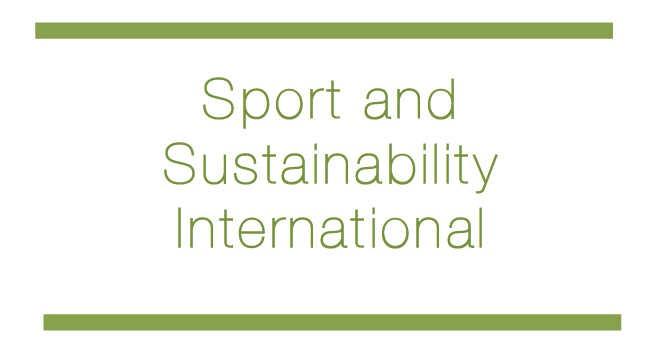 PRESS RELEASE - Lausanne, Switzerland – 13 December 2016 – A global initiative to leverage the influence of sport to protect the environment and all the species that depend on it is off to the races with the formation of "Sport and Sustainability International" (SandSI), an international association of sports industry sustainability leaders focused on addressing climate change and a diversity of other sustainability issues. The formal establishment of SandSI is the result of a November 16 meeting of the world's top sports industry sustainability experts in Lausanne, Switzerland. In all, 48 representatives of European and international sports organisations and businesses participated in the SandSI Foundational meeting. Amongst others, these included representatives from:
International Olympic Committee (IOC)
Union of European Football Associations (UEFA)
European Professional Club Rugby (EPCR)
International Academy of Sports Science and Technology (AISTS)
Roland Garros
French Ministry of Sport
FIA Formula E Championship
National Basketball Association (NBA)
National Hockey League (NHL)
YMCA International
ASO/Tour de France
Ocean Masters
International Equestrian Federation (FEI)
Volvo Ocean Race
World Wildlife Fund (WWF)
International Union for Conservation of Nature (IUCN)
BASIS UK
11th Hour Sailing
Sailors for the Sea
Sustainable Surf
International WELL Building Institute (IWBI)
As agreed upon at the Lausanne meeting, SandSI aims to leverage the cultural and market influence of sports to promote sustainable development and healthy communities broadly, beyond the individual sports venue.
SandSI members will derive enormous value by being able to draw from the unique diversity, professional experiences and technical expertise of the sustainability experts that it is bringing together from throughout the world.
SandSI intends to carry out its mission by inspiring and collaborating with sports federations, leagues, teams, events, venues, governments, sponsors and other sports industry business partners, fans, and athletes. The goals of these collaborations are designed to:
Reduce reliance on fossil fuels and promote the use of renewable energy, healthy food, green spaces, water efficiency, wildlife conservation, smart mobility, carbon mitigation, safer chemicals, waste management that advances a circular economy, and other environmentally preferable practices and initiatives.
Promote fair trade principles in the sports industry's supply chain, as well as environmentally intelligent procurement, investments, practices and initiatives.
Foster healthy communities by encouraging diversity and inclusion, cultural exchange, equal opportunities, physical activity and other socially beneficial practices and initiatives.
SandSI will advance its sustainability objectives by focusing on three pillars of work: (1) enhancing sport events, venue design, and operations, (2) influencing the sports industry's supply chain, and (3) mobilising fans and athletes in support of sustainable, healthy and just communities. These three core areas of focus align with the three dimensions of sustainability: environmental, economic and social.
SandSI will be headquartered in Switzerland, with operational and fundraising affiliates throughout the world as needed. The development of SandSI is being coordinated by an Organising Committee comprised of experts representing the different stakeholders in the global sports industry. The Committee is currently being led by SandSI's five Founding Directors:
Neil Beecroft, Sustainability Manager at the Union of European Football Associations (UEFA)
Vincent Gaillard, CEO of European Professional Club Rugby (EPCR)
Geert Hendriks, Head of Projects at the International Academy of Sports Science and Technology (AISTS)
Allen Hershkowitz, PhD, Former Senior Scientist at the Natural Resources Defense Council (NRDC) and co-founder and former President of the Green Sports Alliance
Fabian Putzing, Co-Founder and Principal of sustainable//sports
Next steps for SandSI include the expansion of its Organising Committee, the development of workgroups including technical and scientific policies and institutional development, and the hiring of a Secretary General. SandSI's next institutional meeting will take place in Munich (Germany) at the end of February.
Selected Quotes About the Creation of Sport and Sustainability International
"Basketball is a global game with values that resonate around the world. Through the NBA Green program, we're proud to support Sport and Sustainability as part of our commitment to the sustainability of our venues and the communities in which we play." Todd Jacobson, NBA Senior Vice President, Social Responsibility.
"Formula E is delighted to join forces with Sport and Sustainability International – we want others to be able to benefit from our experience, but also we need our peers in other sports to make sure we collaborate to win the race against global warming. We have seen the power that sport has to create awareness, and its potential for changing perceptions by bringing Formula E to the streets of the world's most recognisable cities. We are convinced that the sports industry is now paving the way in the adoption of sustainable practices. Climate change and global warming are the biggest challenges we face. It's incredible to see a car become an ambassador in the fight against global warming."Julia Palle, Sustainability Manager of Formula E
"Sport and Sustainability International is a ground-breaking sports-based social and environmental initiative at a time when our environment, and indeed sport itself, need it the most! SandSI aims to bring together all major sports organisations to promote sustainability in and through sport: a long overdue global initiative which has the potential to redefine the role of sports in society and to positively impact the overall conservation agenda." Vincent Gaillard, A Founding Director of Sport and Sustainability International and CEO of EPCR (European Professional Club Rugby), Member of IOC Sport & Environment Commission 2013-2015
Sponsored Content
"By acting together we can vastly improve and better develop the potential of sporting events not only for greater impact but also to change behavior." Viviane Fraisse Grou-Radenez, Roland Garros Sustainability Director
"Sports must help implement the Paris Accord and other important sustainability initiatives. It is the goal of Sport and Sustainability International to mobilize those important initiatives into a powerful global movement." Allen Hershkowitz, PhD, A Founding Director of Sport and Sustainability International and Co-Founder and Former President of Green Sports Alliance
"We have no more time to wait, no political rustiness to tolerate, no side egos to push forward, this movement answers to the reality of a needed international transition towards sustainability where unity and action are crucial. Sport is the perfect platform to promote its positive values to the world on the fight against climate change. Let's run faster than sprinters, last longer than marathoners and work more methodically than decathlon athletes. It's not (just) about saving polar bears or being able to ski in a hundred years, it's about sustaining human existence on this planet. Sport has always enabled humankind to transcend himself - now by putting it to the service of sustainability will enable the transition to take a new dimension alongside other sectors which all gather around a sports field!" Neil Beecroft, A Founding Director of Sport and Sustainability International and UEFA Business Innovation & Sustainability Manager
"The AISTS was founded by IOC, the city of Lausanne and several educational institutes aiming to educate current and future sports leaders around the world. Sustainability is an investment in the future of the sports industry. Sport and Sustainability International will play a key role in fostering the dialogue between different stakeholders within the global world of sports, and equip sports organisations, athletes, event organisers and cities with the knowledge and tools needed for healthy and successful sports communities." Geert Hendriks, A Founding Director of Sport and Sustainability International and AISTS Head of Projects
"Sport and Sustainability International brings together what belongs together. Through the world of sports we are able to reach millions of people and educate them on the urgent ecological and social issues we are facing on our planet today. Through the power and the emotion of sport we will be able to make a difference for our planet and the societies we live in." Fabian Putzing, A Founding Director of Sport and Sustainability International and Co-Founder and Principal, sustainable///sports
"I was honored to participate in the foundational meeting for Sport and Sustainability International. It was clear that this amazing group of world leaders are laying the groundwork for a structure to implement a big vision. This work is destined to ignite an important new movement. Sports have a unique place in our lives. From Little League to the big leagues, from local parks to Olympic venues, sports provide us unique access and opportunity to advance the larger sustainability and health aspirations we have for the planet and for our future. At IWBI, you can count on us to do our part." Rick Fedrizzi. Founder and Former CEO of the USGBC and current Chairman and CEO of the International WELL Building Institute (IWBI)
"Sport and Sustainability International is the global response to an increasing concern regarding the impact of human (including sport) activities on our natural resources and on the well-being of current and future generations. Sport actors have no other choice than to individually and collectively address all issues allowing it. No time to waste. Let's go greener and altogether now!" Didier Lehénaff, Former president of the European Triathlon Union (ETU), Founder Eco-Games, and President SVPlanete
"The World Flying Disc Federation (WFDF) is proud to be a founding partner of the Sport and Sustainability International initiative. It helps us greatly to underline WFDF`s understanding of sports' responsibility to contribute to a positive impact of all of our actions for future generations in social, economic and ecological dimensions. Flying Disc sports are mainly played outdoors and the co-operation with SandSI featuring such prominent partners will help us achieving our main goal to establish sustainable structures and reliable environmental conditions for our sport to be played everywhere and by everyone on a long-term basis." Volker Bernardi Executive Director, World Flying Disc Federation (WFDF)
"Sports hold a unique and powerful place in communities around the world. Sports bring people together for a common cause and shared experience regardless of age, race, class, or creed. Just like life, sports bring us great joy and sometimes breaks our hearts. But sports have the power to not only set an example of sustainable operations for businesses and events across the globe, but to inspire and motivate billions of people to take action on behalf of our planet and all humanity. Sport and Sustainability International is poised to harness the teeming energy of the sports industry toward the good of all." David Muller, Former Membership Director, Green Sports Alliance