King Mohammed VI Inaugurates 'Noor I' Solar Plant in Ouarzazate
His Majesty King Mohammed VI of Morocco officially inaugurated the 'Noor I' power plant today, just outside the southern city of Ouarzazate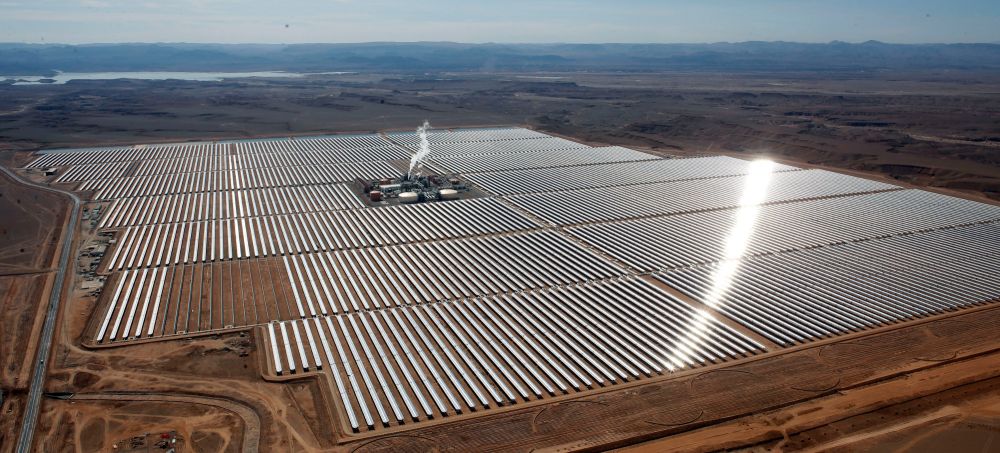 Ouarzazate, Morocco, 4 February 2016 - His Majesty King Mohammed VI of Morocco officially inaugurated the 'Noor I' power plant today, just outside the southern city of Ouarzazate.
In addition to many dignitaries from Morocco and several other countries, the inauguration was attended by a high-level delegation from Saudi Arabia, headed by Mr. Mohammad Abunayyan, Chairman of ACWA Power – the developer, co-owner and operator of the project.
The project forms part of the Moroccan Solar Energy Program, which aims to develop five solar complexes with a combined capacity of approximately two Gigawatt (GW) by 2020 to meet the growing energy demand of the country.
The project is being developed on a build, own, operate and transfer (BOOT) basis by ACWA Power Ouarzazate, a consortium of ACWA Power, the Moroccan Agency for Solar Energy (Masen), Aries and TSK.
The complex being developed in four phase will eventually feed 580 MW of electricity into Morocco's power grid- enough for a million homes, according to information provided by the Moroccan Agency for Solar Energy (Masen)at the project's originator.
The Saudi delegation expressed its delight at attending the launch of such a notable project, commending ACWA Power's role in delivering it. The Saudi developer, investor and operator of power and desalinated water projects operating in twelve different countries, is delivering this project on a build, own, operate and transfer (BOOT) basis with a consortium that included Masen, Aries and TSK. The solar complex will be operated and maintained by a consortium led by NOMAC, a subsidiary of ACWA Power, and Masen.
Mohammad Abunayyan, Chairman of ACWA Power, said: "This project is of particular importance to ACWA Power. As our first Greenfield renewable project, it was also one with which we set a new world-record tariff for this important and versatile CSP technology at the time.
Sponsored Content
With this project now operational, Morocco is on course to realize its vision to utilize its abundant solar and wind resources to generate green electricity not only for self-consumption but also for export."
Paddy Padmanathan, President and CEO, ACWA Power said:"This marks a path- breaking moment for solar power globally, and we are honoured to have the support of His Majesty King Mohammed VI as we celebrate the start of this plant's operations.
Morocco has been a champion of recognizing the reality of climate change and proactively addressing it by embracing renewable energy deployment at scale by exploiting wind turbines, hydroelectric energy, and the solar power potential of the Sahara desert, transforming a country which currently imports almost all of its energy as fossil fuels from abroad, showing considerable leadership to the world."
The parabolic mirrors which cover an area equivalent to 35 football pitches are moveable to automatically track the sun throughout the day.
Each mirror is 12 metres high and focused on a steel pipeline carrying a heat transfer solution (HTF) that is warmed to 393°C before coiling into a heat engine where it is mixed with water to create steam that turns energy-generating turbines.
The HTF is made up of a synthetic thermal oil solution that is pumped towards a heat tank containing molten salts that can store heat energy for three hours, allowing the plant to power homes into the night. Later stages of the development aim to supply power 20 hours a day.
Noor 1 is the first phase of the 580 Megawatt (MW) Ouarzazate CSP project, which will feed electricity into Morocco's power grid. Morocco is pledging to generate 42 percent of its electricity from renewables by 2020 and 52 percent by 2030.