World's first all-electric ferry running 365 days per year in Norway
Emission-free Ampere ferry won "Ship of the Year" in September and secured a 10-year license to operate at the beginning in 2015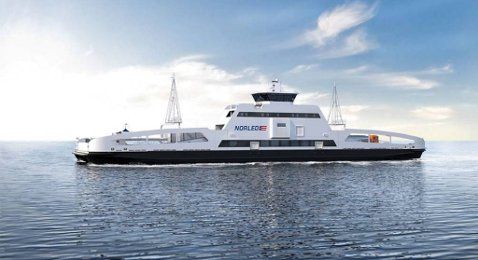 The world's first all-electric battery-powered ferry is now running 365 days per year in Norway.
The emission-free Ampere ferry won the "Ship of the Year" award at the SMM trade show in September last year and secured a 10-year license to operate the Lavik-Oppedal route in south-west Norway beginning in 2015.
The vessel has an all-electric powertrain, with two electric motors each with 450 kilowatts of capacity.
The ferry has a capacity of 120 cars and 360 passengers and travels at about 10 knots.
The design for the vessel was originally submitted to the Norwegian Ministry of Transport as part of a competition which it won for its eco-friendly features.
German multinational conglomerate Siemens provides the battery technology to Fjellstrand shipyard that designed and built the ferry.
The ferry is 80 meters long and 20 meters wide and with an aluminium hull the vessel is half the weight of a conventional steel ferry.
Siemens have installed three lithium-ion battery packs with the piers at Lavik and Oppedal featuring one each and one on board the ferry which recharges at the piers in just 10 minutes.
Hydropower supplies electricity to the battery charging stations at the piers.
The vessel's energy management system (EMS) interface features sub-controllers, thrusters, and remote controls to monitor and optimise engine speed.
Siemens installed its electric BlueDrive PlusC system which includes a battery and steering system, thruster control for the propellers, an energy management system, and an integrated alarm system.