UNEP and Uganda sign climate change adaptation deal
The UN environment chief met the President of Uganda this week as part of ongoing efforts to boost climate change adaptation and mitigation efforts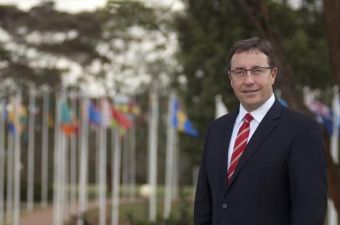 The United Nations' environment chief met the President of Uganda during a visit to the East African nation this week as part of ongoing efforts to boost climate change adaptation and mitigation efforts in the region.
United Nations Environment Programme (UNEP) Executive Director Achim Steiner (pictured) concluded the trip on Wednesday and met with H.E. Yoweri Kaguta Museveni to present the Uganda Wetlands Atlas as a contribution to launching a major wetlands restoration initiative across the country.
They also addressed enhanced UNEP-Uganda cooperation on key environmental issues affecting the region, including sustainable development, the green economy, renewable energy generation and the impacts of climate change on Uganda's population and natural resources.
Mr. Steiner said: "Uganda is a country blessed with natural resources. While true across the world, it is even more apparent here that the environment is the foundation of all of our livelihoods. UNEP is keen to continue to cooperate with Uganda to address vital environmental issues and help chart a sustainable development path for the country that will benefit Ugandans long into the future."
Steiner also met with Ephraim Kamuntu, Minister of Water and Environment, with whom he signed a Country Cooperation Framework agreement.
Steiner, who is also Under-Secretary General of the UN, participated in two launches during his time in Kampala, unveiling Volume One of the Uganda Wetlands Atlas and the Uganda-wide initiative, "Greening of the Economy through Massive Tree Planting and Sustainable Forest Management" with Minister Kamuntu.
The head of UNEP also participated with the Minister in a ceremonial tree planting at the headquarters of the National Forestry Authority.
The Uganda Wetlands Atlas is an tool for policy makers, planners and legislators that resolves some longstanding questions on accurate facts, figures and statistics.
Produced at the request of the Ugandan Government, in partnership with several national institutions and development partners, the Atlas provides evidence-based assessment of the rapid changes taking place in the country's critical wetland ecosystems in urban areas.
Using earth observation systems to underpin scientific analysis of the country's wetlands ecosystems, the assessment spanned a period of 10 years in the urban areas of Kampala, Mukono and Wakiso.
The Atlas will contribute to enhancing Uganda's resilience to the expected impacts of climate change on wetland areas.
The UNEP-Uganda Cooperation Framework aims at laying the foundation for strengthening and consolidating long-term cooperation between the Government of the Republic of Uganda and UNEP.
The Framework is designed to deepen the collaboration in ensuring that environmental sustainability becomes a key pillar in Uganda's development agenda at all levels.
It is intended to consolidate UNEP's support to Uganda and enhance effectiveness, improve coherence and integration within the Uganda UN Development Assistance Framework (UNDAF) 2010-2014 and UNDAF 2016-20, as well as to lay the foundation for the development and implementation of Joint Programmes and other activities.