Soros funds £1 billion in climate initiative
George Soros, the Hungarian investor, decide to take an aggressive approach to the growing climate crisis. Soros announced he would be donating one billion of his own money to fund clean energy technology.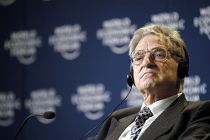 He also announced yesterday that he would be forming and funding 10 million in a climate policy initiative, one million for each year of the project.
Soros was quoted as saying, "Global warming is a political problem. The science is clear, what is less clear is whether world leaders will demonstrate the political will necessary to solve the problem,"
His response to funding climate change came a day after talks in Bangkok ended without reaching a conclusion; on exactly how much aid 'poorer' countries should be given, especially in the shadows of richer countries that have made greenhouse gas emissions cuts.
Click here for Reuters article
Author: Caitlin Martinez
Photo: Copyright World Economic Forum (www.weforum.org)
swiss-image.ch/Photo by E.T. Studhalter/flickr