Landmark hybrid electric aeroplane wins new funding
A hybrid electric aeroplane that takes off and lands vertically has been awarded a new round of funding for a crucial development project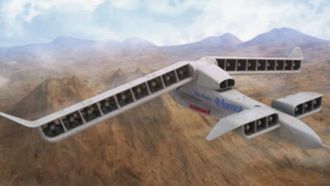 A hybrid electric aeroplane that takes off and lands vertically has been awarded a new round of funding for a crucial development project.
The project is being funded by the Defense Advanced Research Projects Agency (DARPA), the innovative US research organisation that supported the initial stages of the Internet.
Aurora Flight Sciences of Massachusetts launched a small-scale electric vertical takeoff and landing (VTOL) aircraft in 2009 called Excalibur, and the company received funding from DARPA in 2014 to improve the design.
Aurora has now announced that it has been awarded Phase 2 funding to continue development of the new LighteningStrike hybrid electric aircraft under the VTOL X-Plane programme.
Aurora are working with Rolls-Royce and Honeywell on the project and are aiming is to increase the speed of the current crop of VTOL aircraft by about 50 per cent.
The aircraft's electric distributed propulsion (EDP) system consists of integrated, distributed ducted fans that, combined with the synchronous electric drive system, will enable revolutionary hover efficiency and high-speed forward flight