REDD can set an example for COP16
The Reducing Emissions from Deforestation and Forest Degradation (REDD) partnership between Norway and Indonesia has provided an example for others to follow at the 16th Conference of Parties (COP16) summit in Cancún, Mexico, according to the Norwegian Foreign Minister Jonas Gahr Stoere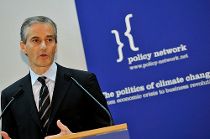 The Reducing Emissions from Deforestation and Forest Degradation (REDD) partnership between Norway and Indonesia has provided an example for others to follow at the 16th Conference of Parties (COP16) summit in Cancún, Mexico, according to the Norwegian Foreign Minister Jonas Gahr Stoere.

"When we come to Cancun, we will explain what we have done to preserve forests. And that will be the REDD+ stories of Indonesia, Norway and Brazil," Stoere said to The Jakarta Post in an interview on 8 November.

With the upcoming COP16 running from 29 November to 10 December, Stoere hoped REDD+ will form part of future climate change agreements. REDD+ has been labelled as an alternative to cutting carbon emissions and dealing with man-made climate change, by rewarding developing countries for preserving and restoring their forests. The plan has attracted funding pledges from developed countries aimed at expanding pilot forest preservation projects as well as ways to channel the funds with transparency.

Norway and Indonesia signed a US$1 billion deal in May stipulating a two-year moratorium on deforestation along with measurable, reportable and verifiable schemes to corroborate. Incorporating a REDD+ policy at COP16 could similarly involve countries being rewarded for preserving and restoring their rain forests.

Whether this is implemented at COP16 or not, Stoere admitted the partnership was still in its infancy. "It's progressing. It has to proceed step by step because the idea is that financial resources will be unleashed according to a performance-based system. So, when there is progress on the Indonesian side, the resources will be unleashed. Once that happens in 2011 then we are ready to go. Disbursing the money is the easiest part," he said.

The moratorium will provide a welcome relief for the Indonesian rainforests. The U.N. Food and Agriculture Organisation (FAO) estimates deforestation around the globe fell from 16 million hectares per annum in the 1990s to 13 million hectares per year in the past decade, with tropical countries suffering the most losses. Forests act as carbon sinks, absorbing carbon dioxide to slow down the pace of climate change. They also act as water catchments helping to clean the air and are home to many animal species.

Stoere also said that the world needed to take brave steps now to slow down climate change. Everyone was at risk, either directly or indirectly from natural disasters, some of which have taken place in Indonesia.

"Not in the next century but some time down the road. Indonesia and Norway are both countries that will be the first in line to suffer from climate change. We can't simply sit and wait, we have to engage in projects that can deal with it. We know that doing the forest thing right can complete about 25 percent of the challenge. We can really make a difference," said Stoere.

As if to underpin the necessity for action, a WWF report entitled "Amazing Discoveries in the Amazon" stated that during 1999-2009, around 1,200 new species of amphibians, reptiles, fish, mammals, plants and birds were discovered in the Amazon, but were under threat from climate change and deforestation. The First Asian Plant Conservation Report by the International Union for Conservation of Nature (IUCN) pinpointed the necessity to protect the diversity of Asia's plant species from pollution, habitat loss and over-harvesting.

This could be another topic for Stoere to address at COP16, alongside the work done to preserve the rainforests of Indonesia. Author: Leroy Robinson| Climate Action Image: Policy Network/Flickr