UNEP, UNCCD and China collaborate on desertification and sustainable development in Asia's drylands
UN Environment Programme, UN Convention to Combat Desertification and the Beijing-based Elion Foundation hold Kubuqi International Desert Forum to promote renewable energy and desert tourism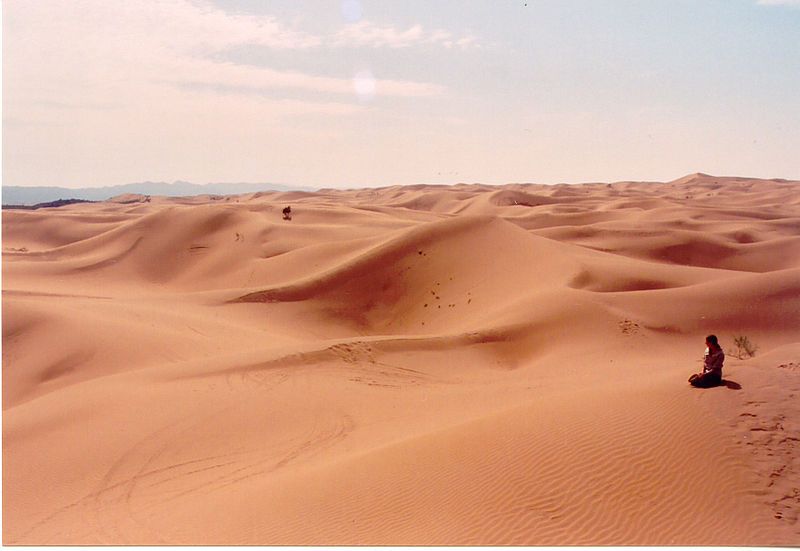 The United Nations Environment Programme (UNEP) has announced renewed support for projects tackling desertification in Asia following a key meeting on drylands held in China's Kubuqi desert.
Addressing desertification and harnessing the opportunities presented by renewable energy, desert tourism in drylands are the focus of a new initiative agreed by UNEP and their partners in China.
Collaboration between UNEP, the United Nations Convention to Combat Desertification (UNCCD) and the Beijing-based Elion Foundation was announced at the conclusion of the Kubuqi International Desert Forum. Held in inner Mongolia, the Forum was dedicated to supporting the sustainable development of the world's deserts.
The Elion Foundation is a non-profit organisation that supports desertification control, local community development and education in the Kubuqi region (China's seventh largest desert) and beyond.
UNEP and the UNCCD both signed Memoranda of Understanding with the Foundation that aim to improve the management of dryland ecosystems.
Collaboration will include support for pilot projects in China, Mongolia, and other countries in Central Asia, including payment for ecosystem services projects, as well as investments in initiatives to improve the sharing of knowledge, technology and data on desertification between developing countries.
The Elion Foundation is associated with the Elion Resources Group, which is active in a number of desert-based industries including the cultivation of plants for the pharmaceutical industry, agriculture, and renewable energy.
'Desertification continues to be an important challenge for China, but investments by government and the private sector have led to some major successes, including the reversal of desertification trends in some regions,' said UN Under-Secretary-General and UNEP Executive Director Achim Steiner.
'As demonstrated by companies attending this forum, there are major economic opportunities in a desert green economy. By investing in natural capital, ecological restoration projects and clean technologies, businesses can tap into new markets in desert tourism, renewable energy and other sectors. When managed sustainably, such actions can stem the tide of desertification, and support healthy, productive ecosystems in the world's drylands,' added Mr. Steiner.
During the Kubuqi International Desert Forum, UNEP led a special session for Chinese entrepreneurs entitled Investing in Natural Capital to Create Corporate Value. The event included a presentation of UNEP's recent GEO-5 for Business report.
Launched in June 2013, the study shows how changes in the global environment - from desertification and climate change, to pollution and extreme weather events - will have a rising impact on operating costs, markets for products, the availability of raw materials, and the reputation of businesses across the globe.
Such environmental changes, says the UNEP report, can also provide opportunities for businesses to adopt greener business models, and come up with innovate products to meet the growing demand for sustainable technologies, investments and services.
During the Forum, UNEP Executive Director Achim Steiner also held a bilateral meeting with Wan Gang, China's Minister of Science and Technology, and Jia Zhibang, Minister of State Forestry Administration.
In China, over 26 million square kilometres of land are affected by desertification - equivalent to over quarter of the country's total territory and home to over 400 million people. Impacts on communities include dust storms, and the loss of farmland.
On a global level, around one third of the world's population is impacted by desertification and drought. According to the UNCCD, a lack of collective action on desertification could lead to enhanced global risks from conflict, forced migrations and food and water insecurity.
Over 300 delegates from governments, businesses, and environmental organizations attended Kubuqi International Desert Forum, including Yukio Hatoyama, Former Prime Minister of Japan, and Mike Moore, Former Prime Minister of New Zealand.
UNCCD Executive Secretary Luc Gnacadja signed a five-year strategic cooperation plan with the Elion Foundation at the event to facilitate international efforts to combat desertification.