Jeans go from blue to green
The new wave of sustainable jeans is here.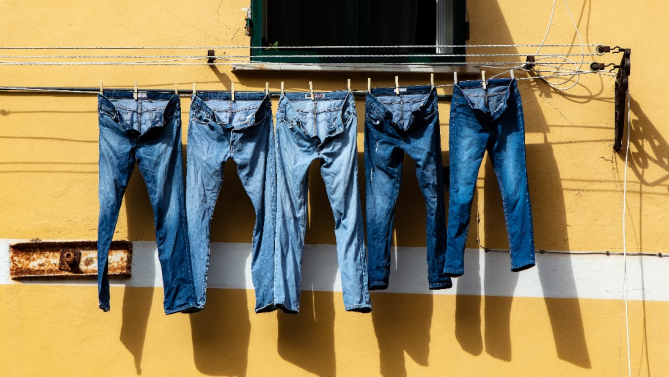 Denim producers, Blackhorse Lane Ateliers allow transparency – fashions latest buzz – by inviting potential customers into their factory to present to them how hygienic and environmentally friendly their workspace is, as well as how content employees are with their job and how durable and timeless their jeans are.
"Anybody can walk in here, even without an appointment. Through that we create transparency," says founder of Blackhorse Lane Ateliers, Hans Ates.
Ates stated that all their denim rolls are imported from mills located in Japan, Italy and Turkey, which he went to pay a visit to ensuring the potential suppliers practiced in an eco-friendly and socially responsible manner. It is of great importance that jean-makers who wish to create ethically, understand the manufacturing process of their supplier's denim as it is often massively polluting.
Andrew Olah, textile industry consultant and expert said that the dye used to give the denim its indigo colour, doesn't attach easily to the cotton fabric which can take a heavy toll on the environment.
"To get the dye on, we have to dye the fabric multiple times, and by dying it multiple times, obviously we need to use more water and more energy."
In addition, jean-makers use other chemicals to wash or bleach the denim. In order to receive the full effect, this process needs to be repeated a few times which contributes to more water waste. A statistic estimated that one pair of jeans could demand thousands of gallons of water to make. "The industry use a huge amount of water, and a huge amount of energy," said Mr Olah.
Unfortunately the reason for the water becoming waste is due to the fact that it carries many chemicals from the dye and bleach. Although thankfully, many jean-makers are trying to eradicate the production of water waste as a whole.
A jeans manufacturer based in Vietnam, known as Saitex International, is an example of one of these businesses. They are going green by recycling 98% of the water they use for production. The last 2% goes through an evaporation system, making the business a zero discharge facility.
Sanjeev Bahl said that in 2010, before the factory was established, he started studying sanitation and the adequacy of it on a global scale as well as our lack of drinkable water.
"Morally it pushed us to start looking at water as a very valuable resource."
Saitex has employed an estimated 5000 employees and supplies denim clothing for well-known brands such as J-Crew, G-Star Raw and Everlane. Bahl stated that the company was able to make back the money from their investments in water recycling technology in just six years.
Bahl goes on to say, "What we realised is that it's not just mission orientated, if you do it right, it can be financially beneficial as well".
Wrangler, an American Manafacturer, also recently announced their efforts to introduce a new form of technology capable of dying denim with foam instead of water, reducing the use of energy by 60%.