Investor roundtable: A holistic approach to climate research
In this 15-minute roundtable conversation, climate experts from Wellington Management offer their perspectives on the risks and underappreciated investment opportunities associated with climate research.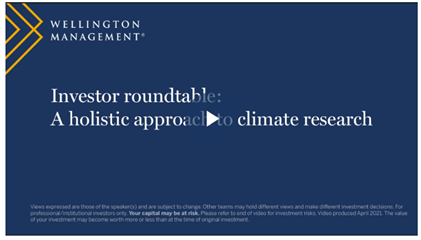 A discussion on climate-change investment opportunities
We believe the climate crisis is already here. As a result, climate change could meaningfully impact economies, industries, and society and we expect that many asset prices will increasingly begin to reflect these effects. Hear from experts at Wellington Management as they share climate-related investment perspectives and research findings.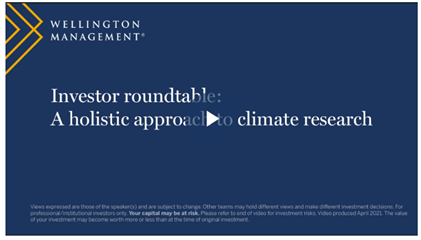 Speakers
Wendy Cromwell, Vice Chair, Director of Sustainable Investment (moderator)
Chris Goolgasian, CFA, CPA, CAIA, Director, Climate Research
Alan Hsu, Global Industry Analyst, Utilities and Energy
Greg Wasserman, Lead Private Climate Investor
Hillary Flynn, Director, ESG, Private Investments
To learn more about our approach to sustainable investing, please visit www.wellington.com/en/sustainable-investing
To stay up to date on our latest news and insights, follow us on LinkedIn.