Global trends in corporate tax disclosure
Corporate tax practices are increasingly under scrutiny from governments & investors. PRI commissioned research provides evidence that corporate tax reporting remains less developed & standardized compared to other sustainability issues.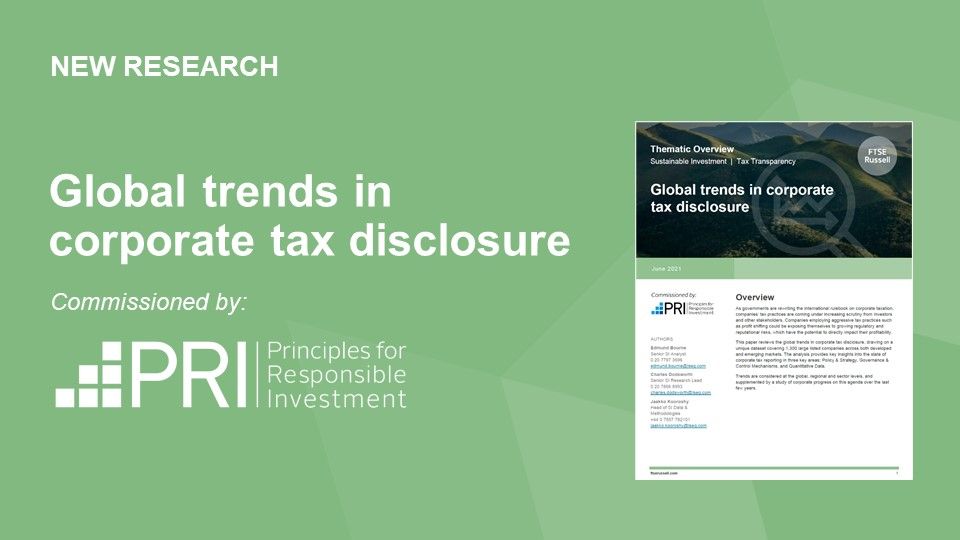 As governments are rewriting the international rulebook on corporate taxation, companies' tax practices are coming under increasing scrutiny from investors and other stakeholders. Companies employing aggressive tax practices such as profit shifting could be exposing themselves to growing regulatory and reputational risks, which have the potential to directly impact their profitability.
There is also abundant evidence that corporate reporting on tax remains less developed and standardized across sectors and markets compared to other sustainability issues.
Read this PRI commissioned research to:
Learn more about global trends in corporate tax disclosures from more than 1,300 large, listed companies in developed and emerging markets
Get unique, expert analysis of corporate tax reporting—at both the regional and sectoral level—in Policy & Strategy, Governance & Control Mechanisms, and Quantitative Data
Better understand corporate progress on the agenda in recent years
To read the full research paper click here.
© 2021 London Stock Exchange Group plc (the "LSE Group"). All information is provided for information purposes only. Such information and data is provided "as is" without warranty of any kind. No member of the LSE Group make any claim, prediction, warranty or representation whatsoever, expressly or impliedly, either as to the accuracy, timeliness, completeness, merchantability of any information or of results to be obtained from the use of FTSE Russell products or the fitness or suitability of the FTSE Russell products for any particular purpose to which they might be put. Any representation of historical data accessible through FTSE Russell products is provided for information purposes only and is not a reliable indicator of future performance. No member of the LSE Group provide investment advice and nothing contained in this document or accessible through FTSE Russell products should be taken as constituting financial or investment advice or a financial promotion. Use and distribution of the LSE Group data requires a licence from an LSE Group company and/or their respective licensors.