Glasgow unveils new electric buses to cut emissions ahead of net zero target
Glasgow has unveiled all new electric buses that will be rolled out across the city.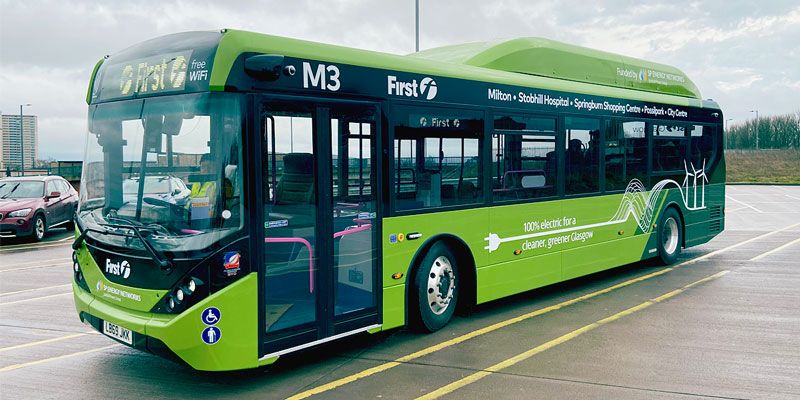 Glasgow has unveiled all new electric buses that will be rolled out across the city.
First Glasgow will roll out two all-electric buses as it becomes the city's first commercial bus operator to introduce state-of-the-art fully-electric vehicles onto a commercial bus route since the 1960s.
The launch of these vehicles means the city has now come full circle back to fully electric transport on commercial routes for the first time since the electric trolley buses were decommissioned by the Glasgow Corporation in May 1967.
The new vehicles will be going on the M3 route, which connects communities in Milton and Springburn with Stobhill Hospital and the city centre.
The electric buses are being funded as part of SP Energy Networks' £20million Green Economy Fund, which supports Glasgow's mission to become the UK's first net zero emissions city by 2030.
First Minister, Nicola Sturgeon MSP, said: "It is a real pleasure to see First launch their fully electric buses in Glasgow, following funding from SP Energy Networks. Scotland was one of the first countries to acknowledge that we are facing a global climate emergency and we have legislated for the most ambitious carbon reduction target of any country in the world."
"A key part of our plans is encouraging greater use of public transport as well as phasing out petrol and diesel vehicles. It's so great to see First and SP Energy Networks playing their part in helping us to achieve our goal of net-zero carbon emissions by 2045."
The new buses will be a key measure to ensure the city reaches net zero by the ambitious target of 2030.
Last year, Glasgow announced plans to become the UK's first net zero city. They revealed that, in collaboration with Scottish Power, the city would be setting measures in place to be zero carbon by 2030.
Andrew Jarvis, Managing Director for First Glasgow, said: "We are delighted to launch the city's first conversion of a commercial bus service to fully electric operation. "Every customer journey on the route will save around 2kg of CO2 compared with driving on your own in an average car, making bus the best choice in reducing the impact on the planet."
In December 2020, Glasgow will host COP26. This year, the UN climate discussions will be crucial for countries to show they have met deadlines set at the Paris Agreement.