City of Edmonds becomes 1st in Washington to commit to 100% renewables
The city of Edmonds in Washington has committed to a community-wide goal of transitioning to 100 per cent clean and renewable energy by 2025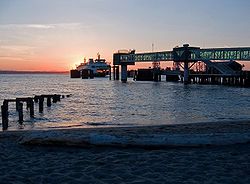 The city of Edmonds in Washington has committed to a community-wide goal of transitioning to 100 per cent clean and renewable energy by 2025.
The resolution was approved in the Edmonds City Council on Tuesday 27 June, making Edmonds the first city or town in the state of Washington to commit to 100 per cent renewable energy and the 37th city in the U.S. to make such a commitment – according to the Sierra Club.
Earlier in June, the cities of Sarasota in Florida, and Columbia in South Carolina, became the 35th and 36th cities in the country to make the pledge.
The news of Edmonds' commitment to 100 per cent renewable energy came just days after the U.S. Conference of Mayors unanimously approved a historic resolution that would see cities across the country transition to 100 per cent renewable energy within two decades.
In 2015, around 10 per cent of Edmond's energy came from nuclear sources, with small amount of coal and natural gas (less than 2 per cent) likely included, the Sierra Club said.
Edmonds Councilman Mike Nelson, who amended the resolution to make the 100 per cent clean energy commitment, said in a statement: "The majority of harmful greenhouse gas emissions come from cities, but it doesn't have to be this way. Whether you are a small city, like Edmonds, or a large city, the infrastructure is in place to shift to clean, renewable energy. We hope every city in our State joins us and flips the switch to renewable energy."
Other cities in the U.S. committing to 100 per cent renewables include: Santa Barbara, California; Pittsburgh, Pennsylvania; Atlanta, Georgia; Madison, Wisconsin; Abita Springs in Louisiana; Pueblo, Colorado; and Moab, Utah.
According to the Sierra Club, if all the cities belonging to the U.S. Conference of Mayors were to adopt 100 per cent renewable energy, they could cut carbon dioxide emission by 619 million metric tonnes, equivalent to the emissions of around 180 coal-fired power plants.
Never miss an update by signing up to our free newsletter here.