Building a hydrogen economy: how Hyundai is bringing fuel cell trucks to the road
Hyundai Motor is strongly committed to zero emission mobility and improving peoples' lives as a global leader in fuel cell technology.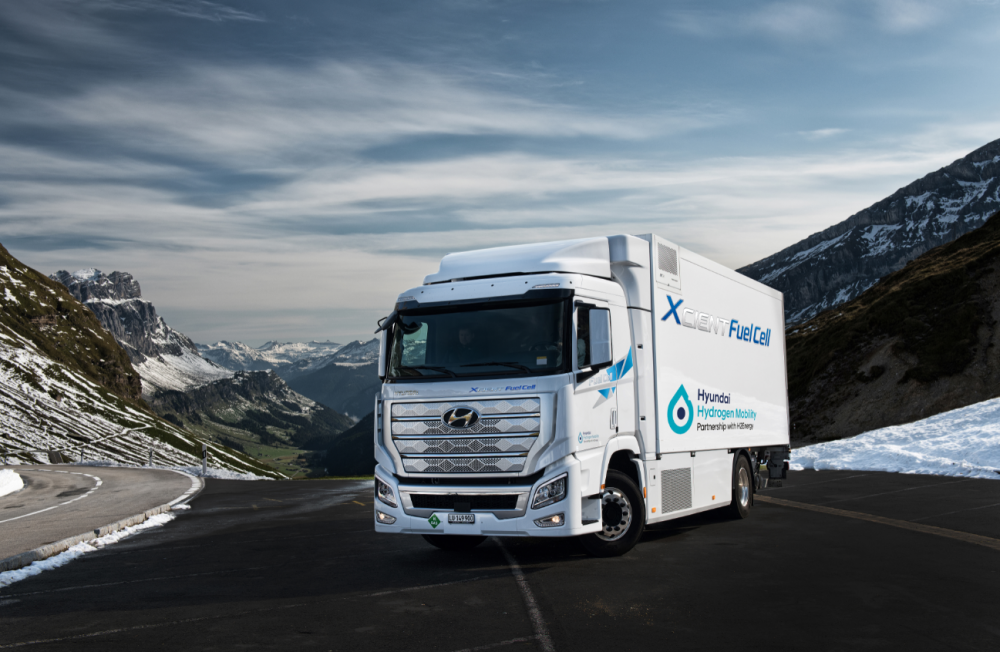 Hyundai Motor is strongly committed to zero emission mobility and improving peoples' lives as a global leader in fuel cell technology. By 2030, the company aims to produce over 700,000 Fuel Cell stacks annually, and by 2025 Hyundai plans to become one of the world's top three manufacturers of zero emission vehicles, including battery and fuel cell EVs.
Hyundai Motor Group recently introduced 'HTWO', a new brand to represent its world-leading hydrogen fuel cell system. HTWO not only stands for 'H2', the hydrogen molecule, but it also represents 'Hydrogen' and 'Humanity', the two main pillars of Hyundai's fuel cell business. The launch of HTWO, will help facilitate Hyundai's global fuel cell business and grow the hydrogen ecosystem. The Group's fuel cell system can be applied to various forms of mobility beyond just passenger cars, including urban air mobility, heavy-duty trucks, maritime vessels and trains.
Hydrogen-powered vehicles are set to play a crucial role as the automotive industry transitions to electrified mobility over the next decade. The trade body Hydrogen Europe expects 100,000 fuel cell trucks on Europe's roads by 2030.
With the transition to cleaner driving, zero-emissions mobility is a key pillar of Hyundai Motor's overall strategy. While many automakers are focusing solely on battery-electric vehicles (BEVs), Hyundai sees a peaceful coexistence between BEVs and fuel cell electric vehicles (FCEVs). The company believes that while battery-electric technology is ideal for passenger cars that travel over shorter distances, fuel cell technology is particularly well suited for longer distances and heavy loads – such as commercial shipping. This is why Hyundai is part of a unique business setup to simultaneously build up hydrogen refuelling infrastructure and to bring fuel cell commercial trucks on the road – starting in Switzerland. To run the project, Hyundai Motor Company formed Hyundai Hydrogen Mobility, a joint venture with Swiss company H2 Energy, in 2019.
Hyundai's H2 XCIENT Fuel Cell Truck
Hyundai is now drawing on its decades of experience with fuel cell technology and mass production capabilities to advance hydrogen in the commercial vehicle sector with the Hyundai XCIENT Fuel Cell truck.
The XCIENT Fuel Cell truck features a new 190 kW hydrogen fuel cell system with two 95 kW fuel cell stacks connected in parallel, and carries seven large hydrogen tanks with the storage capacity of approximately 32kg of hydrogen. Each truck can potentially save about 70 tonnes of CO2 per year as compared to a diesel truck. An XCIENT Fuel Cell can drive around 400 kilometres on a single tank of hydrogen fuel, and each truck can be refuelled in 15-20 minutes.
Solving the chicken-egg dilemma: Hyundai's Swiss business case
In order to support the growing hydrogen ecosystem in Europe and promote the wider adoption of fuel cell technology, Hyundai Hydrogen Mobility and its partners are rolling out a business setup to simultaneously build up hydrogen refuelling infrastructure with more than 50 hydrogen fuelling stations, and bring fuel cell electric mobility solutions on the road using commercial trucks.
But the trucks are only as green as the hydrogen used to power them. That is why Hyundai Hydrogen Mobility has partnered with Hydrospider, a joint venture between Swiss energy companies H2Energy, Alpiq and Linde, to be its supplier of clean hydrogen generated from hydropower. In this way, the company acts as a sector coupler, bringing various players together in the hydrogen value chain.
"In order to solve the chicken-egg dilemma with regards to supply and demand, we had to commit to creating demand by delivering the trucks, while our partners committed to securing the supply side by building up H2 production and the refuelling infrastructure. Our XCIENT Fuel Cell trucks are just the right starting point for this, because of their higher demand for hydrogen. Therefore, the impact on saving CO2 emissions is much bigger, too," says Mark Freymüller, CEO of Hyundai Hydrogen Mobility. "Fuel cell vehicles should just not be a marketing activity. They need to be financially on the same level as diesel, especially on the commercial vehicle side. But we also need to create usability advantages, which are necessary, and ensure governments are committed to setting them up."
"There are two reasons why we chose Switzerland," says Freymüller. "Firstly, it works for us from an economical perspective. With our XCIENT Fuel Cell trucks, we can offer a financially attractive alternative, as emission-free vehicles do not have to pay the significant road tax that is applied to diesel trucks. Secondly, we are not working alone here. Scalability is crucial to make this a success. Through these joint ventures, we are working with some strong partners, and together we have been able to build up a full ecosystem in Switzerland."
The first XCIENT Fuel Cell trucks were made available to Swiss customers in October 2020. The trucks are rented by customers exclusively via an innovative pay-per-use model with an individually-calculated fee per kilometre, meaning there is no risk or initial investment required for the commercial fleet customers. This fee already includes the cost of the hydrogen fuel. It takes into account the use of the vehicle and the annual mileage. This way, the customer only pays for the service actually used.
"The plan is to have 1,000 fuel cell trucks in Switzerland by 2023. We already have about 50 vehicles in Switzerland, and we will ramp that up quickly. This is not a demo project, it's a market entrance," says Freymüller. "We are also in discussions to transfer this model to other European countries. However, for it to succeed in other nations, we will need to see some strong EU-wide government efforts and smartly utilised funding. The process should be quick, and it should also be easy for the end consumer to get some access to that money. And it should be spent wisely to build up an ecosystem which can live without subsidies in some years – that's the important part."
Hyundai aims for a production capacity of 2,000 units per year of XCIENT Fuel Cell trucks in order to support their expansion into Europe, the U.S. and China as demand for clean mobility grows.
To learn more about Hyundai Hydrogen Mobility and find out more about leasing opportunities for its XCIENT Fuel, visit: https://hyundai-hm.com/en/