Kristof Vereenooghe on what EVBox is doing to revolutionise the EV industry
Ahead of the Transport Transition Summit, taking place on the 11 & 12 May, Climate Action caught up with Kristof Vereenooghe, President and CEO of EVBox Group, to discuss what EVBox is doing to revolutionise the EV industry and what are the short term measures needed to reach net zero.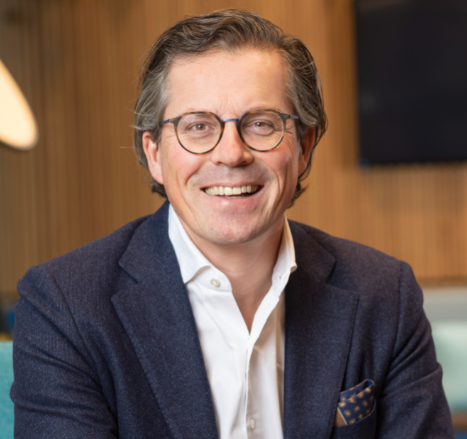 Ahead of the Transport Transition Summit, taking place on the 11 & 12 May, Climate Action caught up with Kristof Vereenooghe, President and CEO of EVBox Group, to discuss what EVBox is doing to revolutionise the EV industry and what are the short term measures needed to reach net zero.
Kristof, you're speaking as part of our Transition Month within The Roadmap to COP26. What does COP mean for the transport industry, what do you need from COP and what does a successful COP look like for you?
The effects of climate change on our planet are now more visible than ever—we must act now to ensure that living and breathing on our planet is safe for everyone, everywhere.
The transport sector is one of the main contributors to Greenhouse Gas Emissions, and it is, therefore, our obligation to reshape and redefine the future of mobility. New business models, technologies, and ways of thinking will make the difference, and we must do everything to bring global transport closer to a carbon-neutral future.
At EVBox Group, we believe that electric mobility will be a key component when it comes to establishing a sustainable future. With over 750 EVBoxers worldwide, we are committed to helping businesses, cities, and communities embrace electric mobility with our scalable, flexible, and intelligent EV charging solutions.
As one of the leaders in electric vehicle charging solutions, it is our responsibility to redefine what transportation looks like with the help of our partners, customers, and competitors alike. Collaboration on all levels is a determining factor—this is why we are honored to partner with Climate Action and speak at events like the Transport Transition Summit in order to raise awareness and motivate all players to take action ahead of COP26.
We see COP26 as a way for countries to come together and tackle the climate crisis; to go beyond words and implement concrete action plans. We're already behind on previous COP agreements, like the Paris Agreement, and I hope that this year's conference will urge companies, civil society, and governments alike to take the next steps toward a sustainable future of transportation.
COP is a starting line not a finish line to reach a net-zero future by 2050. But, short-term action is just as important as long-term net-zero ambitions. In your industry what do you see as the most important short term measures and steps needed to get on track to net-zero in the long term?
Global sales of EVs grew by 43 percent in 2020, with Europe alone growing 137% compared to the previous year, and some countries like Norway or the Netherlands exceeding EV sales over petrol and diesel cars. 2021 is expected to be the tipping point to mass adoption of electric cars. While Tesla may still be ahead technologically, with other brands bringing more affordable models to the market—switching to electric driving will be easier and easier for the average consumer.
Establishing EV charging infrastructure across the world needs to become the number one priority on the global policy agenda. Any CO2 ambition for transport and energy must be accompanied by ambitious infrastructure objectives, and they need to be rolled out today. We simply can't wait any longer.
That said, sufficient public attention, the development of charging plans, and dedicated funding for electric mobility and EV charging infrastructure will be vital to ensure that charging infrastructure can contribute to global economic recovery while meeting our net-zero emission ambitions.

Not only will these provide investor and consumer confidence in realizing those ambitions in transport, it can also help to prepare for the future energy system: There are clearly important relationships between mobile batteries, the future transport sector, and the energy system of tomorrow, and these synergies are of major strategic importance when it comes to rebuilding our economy as a whole.
We can't wait to scale faster and invest in a new industry, jobs, and careers which will ensure prosperity into the future. With strong commitments by governments and action plans in place, we will be able to achieve our targets.
In reaching net-zero we must take action this decade, but there are many structural, financial, and policy barriers. Where do you see the greatest friction currently, and how can cross-sector collaboration and public-private partnership help to overcome these barriers?
We have seen some important announcements recently in the U.S. and Europe as to how EV charging can help us build back better. Policymakers across the board realize that investing in electric mobility and infrastructure can boost welfare creation and act as a driver for growth and jobs. Now, we need strategic rollout plans for the long run to really serve EV drivers' needs: EV charging needs to be cheap, close by, uncomplicated, and fun.
Policymakers must look beyond 2030: knowing that there will be exponential growth of EVs, we need to think about how we will address the infrastructure build out challenge. Once the ambitions and roadmaps are set at global and national levels, we need to address the pain points (like connection procedures, technical requirements, etc.) to quickly realize EV charging everywhere at a local level: from residential and commercial to public charging.
We need to work with network operators and authorities to address the local challenges and create sufficient EV infrastructure.
Furthermore, the beauty of establishing net-zero emission standards for transport through EV charging is the ability to create new value for both the drivers and businesses—for example, via new business models emerging around smart mobility, energy management, and urban city planning. We can also open up a new landscape of offerings for fleet operators, fleet service providers, retail, hospitality, etc.
Cross-sector cooperation is an integral part of our DNA—the EV charging business is a collaboration between OEMs, energy companies, and digital players. These collaborations need to be nurtured by policymakers with a regulatory framework that creates open networks driven by open industry standards and protocols.
10 years ago, EVBox was just a small start-up. Yet, at the end of last year you became a public listed company. The speed of this growth has been incredible. What's allowed this growth, how have you become the market leader you currently are, and where is EVBox headed?
Ten years ago, the EV market was still in its infancy and the world was only just waking up to its potential. EVBox Group started with the development of charging solutions and quickly grew a stable company in Amsterdam (NL)—the Silicon Valley of EV charging, as we like to say. In 2017, EVBox became part of French energy company ENGIE. Over the last few years, EVBox has been able to heavily invest in R&D, acquire fast charging station manufacturer EVTronic in 2018, and ship over 250,000 charging ports around the world.
In 2019, we renovated our fast charging manufacturing site in Bordeaux, and in the beginning of 2020 we opened our Lab Space in Amsterdam, where we constantly work on innovations and test all of our future charging stations on actual vehicles in our own facility.
With our extensive portfolio of residential, commercial and ultra-fast charging stations, as well as scalable charging management software engineered by Everon, EVBox Group ensures that electric mobility is accessible to everyone.
Our approach to integrated charging solutions—namely hardware, software, and services—has enabled us to become a market leader in Europe, and now we're ready to confidentially expand into North America on the back of our expertise. This summer, we'll be a listed company on the New York Stock Exchange thanks to a business combination with TPG Pace Beneficial Finance.
Together with our skilled and passionate EVBoxers around the globe (a third of them in R&D and technology divisions), we constantly strive to deliver excellent customer service in order to empower forward-thinking businesses to build a sustainable future. Our goal to do better, constantly improve our technologies, and take part in several initiatives—like promoting open standards and giving back to the planet via our OneChargerOneTree initiative—all contributes to our growth.
How is EVBox's focus on fast charging set to revolutionise the EV industry further and accelerate consumer take-up? How fast is fast?
Fast charging plays a pivotal role when it comes to EV adoption. Our recent research, the EVBox Mobility Monitor, shows that one of the top three barriers to electric driving is charging being too time-consuming. Four in 10 future EV drivers are willing to pay more for fast charging and 66 percent would be convinced to buy an EV sooner if there were more fast charging possibilities on the road.
With our Bordeaux facility, we're able to ship 5.000 fast and ultra-fast charging ports a year produced to the highest standards. We have dedicated DC expert teams focusing on quality assurance, change management, and production control. We also focus on four main DC pillars: innovation, development, operation, and after-sales. Our teams try to improve our charging stations everyday in order to make electric mobility as simple as possible.
So how fast is fast, you ask? At EVBox, we offer a complete range of DC charging stations, with power outputs ranging from 50 kW to 350 kW. With 350 kW, you can add a range up to 400 kW within 15 minutes—just enough time to order and enjoy a coffee at the service station. Our products are designed to be easily installed and maintained while encapsulating our product DNA: being accessible, intelligent, and reliable. Looking forward, the Bordeaux factory will be used as an example for our factory in Libertyville, Chicago in the US, which will start shipping DC stations this summer.

I'm proud to say that we've recently won the iF DESIGN AWARD for one of our fast charging stations, EVBox Ultroniq, and we've just announced our next generation of ultra-fast charging will soon be coming to the market. It's been an exciting year for EVBox Group, and I'm confident to say that this is just the beginning.
---
Kristof Vereenooghe is speaking at the Transport Transition Summit this May! Register now to connect with a growing network of over 1,500 transport, energy and policy professionals mapping the next phase of the transport transition.