Kentaro Hosomi on the role technology & innovation will play in MHI Group's decarbonisation strategy
After the Sustainable Innovation Forum 2021, Climate Action caught up with Kentaro Hosomi, Chief Regional Officer EMEA at Mitsubishi Heavy Industries Group, to discuss the role technology & innovation will play in the companies decarbonisation strategy.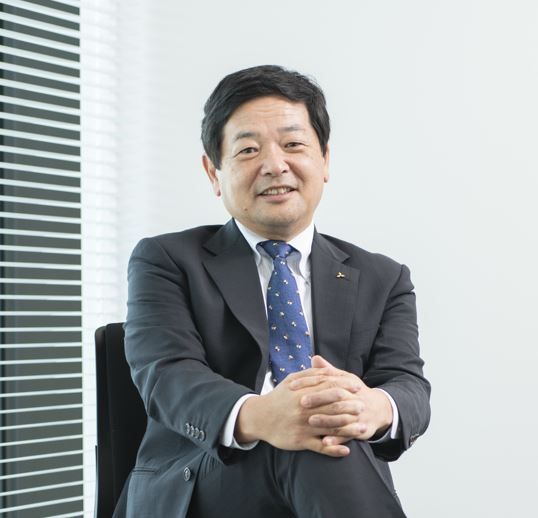 After the Sustainable Innovation Forum 2021, Climate Action caught up with Kentaro Hosomi, Chief Regional Officer EMEA at Mitsubishi Heavy Industries Group, to discuss the role technology & innovation will play in the companies decarbonisation strategy.
Can you tell us a bit more about your role at Mitsubishi Heavy Industries Group (MHI Group), and specifically how MHI Group are working to advance the net zero transition?
I run and develop MHI's business in the EMEA region, a part of the world that has tremendous leverage on the push for net-zero – with a modern industrial base and the right political momentum in Europe, and great potential for the development of carbon-free energy resources in North Africa and the Middle East.
For MHI Group, the transition to zero-carbon fuels and industrial processes has become a cornerstone of our business — across the globe as well as in my region specifically, our Group companies support clients across industries in reducing their carbon footprints. To pick out just a few examples, Mitsubishi Heavy Industries Engineering focuses on delivering efficient solutions for Carbon Capture, Utilization and Storage, accelerating the decarbonization of industrial clusters and fostering the creation of CO2 value chains. We recently set up a dedicated regional team for these efforts in London. Mitsubishi Power is helping decarbonize power supply with hydrogen combustion technology for gas turbines. And Primetals Technologies, another one of our Group companies, is developing processes for hydrogen-based ironmaking to help the steel sector – a major emitter of greenhouse gases – meet its net-zero targets.
The industrial sectors, what some may call the hard-to-abate sectors, pose one of the greatest challenges to decarbonisation, since they account for almost 40% of global carbon-related emissions together with heavy transport. What are your thoughts on the future of decarbonising these industries?
We call these sectors "hard-to-abate" because there is no straightforward way to electrify the industrial processes and chemistries involved. Cement is the prime example, but this is also largely true for steel. Ironically, the transition from fossil fuels to renewably energy will require vast amounts of exactly these materials – cement, steel, copper and other metals – to construct new energy infrastructure, whether it be wind turbines, solar, or hydroelectric. Another point that should not be forgotten is that that the supply of renewable power is intrinsically intermittent, so any strategy for decarbonization must also seek to deliver reliable, affordable low-carbon base load. This is why, with electricity demand growing, we see the role of natural gas and hydrogen as equally important in supporting sustainable growth in our societies.
Where do you see the opportunities for Mitsubishi Heavy Industries Group (MHI Group) to have the greatest impact with solutions across so many industries like transportation, energy, mining, and industrial sectors?
Before we can look at deep decarbonization based on new energy, we will have to first increase energy efficiency on existing assets in these industries and deploy carbon capture, storage and utilisation wherever feasible — establishing a value chain for CO2. Decarbonising assets in industrial clusters that combine several emitters has proved to be a particularly efficient way of doing this. One example would be the East Coast Cluster in the UK, where Mitsubishi Heavy Industries has entered into an agreement with Drax to build the world's largest carbon capture facility, turning biomass-based power generation carbon negative.
In the mid to long term, heavy industries such as steel will have to switch from coal to hydrogen-based processes, with natural gas as a transition fuel. This process is already getting underway, but the scale of the undertaking is enormous and will require vast amounts of hydrogen as a feedstock.
Mitsubishi Heavy Industries is active along the entire hydrogen value chain, from production and transport to its use in industry. There is tremendous potential in all these domains to decarbonize with hydrogen, ammonia as well as CCUS technology. However, many players on the international stage (that is, governments as well as corporates) have only recently woken up to the new reality and things will undoubtedly stay in flux while regulatory frameworks are settled and the path forward becomes certain enough for large-scale investment. That's why we are researching and investing in a diverse set of technologies.
What role will technology and innovation play in MHI's decarbonisation strategy?
As a provider of technology across many domains, innovation is part of our DNA and central to our strategy. We recently declared the goal of making our operations and products net carbon neutral by 2040 and targeting minus 50% by 2030. Looking at the emissions of our clients, our activities in energy systems as well as in plants and infrastructure we will be among those that have the biggest impact — and we will reach the goal of net-zero by further developing solutions in the fields of energy efficiency, production and use of hydrogen, as well as by turbocharging research in and deployment of carbon capture, utilisation and storage. To name just one recent achievement, we concluded successful test of a new solvent for carbon capture, named KS-21, at a facility in Norway. Carbon capture rates were confirmed at 95–98%, which will enable us to drive down costs per tonne captured, making deployment of CCS even more attractive for our clients.
Collaboration is going to be required on a scale never seen before if we are to achieve a global net zero economy. How can we utilise cross-sector partnerships to help accelerate the net zero transition?
Collaboration and partnership are obviously key on the road to net-zero 2050 — we are working with governments, energy companies, utilities and many others to advance the cause of a carbon-neutral society. One example that I'm particularly excited about is the Hamburg Green Hydrogen Hub in northern Germany, where Mitsubishi Heavy Industries is partnering up with Shell, wind energy major Vattenfall and local municipal company Wärme Hamburg to explore the feasibility of converting the site of a former coal-fired power plant into a 100MW hydrogen project. The facilities could begin producing clean hydrogen from wind and solar by 2025 – supplying zero-carbon energy for district heating, heavy-duty transport, and local industry such as steel production. The Hub would be one of the largest green hydrogen producers in Europe – and could be scaled up to five times the size in the medium- to long term, building on the strength of this partnership. It goes to show how it takes a whole-systems approach for society to fully decarbonize.
---
MHI Group spoke last year at the Sustainable Innovation Forum 2021 at COP26 in Glasgow. You can watch all the sessions on demand here.