Carlos Rodrigues on how Renault Trucks are helping customers meet their decarbonisation targets
Ahead of the Transport Transition Summit, taking place on the 11 & 12 May, Climate Action caught up with Carlos Rodrigues, Managing Director at Renault Trucks, to discuss how the company is helping its customers to deliver on their decarbonisation targets.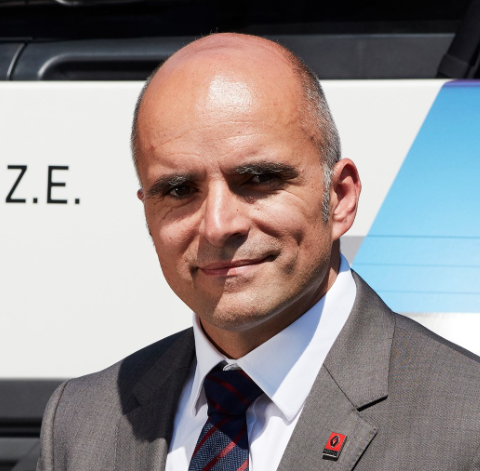 Ahead of the Transport Transition Summit, taking place on the 11 & 12 May, Climate Action caught up with Carlos Rodrigues, Managing Director at Renault Trucks, to discuss how the company is helping its customers to deliver on their decarbonisation targets.
You're speaking as part of our Transition Month within The Roadmap to COP26. What does COP mean for the transport industry, what does the road freight sector need from COP and what does a successful COP look like for you?
Transport accounts for circa 24%* of the global CO2 emissions of which 30%* are related to Road Freight. In other words, road freight is 7% of the solution in the road to zero carbon emissions and COP is another great opportunity for OEMs like Renault Trucks, as a pioneer and leader, to share with the progress with a wider audience. Right now, a significant number of road freight applications can already start to be fully decarbonized. Since the last COP, held 2 years ago, a number of zero tailpipe emissions vehicles have entered the market and are now available, not as test or trial vehicles, but serial production options. This is true for both light but also medium/heavy-duty applications.
Clear commitments have been taken with the Paris agreement and this was a great step forward. Since then, more and more operators and OEMs have engaged themselves on this journey. It is now time to be more specific. In the medium to long term, we need ambitious incentives or policies to support programs for customers and operators willing to engage in this journey and start the decarbonisation of transport with battery electric vehicles. We also need a solid plan to build the infrastructure required for the next step and the hydrogen powered trucks either via fuel cells or with Internal Combustion engines. A successful COP26 should answer these 2 important items.
* Data source: World in Data based on International Energy Agency and the International Council on Clean Transportation ICCT
COP is a starting line not a finish line to reach a net-zero future by 2050. But, short-term action is just as important as long term net-zero ambitions. What are the most important short term measures and steps needed to get delivery vans, trucks and the HGV sector on track to net-zero in the long term?
This is very true…the start is very important and at Renault Trucks we did this 10 years ago by investing significantly in battery electric vehicle technology.
Reducing carbon emissions can be achieved in many ways. At present there are a number of activities around finding alternative fuels to diesel, creating less or almost no CO2, but many are still generating other emissions. From a fuel perspective the most effective solution when using full life cycles, cradle to grave, is by far battery electric vehicles i.e. zero tailpipe emissions vehicles. In Europe, over 12 years, it generated circa 50% less emissions on a total life cycle (with an electricity mix based on 50% carbon). This situation will improve significantly in the coming years.
From a manufacturing perspective it is about having proven solutions to reduce emissions at source i.e. by accelerating the adoption of zero tailpipe emissions vehicles. Battery Electric Vehicles available today can help decarbonize cities and applications within the urban environment. The latest technology of the conventional diesel engines has significantly improved air quality, -98% NoX reduction, and we see a few cities promoting clear air zones. These are very good initiatives, but they are not tackling greenhouse gas reductions. If we want this to change their needs to be a clear incentive to adopt zero tailpipe emissions vehicles as soon as possible. Policy drives change and only policy will be able to focus operators and customers minds. End users and consumers in their majority are supportive of the change and most consumers are relying today on last mile delivery services or having experienced the silence of a cleaner and quieter refuse vehicles will support operators and councils to accelerate the adoption of electric vehicles.
Finally, operators and the transport industry can also improve the carbon impact of road freight by improving the vehicle load and capacity management. This includes load capacity planning, route optimization and freight share. On this front there are several on-going initiatives being trialled and discussed including longer articulated vehicles. Once fully tested, these initiatives need to be supported also by policy change.
In reaching net-zero we must take action this decade, but there are many structural, financial, and policy barriers. Where do you see the greatest friction currently, and how can cross-sector collaboration and public-private partnership help to overcome these barriers?
The equations which needs to be solved is:
Road freight decarbonation = Vehicle Technology x Infrastructure x Cost parity.
Solving the terms of the equation can be done at different speeds. For current available technology, which can remove carbon from road freight within cities and for urban related applications, there is a strong need to create the incentives or a preferential framework to facilitate the adoption of BEVs. Decarbonation comes at a cost, as Battery Electric trucks will remain more expensive to operate than diesel trucks during this decade, and as that cost cannot be absorbed by the transport operators, it needs to travel down the transport chain to the final customer. A legal framework for decarbonation cost (from transporter to final customer) would greatly accelerate BEV adoption.
When it comes to long haul, more demanding operations and BEVs requiring regional or national distance coverage, we will need an even stronger cooperation between the public-private sectors. Significant investments are required to make it happen both on Infrastructure with pan-European cooperation of all energy players to develop a dense network of BEV rapid chargers on the highways and H2 refilling stations, but also on the cost parity with preferential incentive schemes for zero emission trucks as well as competitive green electricity or H2 prices to run the trucks. The tax regulations should help to reallocate investments and financial frame towards transport decarbonation. This is a significant share of the total market and without this infrastructure those solutions will not be chosen by operators. We will be ready in the second part of this decade for hydrogen powered vehicles but today the plan to create that infrastructure and additional rapid chargers for BEVs on highways is yet to be decided and funded.
Renault is doing a huge amount to provide affordable, low carbon vehicle options for consumer facing brands and logistics companies. What sort of demand are you seeing from your customers and how are your products helping them deliver on their decarbonisation promises? What's next in the pipeline?
At the moment what we see are early adopters, companies having themselves initiated or established their net-zero commitments or companies that have energy type projects and want to use their own renewable energy supply to power their own fleet of vehicles.
From day 1, we identified a different pattern and behaviour from our customers. Firstly, there is an education element. As this is new technology, we take time to explain to the customer exactly how it works. The most common fear is 'range anxiety' but to assist with this we have developed very advanced software to secure that vehicles are tailored to customer needs. We have also seen new questions raised around the total life cycle of our batteries. Being part of a leading group such as Volvo Group is an asset to reassure our customers. Finally, we are finding that, more than ever, Corporate Social Responsibility employees' people are now playing a key part in the purchase process within operator organisations. Depending on the mix of emissions of the customer operations, the renewal of a fleet needs to be planned in line with the company's net-zero commitments.
Now it is about bringing more diversity in our battery offering. We already have 50 and 66 kWh batteries and we need more diversity to be able to find the best balance between weight and range. In the battery offering, we will bring tremendous cost and weight improvements during this decade due to the up-scale and technology evolutions.
What we establish with our engaged customers is that this is not the sale of an electric truck but an energy transition plan.
Having a variety of different vehicle options, in terms of cost and size, is of course important to meet the different needs of customers. But how is Renault Trucks contributing to the delivery of a reliable and wide-spread charging and refuelling infrastructure network? How can this be accelerated? promises? What's next in the pipeline?
This is a very good comment. When selling conventional diesel vehicles, we don't have to think about this aspect as the infrastructure is there to support customers far and wide. With electric vehicles it is a very different situation. Not only do we have to think about the charging, but we also have to understand and help the customer establish a power supply diagnosis of its different locations. To achieve this, we have established partnerships with specialists in the sector, and we are able to provide turn-key solutions to our customers in order to bring peace of mind. In most urban and city operations the overnight charge will provide the power required to operate the vehicle during the day. This means that in many cases the issue is not the charger itself but the customer depot capacity to charge multiple vehicles simultaneously. We have the partners to help make this possible.
Renault Trucks, a brand of the Volvo Group, will also benefit from the creation of a new business area – Volvo Energy. Volvo Energy will have both an internal role, providing competitive new and remanufactured battery solutions and charging solutions to the Volvo Group's other business areas, and an external role, offering used, remanufactured and refurbished batteries to customers for use across different applications. Volvo Energy will also carry the Group's responsibility for charging infrastructure solutions for both BEV and fuel-cell electric vehicles. Collaboration between various business partners and stakeholders across the ecosystem will be key.
Commercial vehicle batteries will be used for many years in the vehicle before they need to be replaced or remanufactured/refurbished. However, if completely new batteries are fitted to the vehicle, the used ones will generally still have considerable remaining capability, which makes them ideal for static energy storage purposes in buildings or in green energy production. Repurposing these batteries means that natural resources are conserved.
---
Carlos Rodrigues is speaking at the Transport Transition Summit this May! Register now to connect with a growing network of over 1,500 transport, energy and policy professionals mapping the next phase of the transport transition.