Sustainable Innovation Forum to drive the business community towards fulfilling Paris Agreement
With the historic Paris Agreement having received a record 177 signatories and its ratification process underway, leading companies in the sustainability sector are now preparing for the Sustainable Innovation Forum 2016 (SIF16)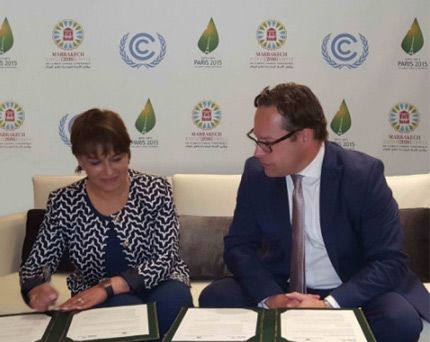 PRESS RELEASE - Marrakech, 29 September 2016 – With the historic Paris Agreement having received a record 177 signatories and its ratification process underway, leading companies in the sustainability sector are now preparing for the Sustainable Innovation Forum 2016 (SIF16), the largest business-focused summit taking place alongside the 22nd Conference of the Parties (COP22) this November in Marrakech...
Convened by Climate Action, November 14-15 in Marrakech and with the official endorsement of the Moroccan Government, SIF16 will unite over 1,000 high-level delegates around topics including renewable energy, sustainable agriculture, climate finance and low carbon innovation in developing regions.
With the global green economy currently estimated to be worth US$3 trillion per year, businesses have an unrivaled opportunity to prosper, all while contributing to the acceleration of low carbon development. Leading organizations that recognize this opportunity include ACWA Power, Vattenfall, BMW i and Kiira Motors Corporation, will be present at SIF16 to share the latest in green innovation and to engage with global policy makers.
In an official signing ceremony in Rabat earlier this month Dr. Hakima El Haite, the Moroccan Delegate Minister in Charge of the Environment and High-Level COP22 Champion, joined Nick Henry, Chief Executive Officer of Climate Action, to formalize Government support for the Forum.
Minister El Haite will deliver the Forum's keynote opening address and provide input to the Advisory Board, ensuring that Morocco's key green economy priorities will be successfully addressed at the summit.
At an environmental conference this past May in Paris, Morocco's COP22 champion reiterated the Kingdom's commitment to the fight against climate change and the necessity to seize the opportunity for innovation and to provide solutions for the implementation of the Paris Agreement in a spirit of fairness and justice.
Sponsored Content
Last month Minister El Haite and French climate change Ambassador Laurence Tubiana said: "We believe that more can be done, in particular, to actively include in this process more representatives from national and local governments, businesses and civil society from developing countries. We intend to ensure that they are fully engaged and represented in the global climate action agenda."
SIF16 will take place at the Four Seasons Hotel Marrakech, just outside of the UNFCCC Blue Zone, and is built upon year-round work from Climate Action and the UN Environment Programme. Convening cross-sector participants from the private sector, Government, Investor community, UN agencies and international NGOs, a strong focu s will be placed on discussions around national climate targets and the drive towards business innovations and solutions that need to be implemented in order to achieve these ambitious goals.
Registration for the Sustainable Innovation Forum at COP22 is now open. Last year's event in Paris received over 6,000 registrations to attend, with over 5,000 following via live stream. Applications to attend are expected to be even higher this year, so early registration is strongly advised. Obtain your delegate pas s by visiting the website at www.cop22.org
For media information please contact Dan Cole at dcole@climateactionprogramme.org or alternatively call +44 (0)20 7871 0123