UNEP COP21 report to include ministers from Colombia, Denmark, Germany and Norway
Annual Climate Action report will be launched at COP21 in December to support global climate deal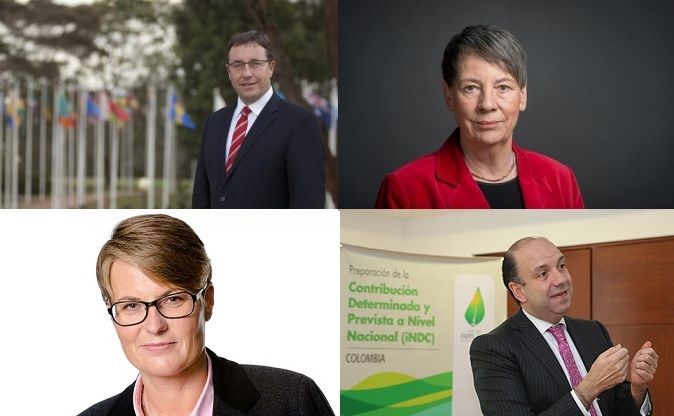 The annual Climate Action report will be launched at the key UN Climate Change Conference in December and the Environment Ministries of Colombia, Denmark, Germany and Norway have confirmed their participation.
The report is produced in partnership with the United Nations Environment Programme (UNEP) and will include case studies and guidance from governments, key UN bodies, and leading INGO's to support international efforts to agree a strong global climate deal.
The ninth edition of Climate Action will be launched at the official UNEP Sustainable Innovation Forum 2015 alongside the 21st Session of the Conference of the Parties (COP21) to the UN Framework Convention on Climate Change (UNFCCC) in Paris.
The publication was first launched in Bali for the UN Climate Change Conference in December 2007 (COP13) as a platform for governments, industry, international opinion leaders, distinguished academics and environmentalists to debate climate change solutions.
Achim Steiner, Under-Secretary General of the UN and Executive Director of UNEP (pictured top left) will be writing an introductory foreword in the upcoming edition and has been at the forefront of initiatives including the 'Climate and Clean Air Coalition' which works to reduce black carbon and methane emissions.
Under Steiner's leadership UNEP have spearheaded projects in clean energy, sustainable water management and clean transport and have championed the green economy on a global scale.
The German Federal Environment Minister, Barbara Hendricks (pictured top right), will write a key feature in the report on the central themes to be addressed at COP21 including decarbonisation, clean energy generation and environmental policy.
Other ministers who will be participating in the report include Tine Sundtoft, Minister of Climate and Environment, Norway (pictured bottom left); Lars Christian Lilleholt, Minister of Climate and Energy, Denmark (pictured bottom left); Gabriel Vallejo Lopez (pictured bottom right) of Colombia.
The report will address the key role of cities in developing a sustainable future and the policies and projects required to achieve resiliency.
Eduardo Paes, Mayor of Rio de Janeiro, and Chair, C40 cities Climate Leadership Group; and Terri Wills, CEO of the World Green Building Council (WorldGBC) will be contributing important features whilst BMW will also be a key participant.
Climate finance will also be a focus of the report and will include contributions from the Inter-American Development Bank (IDB); the European Investment Bank (EIB); and Peter Bakker, President of the World Business Council for Sustainable Development (WBCSD).
With energy security a growing issue in the environmental debate, the Chair of World Energy Council (WEC), Marie-José Nadeau, and Adnan Amin, Director-General, International Renewable Energy Agency (IRENA) will address the key global energy issues.