Sustainable packaging industry to grow by $142 billion by 2015
Biodegradable packaging has become the fastest growing sector in the market, thanks in part to food and cosmetics industries.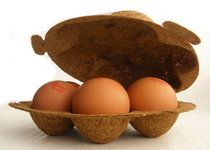 Research firm Global Industry Analysts have predicted that demand for sustainable packaging will create a $142 billion industry by 2015.
In GIA's "Sustainable (Green) Packaging: A Global Strategic Business Report", the sustainable packaging industry is said to be dominated by EU and US markets who account for 70 per cent of the market.
The extra demand speculated by 2015 in the report is set to come from developing Asia-Pacific markets, an industry that is increasing at an annual compound annual growth rate (CAGR) of more than 10 per cent by 2015.
The sustainable packaging market itself is 90 per cent recycled packaging in the US, which will soon have to compete with biodegradable packaging- the fastest growing sector within the sustainable packaging industry.
Biodegradable materials do not only preserve food products, they are easily decomposed by microorganisms- many food companies have recently announced that they will switch to compostable biopolymer packaging in particular.
Currently, only 27 per cent of US goods use sustainable packaging, a figure that is estimated to reach 37 per cent by 2015. The report highlighted the lack of sustainable packaging within the medical and pharmaceutical industries who blame regulatory concerns and poor consumer demand.
The cosmetics industry was also highlighted by the report in particular- over 600 new beauty products for the European market have adopted sustainable packaging materials over the last two years.
Proctor & Gamble have recently announced that three of their global beauty products-Pantene Pro-V, CoverGirl and MaxFactor-will be switching to sustainable packaging- namely, Brazilian sugarcane.
It will take two years for P&G to remove their petroleum-based plastic cases from the market, a process Vice-Chairman Ed Shirley believes must be carried out without any "trade-offs in performance, aesthetic or value."
The sustainable packaging industry was immune to economic downturn recording impressive growth from 2008 to 2009. The sustainable packaging industry has also surpassed EU targets- recycled steel for packaging alone was meeting targets as far back as 2001.
According to the latest report from the Association of European Producers of Steel for Packaging (APEAL), 71 per cent of Europe's steel packaging is now recycled- this amounts to over 2.6 million tones of cans being recycled, which has saved over 4 million tones of CO2 being released in 2008 alone.
Author: Edurne Scott | Climate Action
Image: Rondeel Ei | Flickr