Obama orders 40% emissions cut for federal government
U.S President ordered the federal government on Thursday to reduce its greenhouse gas emissions by 40 per cent, as the U.S. aims to spur other nations to adopt effective climate change policies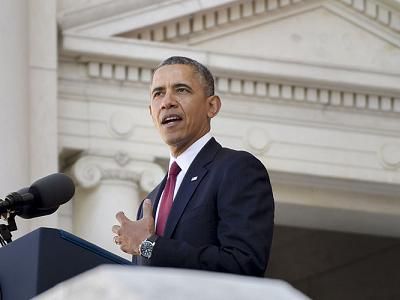 President Barack Obama ordered the federal government on Thursday to reduce its greenhouse gas emissions by 40 per cent, as the U.S. aims to spur other nations to adopt effective climate change policies.
Obama's executive order also directs the government to scale up renewable energy generation to 30 per cent of the federal government's consumption.
The White House said taxpayers could save around $18 billion in electricity costs by cutting emissions by 40 per cent over the next decade, compared to 2008 levels.
Obama visited the Energy Department where he toured a solar panel installation and said: "These are ambitious goals, but we know they're achievable goals."
Companies that sell to the federal government including GE, HP, Northrup Grumman and Honeywell will also announce voluntary commitments to cut their own emissions, according to the White House.
IBM said it will reduce its energy consumption 35 per cent by 2020 and will also buy at least 20 per cent of its power from renewable sources by the end of the decade.
The government's pollution cuts along with industry contributions will effectively keep 26 million metric tonnes of emissions out of the air by 2025, the White House said.
During his visit to the Energy Department, Obama also planned to discuss the new targets at a roundtable with federal suppliers that do more than $1 billion in business annually with the government.
The Obama administration is planning to take aggressive steps that will increase the political pressure on other countries to follow suit.
Brian Deese, a senior adviser to Obama: "Certainly our hope is that we are laying forth template that other countries could also learn from and look at as well."
A major global climate deal is due to be agreed in December at the UNFCCC COP21 meeting in Paris, but most countries have yet to announce what their national commitments to the deal will be.
The European Union unveiled its contribution earlier this month the and has vowed to cut emissions by at least 40 per cent by 2030, compared to 1990 levels.