Massive clean-ups and new national parks as humanity stands with nature on World Environment Day
Thousands of people across six continents are joining massive clean-ups of beaches and parks and over 30 iconic landmarks are lighting up in green in a powerful demonstration of humanity's love for nature on World Environment Day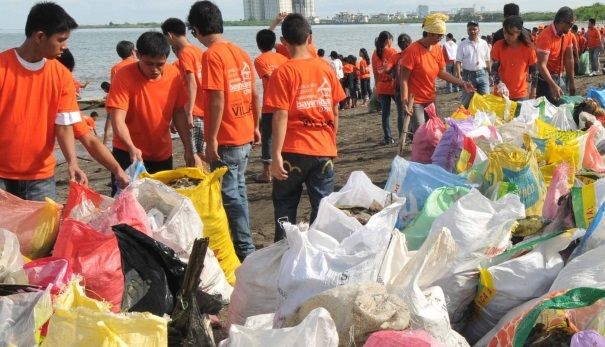 PRESS RELEASE - 5 June 2017 - Thousands of people across six continents are joining massive clean-ups of beaches and parks, countries are protecting 1,600 square kilometres of land, and over 30 iconic landmarks are lighting up in green in a powerful demonstration of humanity's love for nature on World Environment Day.
Celebrated on 5 June each year, World Environment Day is the largest global day for positive environmental action. This year, the main celebrations are hosted by Canada under the theme of connecting people with nature.
The theme highlights the vast benefits, from food security and improved health to water supply and climatic stability, that clean environments provide to humanity. With well documented physical and mental health benefits of being in nature, the day's theme encourages people to simply get back outdoors.
"Our entire modern life, with its skyscrapers and smartphones, stands on a delicate foundation of natural systems," said UN Environment chief Erik Solheim. "Today, these foundations are shaking, undermined by man-made climate change, deforestation and extinctions. No amount of advanced technology will save us if we destroy and pollute our natural lifeblood."
"Canada is proud to host World Environment Day in 2017, the 150th anniversary of our country's confederation," said Catherine McKenna, Minister of Environment and Climate Change of Canada. "As Canadians, we cherish our vast and beautiful natural spaces, we celebrate our connection to nature, and we are steadfast in our commitment to address climate change and promote clean growth."

World's largest clean-up
In Tijuana, volunteers from both sides of the US-Mexico border are teaming up to clean the city beach in a show of solidarity in the face of a common environmental threat.
In Mumbai, India, the thousands who have joined the world's largest clean-up on Versova beach will be celebrating their herculean effort. Over the past 18 months they have removed more than 5.5 million kilograms of trash, transforming the beach from a forsaken dumpsite into a postcard destination. They will continue their work by planting 500 palm trees on the beach on World Environment Day.
India's Prime Minister Narendra Modi cited the clean-up as inspiration for a massive overhaul of India's waste management system. Starting 5 June, he said authorities will install colour-coded litter bins in 4,000 towns across India to encourage people to recycle.
Volunteers donning rubber gloves will also flock to the beaches of East Africa - from Kenya, which has recently announced a plastic bag-ban, to Tanzania and Mozambique - as well as 150 clean-ups across Canada, and more in Spain, the Baltic Sea, Lebanon, the Greek Islands, Egypt, Australia, the United States, Norway, and even the Arctic.
Sponsored Content
New protected areas
Hossa - a mosaic of dark, primeval forests and fish-filled waters - will become Finland's 40th national park.
Bosnia and Herzegovina will double the size of its protected areas, with the establishment of eight new sites, totalling 150,000 hectares. It is also one of 10 countries worldwide making it easier to connect with nature by offering free entrance to national parks. Canada is granting free entrance passes for the whole of 2017.
Governments are also stepping up announcements of new protected areas at sea, placing the world on track to preserve a tenth of all its oceans by 2020. Already, for the first time in history, the size of protected areas at sea is larger than that on land. But even that may not be enough. Better governance and enforcement of protected areas is urgently needed with some studies finding serious deficiencies in their management.
Greening up
Niagara Falls, Christ the Redeemer statue in Rio, the world's tallest building - Dubai's Burj Khalifa - and some of its oldest - the Egyptian pyramids - are among more than 30 iconic landmarks that will light up green for World Environment Day. The Empire State Building in New York, the City Hall in Venice and Panama's multi-faceted Biomuseo will also turn green.
Connecting with nature around the world
Businesses, civil society organizations and ordinary citizens the world over have found thousands of creative ways to connect with nature and celebrate the environment.
More than twenty thousand schoolchildren, scientists, politicians and celebrities around the globe will attempt the world's largest BioBlitz between 1 and 12 June, aiming to document more than a quarter of a million fascinating creatures in their backyards, parks and natural reserves through the iNaturalist app.
Encouraged by UN Environment Goodwill Ambassadors Gisele Bündchen and Don Cheadle, social media users will be posting photos of their favourite natural places, in a bid to create the World's Biggest Nature Photo Album.