Costa Rica expands protected seas and fosters efforts to fight marine pollution on World Oceans Day
On World Oceans Day, Costa Rica announces a new marine protected area on the country's Pacific coast, contributing to the global goal of protecting at least 10 per cent of marine zones before the year 2020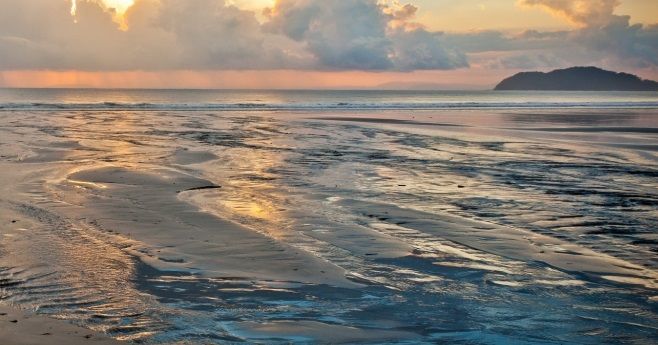 PRESS RELEASE - Costa Rica, 8 June 2017 - On World Oceans Day, Costa Rica announces a new marine protected area on the country's Pacific coast, contributing to the global goal of protecting at least 10 per cent of marine zones before the year 2020.
The new protected marine area at Cabo Blanco, with an extension of more than 800 square kilometers in the Nicoya Gulf, expands from 12.7 per cent to 15.7 per cent the share of the country's seas under conservation.
The marine area is home to 37 high-value marine species, three turtle-hatching sites, and three areas of importance for dolphins, whales and other aquatic mammals.
"As a nation between two shores, the Caribbean and the Pacific, Costa Rica is conscious of the immeasurable benefits that these bring to life on Earth. With this in mind, we are striving to become a plastic-free zone and to expand marine protected areas, along with models of local governance to manage fisheries and tourism in a sustainable manner," said Luis Guillermo Solís, President of Costa Rica.
Costa Rica is striving to fight plastic marine debris after joining the global UN Clean Seas campaign earlier this year. Around 20 per cent of the four tonnes of waste that the country produces daily ends up in rivers and coastal zones.
The Clean Seas campaign is seeking to eliminate major sources of marine litter: microplastics in cosmetics, and the excessive, wasteful use of single-use plastic, by the year 2022.
Twenty governments have so far joined campaign announcing ambitious plans to reduce marine litter. Brazil joined on 7 June, while several Latin American countries, such as Panama and the Dominican Republic, as well as the Mexican city of Tijuana, have committed to enhance efforts to combat ocean pollution.
Costa Rica is working to replace single-use plastics – which can take hundreds of years to degrade – with renewable materials that can decompose in the ocean in no more than six months. The country also launched a National Wetlands Policy (2017-2030) and recently outlined a long-term National Sanitation Policy to prevent further water pollution.
Sponsored Content
Alongside UN Environment, Costa Rica is hosting the Global Dialogue on Oceans (8-9 June), in Puntarenas on the country's Pacific coast. High-level decision makers and stakeholders from around the globe will use the meeting to plan definitive actions aimed at improving the health of the oceans.
The Global Dialogue will also provide input to the third session of the United Nations Environment Assembly, which will take place in Nairobi, Kenya, in December 2017. The UN's highest-level decision-making body on the environment will gather under the theme "towards a pollution-free planet". The Minister of Environment and Energy of Costa Rica, Dr. Edgar Gutiérrez, is the President of the Assembly.
Healthy oceans - which absorb roughly 25 per cent of human-generated carbon dioxide emissions – are critical to fighting climate change and are essential for life and livelihoods at many levels. They provide wide-ranging social and economic benefits, and are crucial in reducing poverty for millions of people. Thriving oceans can ensure food and energy security, and are closely interlinked with peace and prosperity.
Oceans face unprecedented challenges due to increasing human activities and impacts. Every year, more than 8 million tons of plastic end up in seas and rivers, causing 8 billion dollars in damages. At this pace, by 2050, oceans will have more plastics than fish and approximately 99 per cent of marine birds will swallow plastic.
Image source: UN Environment/ Anthony Doudt