UN: climate talks make 2015 'the biggest year since 1945'
2015 is the most crucial year since World War Two with historic climate meetings scheduled, said UN special climate envoy Mary Robinson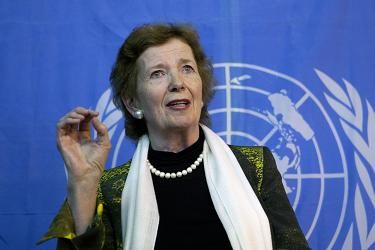 2015 is the most crucial year since World War Two with historic climate meetings scheduled and agreements due to be signed, the UN special climate envoy Mary Robinson said on Thursday.
With major decisions pending on the sustainable development goals, climate finance and a legally binding climate deal, 2015 is "the biggest year since 1945", according to Robinson.
According to an International Governmental Panel on Climate Change (IPCC) report released last year, greenhouse gas emissions must peak in 2015 if a dangerous global temperature increase of 2°C above pre industrial levels is to be avoided.
Robinson was addressing the Grantham Institute during her annual lecture at Imperial College London and said that actions in 2015 needed to incorporate sustainable development, human rights and poverty eradication.
The former President of Ireland said: "Now isn't the moment to get cold feet. 2015 is the moment to catalyse…it is the time for climate justice."
With nearly 200 nations due to submit emissions reduction plans in advance of the UN climate conference in December, the form of the Millennium Development Goal's successor and future climate finance will take shape.
Robinson compared the potential agreements of 2015 to the creation of the Bretton Woods institutions and Marshall Plan, which reshaped the post-war global economy.
The UN envoy drew on the example of the Pacific island state of Kiribati, whose president was forced to neighbouring Fuji as rising sea levels threaten its existence.
The country's "migration with dignity" was clear reason for climate justice, she said.
Robinson, who runs a Foundation for Climate Justice, called for $90 trillion of investment in the next 15 years to low carbon development, and for two-thirds of remaining fossil fuels to be left in the ground.