The Netherlands will have a 100% wind-powered railway network by 2018
Railways in The Netherlands will be 100 per cent powered by renewable energy by 2018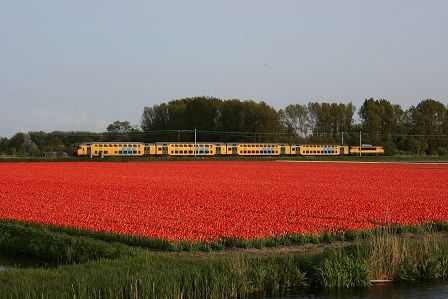 The railway system in The Netherlands will be 100 per cent powered by renewable energy by 2018.
The firms that run the railway system across the country will move the entire network over to wind power in the next three years, according to media reports.
Eneco, the Dutch energy company, has approved a deal to meet the ambitious target with the VIVENS rail company.
Wind power already covers over half of the network's energy needs and Eneco aims to source source the remaining capacity from the Netherlands and neighbouring countries by 2018.
Eneco account manager Michel Kerkhof said: "What makes this contract and partnership unique is that a whole sector decreases its CO2 footprint enormously and sets an example for other sectors to follow,."
Kerkhof added: "Mobility is responsible for 20 per cent of CO2 emissions in the Netherlands, and if we want to keep travelling, it is important that we do this without burdening the environment with CO2 and particulate matter. This contract offers all Dutch citizens the option to make a climate neutral trip, regardless of distance."
The railway covers about 2,890 km and the network is used by approximately 1.2 million passengers per day.
As part of the agreement, Eneco will provide 1.4 terawatt hours (TWh) of wind power capacity by 2018, which roughly equates to the amount of energy consumed by all households in Amsterdam.
About half of the total required capacity is expected to come from sources in Scandinavia and other neighbouring regions, with the rest produced in the Netherlands.
Eneco has used specially built wind farms for the project to avoid putting existing applications under added pressure and to keep costs down.
The railway operators are also making energy efficiency savings by developing innovative train designs and driving techniques to keep demand for energy as low as possible.
Kerkhof said: "This partnership ensures that new investments can be made in even newer wind farms, which will increase the share of renewable energy. In this way, the Dutch railways aim to reduce the greatest negative environmental impact caused by CO2 in such a way that its demand actually contributes to the sustainable power generation in the Netherlands and Europe."