South Korea to close 8 coal plants to reduce pollution
South Korea's Energy Ministry has announced the country will be halting operations at eight of its oldest coal-fired power plants this month in a bid to reduce the country's worsening air pollution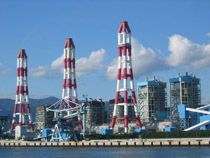 South Korea's Energy Ministry has announced the country will be halting operations at eight of its oldest coal-fired power plants this month in a bid to reduce the country's worsening air pollution.
In May, South Korea's newly elected president, Moon Jae-in, announced plans to temporarily shut operations at ten coal-fired power plants – that are more than 30 years old – and to bring forward their permanent closure to within his presidency which ends in May 2022.
The Energy Ministry has now confirmed that eight of these plants will be temporarily closed from Thursday 1 June for one month, with the remaining two continuing to operate to ensure stable power supply.
From 2018, the coal power plants will be frequently closed for four months over the spring, with operations be permanently suspended by 2022 – three years ahead of schedule.
At present, coal power accounts for around 40 per cent of the nation's total electricity demand.
In total, 59 coal-fired power plants are in operation in South Korea, with the ten older stations producing 3.3 gigawatts (GW) – or 10.6 per cent – of the installed coal power capacity.
Under the Paris Agreement, South Korea has committed to cut its emissions 37 per cent below the business-as-usual (BAU) level of 851 Metric tonnes of carbon dioxide equivalent (MtCO2e) by 2030.
To receive similar updates, sign up to our free newsletter here.
Image source: Emerson