Highlights from the Hydrogen Transition Summit at COP26
The Hydrogen Transition Summit, broadcast live from the Innovation Zone at COP26, brought together hydrogen experts from around the world to discuss the vital role which this future fuel will play in the transition to net zero.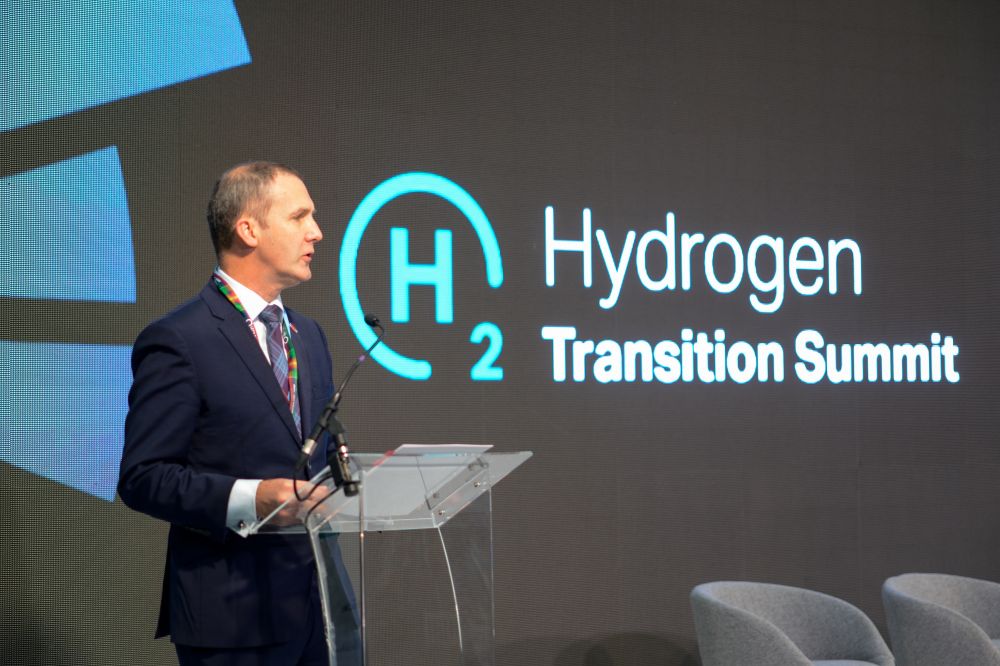 The Hydrogen Transition Summit, broadcast live from the Innovation Zone at COP26, brought together hydrogen experts from around the world to discuss the vital role which this future fuel will play in the transition to net zero.
Discussions throughout the day ranged from production through to deployment and experts were asked to share their insights on the challenges and opportunities that we need to overcome?
What is the opportunity?
In the first session of the day, speakers were unanimous in the view that hydrogen presents a huge opportunity for achieving global decarbonisation goals and ensuring a just transition that supports economies around the world.
In his opening remarks, Michael Matheson, the Scottish Government's Cabinet Secretary for Net Zero demonstrated the potential for a hydrogen future in Scotland, pointing to onshore and offshore wind projects which will provide the renewable electricity required for green hydrogen production.
"Hydrogen is rapidly emerging as a sustainable solution for the decarbonisation of the economy and also as a key piece of energy transition going forward," said Matheson, using today's event to launch the Scottish Government's Hydrogen Action Plan. The ambition is for Scotland to become "a leading nation in the production of reliable, competitive, sustainable hydrogen".
Speakers also reminded attendees why today's event is necessary. "Hydrogen is a market but we're talking about it at COP because it's a decarbonisation tool," noted Roman Kramarchuk, Head of Future Energy Analytics at S&P Global Platts.
"The hydrogen molecule is the energy of the future," continued Seifi Ghasemi, Chairman, President and CEO of Air Products. "Now the issue is, how do we make it as green as possible?"
Reaching hydrogen's potential
Knowing that we have the technology, and knowing that it will be critical to averting a climate disaster. The second session of the event looked at how we can take hydrogen to a stage where it is affordable and accessible for all, and the role that policy and finance must play.
Is hydrogen an investment opportunity?
"The short answer is yes", answered Filippo Gaddo, Director of the Energy Investor Advisory Team at Arup. "Everyone already knows that hydrogen is a huge opportunity, it is already being produced, but the real question is how do we expand the markets?"
How do we build a hydrogen economy?
Rosalinde van der Vlies, Director of Clean Planet at the European Commission highlighted three key building blocks which need to be put in place. "We need to have a political vision; we need a supportive regulatory framework, and we need an investment agenda."
What is the most useful thing governments can do to stimulate the market?
"In terms of immediate actions, the keyword is certainty. We need dedicated short-term targets, quotas and standards that will help the uptake of hydrogen across industries. These policy tools can help create direction, reduce risk, make projects financeable and bring down the cost of hydrogen," answered Daria Nochevnik, Director for Policy and Partnerships at the Hydrogen Council.
Application focus: decarbonising heat
Globally, heat accounts for nearly half of all energy consumption. Decarbonising the way that we heat our homes will be central to cutting emissions, and hydrogen is often identified as one of the key pieces of the puzzle. Specifically, hydrogen has the potential to be used as a replacement fuel in domestic boilers, but doing so will require action by consumers as well as industry. The third session of the day considered the role which hydrogen can play in decarbonising heat, and how consumers can be brought along on the journey.
Is it going to be easy to convince customers to switch to hydrogen?
Federica Sabbati, General Secretary, European Heating Industry, argued that the key will be making the issue feel real to consumers. "People want jobs, they want heating, they want to watch TV, They want lighting, and now they're hearing about building a hydrogen economy, it's very far away from them. You have to get it closer to them and tell the people why it is necessary to make the change."
How much is this going to cost consumers?
Dr Tony Ballance, Chief Strategy and Regulation Officer, Cadent Gas, acknowledged that there is still "a debate to be had about what the cost of hydrogen is going to be." However, given the precedent set of falling prices in clean technologies such as wind and solar, he was "pretty confident that [hydrogen] is going to come down to a competitive price."
What is a better option for domestic heat? A heat pump or a hydrogen boiler?
All speakers were clear that hydrogen is not the only answer for heat, and that it came down to the different types of property which need to be heated. Chris Goodall, an Independent energy expert and author, said that whilst heat pumps will be a better option for new builds, for poorly-insulated existing homes, hydrogen will be a better option.
Looking to the future
As we have heard throughout the COP26 conference, talk is one thing but action is another entirely. The summit closed with considerations as to what needs to happen for hydrogen to reach its full potential.
One key theme which emerged throughout the course of the day was the importance of creating a strong end-use market.
"How do we ensure that end users are going to choose hydrogen at the end of the day? It comes down to cost parity," argued Roxana Bekemohammadi, Executive Director of the Western States Hydrogen Alliance.
How is the market going to be shaped for the right projects?
"Policy needs to be based on science and carbon intensity," said Jean-Philippe Brisson, Partner at Latham & Watkins. "The market needs to find a way to produce the lowest-cost possible low carbon fuel."
If you had to ask for three things in terms of regulatory movement in the next 6 months, what would those be?
Frank Wolak, CEO of FCHEA, wanted to see "Stimulation, certainty and equity." Jean-Philippe Brisson was keen to point out that this was not a production question but rather one of deployment. This will require regulatory reform which favours low-carbon infrastructure projects. "Our current framework assumes that infrastructure projects are harmful to the environment. Now that we have clean infrastructure projects we need to be able to fast-track them through to deployment."
A final thought
Should we be optimistic about the role of hydrogen in achieving net zero? Absolutely. Stephan Sicars, Managing Director, Directorate of Environment and Energy, at UNIDO, summed up its importance from both an economic and environmental perspective:
"Hydrogen is expected to create green jobs in industry, as well as support local development and help countries to reach the Paris agreement's carbon neutrality goals."
---
Missed the Hydrogen Transition Summit at COP26? You can watch all sessions on demand here.