Does the need for energy security challenge the quest for net zero?
The need for renewable energy has never been stronger. Unprecedented volatility in the natural gas market and geopolitical shocks have sent world leaders rushing to diversify their nation's energy mix and reduce their reliance on gas. With net-zero deadlines also inching closer, governments are keen to fill this supply gap with renewable energy. For that to happen, however, the renewables sector needs emerging technologies and markets to take a major leap forward.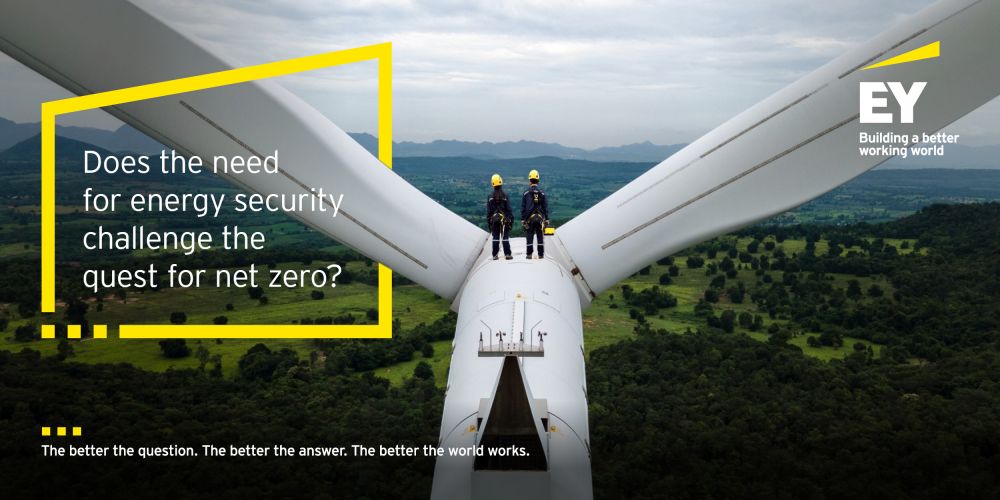 With gas prices sky high, the investment climate for renewables is becoming more attractive to developers in the short term, as the relative cost of new technologies is decreasing in relation to gas.
Since 2003, the biannual EY Renewable Energy Country Attractiveness Index (RECAI) has ranked the world's top 40 markets on the attractiveness of their renewable energy investment and deployment opportunities. Download the in-depth report here.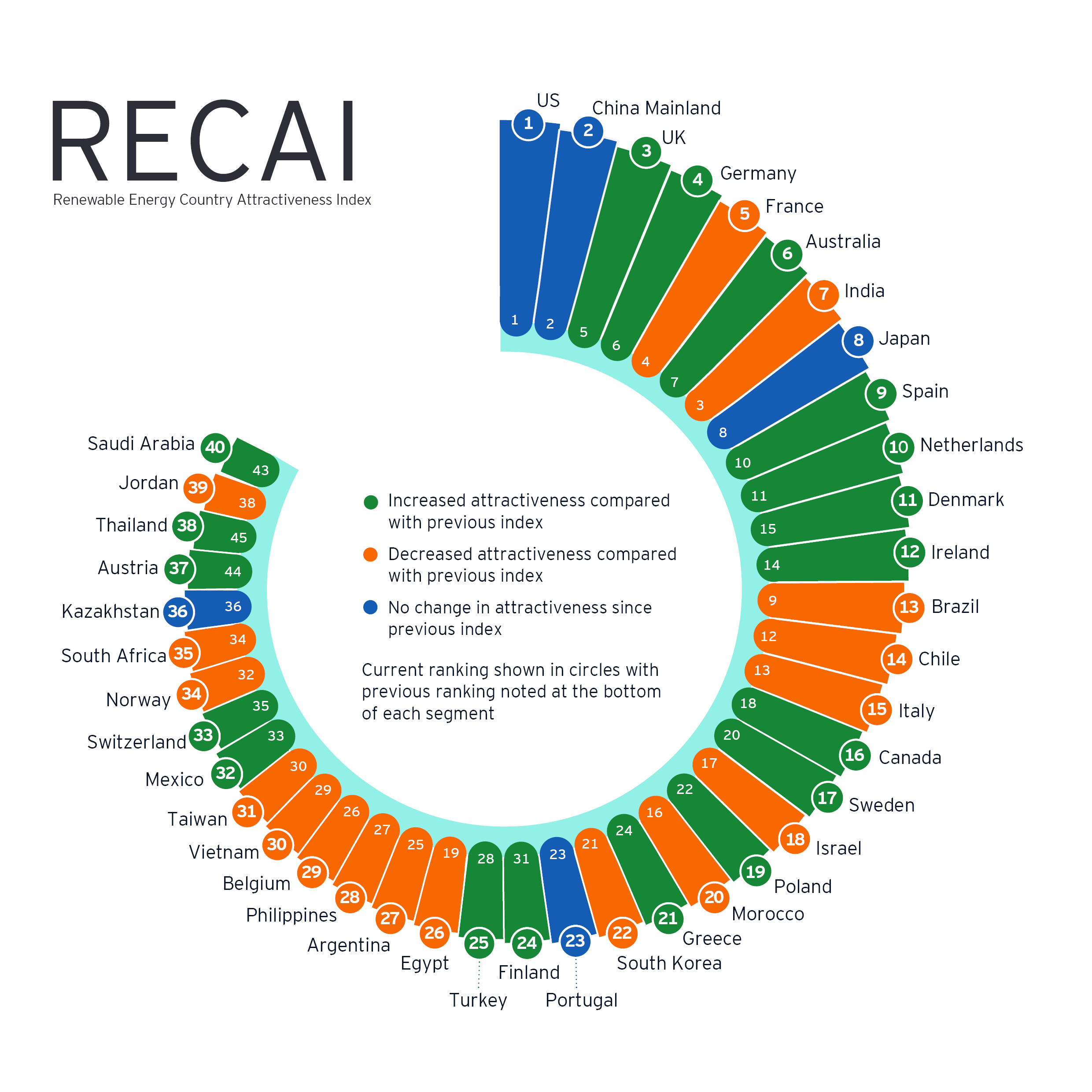 Divergence and diversification will help accelerate the renewables market and improve energy security
A multitude of factors have led to the steep rise in gas prices. Seasonal drought in Latin America reduced its hydropower capability; Asia's recovery from COVID-19 lockdowns put pressure on gas supplies; and there is increasing competition between Europe and Asia for liquefied natural gas (LNG), plus supply and transport constraints among gas producers.
There is no quick fix either. Major infrastructure projects, such as increasing LNG capacity with floating storage and regasification units, have long lead times. Pipelines can also take years to complete and are incredibly complex if they cross multiple borders.
Despite all this, greater diversification of gas sources and improved energy security is expected from the mid-2020s, with infrastructure build-out already underway. A larger mix of innovative technologies is also expected to be more readily available by then, and subsidies for alternatives — such as biomass, hydrogen, green ammonia and synthetic fuels — could reduce the cost of gas-based applications substantially and protect the respective end uses from carbon taxation.
Renewables highlights from around the world
Energy security has risen to the top of priority lists, with governments around the world looking to accelerate and broaden the scope of their renewables programs to help reduce their reliance on imported energy at this volatile and unpredictable time.
In this edition of the RECAI, we look at some of the interesting and varied approaches to renewable energy expansion amid the heightened importance of energy security.
The US is funding the development of a national clean hydrogen network and holding up to seven potential offshore wind lease sales by 2025.
Germany has brought forward its 100% green power target by 15 years, to 2035, and a goal of 80% by 2030 has been set to increase energy security.
Poland has launched tenders for three new offshore wind concessions. Capacity in the Polish Baltic Sea zone is expected to be 8GW to 11GW by 2040.
Greece aims to double its installed renewables capacity to around 19GW by 2030 and recently energized a 204MW bifacial solar park, the largest of its kind in Europe.
The Philippines is targeting the addition of 2GW of renewables capacity in its next tender, aiming to reach 35% renewable energy by 2030. It is seeking to add 1.4GW of solar, wind, hydro and biomass projects on the island of Luzon.
Spotlight on floating technologies
In the latest RECAI, we take a deep dive into the case for floating technology. Currently, there are 11 floating offshore wind farms around the world generating 79MW. But major growth is in the pipeline, with close to 100 projects — with a combined capacity of more than 26,000MW — in the early planning stages.
Floating solar power has also garnered more interest as the cost of photovoltaic panels has plummeted, and global capacity jumped more than 100-fold in the five years to 2021. For smaller countries with little available land, it could be a key technology in generating carbon-free energy. As demand soars for new sources of renewable energy, research and innovation in this field could push floating solar from a niche area to mainstream.
Equally encouraging is that offshore floating islands would most likely also integrate green hydrogen production. Projects are already planned to combine the aforementioned floating power plants' renewables production with desalination and electrolysis systems, enabling green hydrogen production on floating wind platforms.
Hydrogen's potential as an energy vector is gaining in popularity as the conventional energy value chain undergoes an industrial revolution. In the new (low-carbon) energy economy, electrons need molecules. Meanwhile, the industrial offtakers have shown a profound interest in green gas purchase agreements to supply their needs for a low-carbon alternative.
So, while the divergence away from natural gas is creating an attractive investment climate for renewable energy, it is also helping to develop an increasingly lucrative market for green gases.
Latin America will be a green energy market to watch
With extensive renewables potential, the RECAI puts Latin America under the microscope. The green energy sector in this region could experience major growth if barriers such as political uncertainty, a need for new regulatory frameworks, and financing issues can be overcome. As attention continues to be drawn toward green hydrogen, Chile, in particular, is a market to watch as it seeks to produce the world's cheapest green hydrogen.
Brazil's renewable capacity and generation far outstrips that of other Latin American markets, and it is a global leader in hydroelectricity production. However, an overreliance on hydro has left it susceptible to the impacts of drought. Solar power production has been hindered by local content requirements that often prevent developers from accessing long-term funding from development banks.
In conclusion, the energy market is in a state of flux, and gas prices look likely to remain high in the short to medium term. But this presents an enormous opportunity for emerging green technologies to grow from niche markets to mainstream solutions in the global quest for energy security.
Read the full RECAI article or download the in-depth report for a timely and topical exploration of the role that renewables have to play in the drive toward greater stability and a more sustainable energy landscape.
The views expressed in this article are the views of the author, not EY. This article provides general information, does not constitute advice and should not be relied on as such. Professional advice should be sought prior to any action being taken in reliance on any of the information. Liability limited by a scheme approved under Professional Standards Legislation.