COP27: Dr. Hoesung Lee calls on governments to step up action in the fight against climate change
At Day 1 of the Sustainable Innovation Forum, Dr. Hoesung Lee, Chair of the IPCC, called on governments to step up action in the fight against climate change.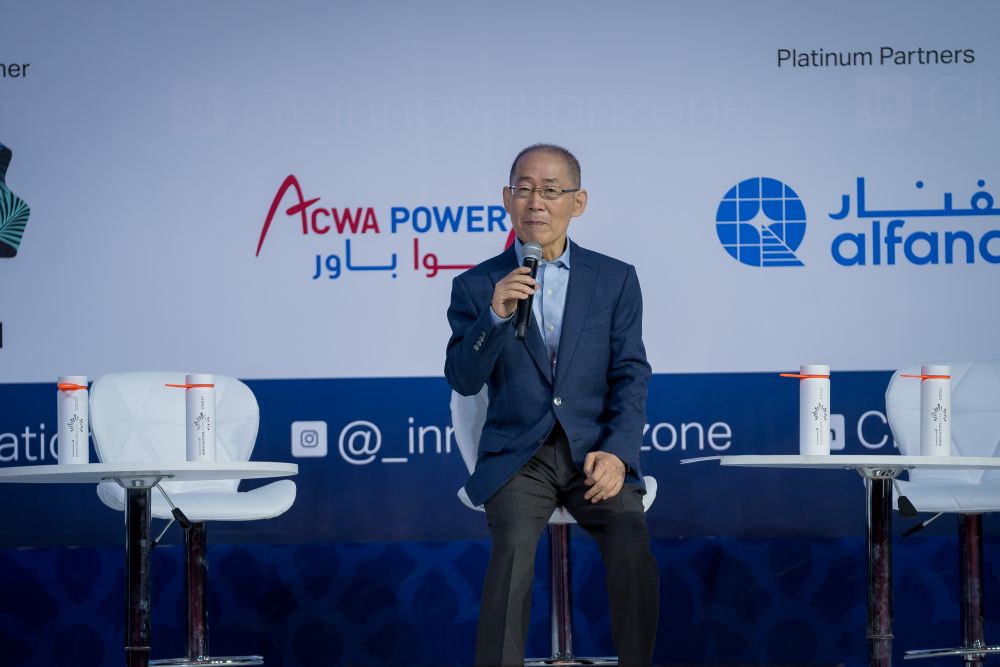 Day 1 of the 13th Sustainable Innovation Forum was hosted by Salina Abraham, Africa Regional Manager, Global Landscapes Forum, who has a passion for supporting youth leadership, and journalist and broadcaster Nik Gowing who described this "sinister, unthinkable time" in which the "realities confirmed by science are dire." To quote the UN Secretary General Antonio Guterres: "We're on the highway to hell, with our foot on the accelerator."
Taking place in the Climate Action Innovation Zone at COP27, the Forum aims to forge cross-sector partnerships, highlight the power of green finance and showcase innovative solutions that will enable us to meet the Paris goals and create a more inclusive and sustainable world.
Governments must step up to the challenge
Dr. Hoesung Lee, Chair of the Intergovernmental Panel on Climate Change (IPCC) said that tackling the climate crisis "requires more than a market solution… Science says that there's a clear role for governments to play in resolving the climate problems." He reiterated the IPCC warning that 1.5 degrees will be exceeded within a couple of decades, unless we take "drastic action". Some of the impacts of exceeding this limit will be irreversible.
We need those in governments to help businesses "overcome the first mover dilemma – that some countries will try the new technologies and other ones as fast followers will pay a lower price and be more profitable in the end. A completely new… dialogue and cooperation between policymakers and private companies is necessary," said Stefan Schaible, CEO and Global Managing Partner, Roland Berger.
Responsibility of the private sector
While governments bear the "primary responsibility" of creating change through policymaking, the private sector must also step up: "The investment decision you make today will have a consequence for… society for years to come…" said Dr. Hoesung Lee, IPCC. Millennials and Generation Z are holding not only governments, but also businesses, to account. Paul Polman, business leader, campaigner and author commented: "The key drivers of change are the signals that the private sector is getting… from the financial market… from their employees… from the customers." We need to "call out companies when they're not ambitious enough".
Studies have shown that by investing about $1.8 trillion in climate proofing businesses, this could generate up to several trillion dollars more global net benefits, but it requires collective action. We heard from Jane Karuku, Managing Director, East African Breweries Ltd, on how the company is prioritising investment in access to clean water in agricultural communities – a pathway to building not only community resilience, but also economic and business resilience.
Innovative solutions for sustainability
With a lingering pandemic, the Russian invasion of Ukraine, an unstable geopolitical situation, the energy crisis and recession looming for a third of the global economy, "sustainability and innovation might not seem to be top of the agenda" for businesses, said Stefan Schaible, Roland Berger. However, he stated that escape and relocation were not the answer; we need to tackle the issues of climate change head on.
Businesses need to keep a skilled local workforce on board and remember that the "overarching challenges of digitisation, decarbonisation and democracy have remained the same." Stefan's answer? "The way out is innovation and cooperation." Sustainability has become an "economic necessity [and] there is tremendous market potential to be tapped [with] unlimited opportunities… In the climate revolution, there is an alignment between companies… employees [and] financial market interest."
Ovais Sarmad, United Nations Framework on Climate Change (UNFCCC) says "we are living through… another kind of revolution, which has the potential to be bigger than the Industrial Revolution and faster paced than the digital revolution. And that is the revolution to renewables, to sustainable consumption, to a sustainable way of living… innovation is the only way to go." We no longer have the "luxury [of]... doing business as usual… and making marginal or incremental measures." The "time is finished for negotiation", now is the time for "action and implementation".
The African Development Bank (ADB) has estimated that about 75% of the financing required for the successful implementation of African national determined contributions must be provided through private investments. "The ADB is really focusing on new forms of financing" says Sanda Ojiambo, United Nations Global Compact, "unlocking new partnerships, leveraging financing differently to focus on long term sustainability rather than short term profits. ADB talks about innovation in a couple of financial instruments such as greening public budgets, including climate proofing, expenditures… [and] de-risking frameworks so that private capital can flow."
Is net zero still relevant and achievable?
The energy transition is going through a very challenging time – high energy prices, concerns over energy supply and security. Current interim targets for emission reductions set by industry and energy companies are "wishy washy", comments Jasim Husain Thabet, TAQA. Jenny Davis-Peccoud, BAIN & COMPANY, adds: "Anybody who's run a transformation knows you don't set the target for what you need to achieve. You set the target to exceed… We need to… increase our ambition for the interim steps to go further, go faster and don't let ambiguity get in the way."
The financial services sector will have a big role to play. Gillian Lofts, EY, says: "We believe that financial services' understanding of transition pathways… is really a fundamental part of their ability to engage with and help the transition. We've been talking to banks, asset managers and insurers over the last 18 months… [as well as] talking to businesses across 10 different sectors… and the conclusion that we've come to is, the more that financial services can engage and understand the transition pathways of the different sectors and of the corporates within those sectors, the more likely they are to be able to think about how they can decarbonize profitably."
Is zero carbon energy independence within reach?
The renewable energy market is "almost unrecognizably different from where it was in 2012." Martin Pibworth, Chief Commercial Officer, SSE sees cause for optimism as he looks at the advances over the last decade: the proliferation of offshore wind, the almost total retirement of coal, big investments in onshore and solar activity, new hydrogen technologies and government positioning on carbon capture to provide flexibility on the intermittency power provided by renewables. However "renewable developers worldwide have been frustrated over the last 10 years [by] the lack of strategic investment in transmission…[and] the pace of permitting."
H.E. Dr Nawal Al-Hosany, Permanent Representative of the UAE to the International Renewable Energy Agency (IRENA) sees cutting emissions as an opportunity to create new jobs and "create a new mindset," along with the right policies, laws, knowledge and international collaboration. "The UAE Sheikh Mohammed has said a few years ago: the day we're going to export the last bottle of oil from the UAE is going to be a cause of celebration. And we have been working to celebrate that day." The UAE has been investing in solar, hydrogen and CCUS, not only within the UAE, but also around the world.
René Seyger, Managing Partner (Middle East), Roland Berger, thinks we need to step up electrification by a factor of 5, which means addressing global supply chains, scaling up the size and availability of equipment such as wind turbines and PV panels. The demand is going to be "humungous" so "why not invest?" We need "new champions to step up and seize the opportunity." He compared the climate emergency to the Covid-19 pandemic: "We did something everybody thought would not be possible. That's what we need to do." Stable policy frameworks and supply chain infrastructure will attract investment and innovative technologies.
Adaptation and resilience in the Global South
The developed world is responsible for 80% of greenhouse gas emissions and yet it is the other 20% that suffer the consequences. "We shouldn't use [current global crises] as excuses not to do what needs to be done to address climate change…. focus on climate action front and centre and let's not let the other geopolitical forces that are playing out distract us… otherwise all of those issues – food insecurity, energy insecurity, supply chain issues – will become even more intense." Ovais Sarmad, United Nations Framework on Climate Change (UNFCCC).
Sanda Ojiambo, United Nations Global Compact said: "The truth is… we're probably all in the same storm [but] not all in the same boat…. countries in the Global South and the small island developing states are definitely disproportionately impacted by climate change. Even though… they are the smallest contributors to greenhouse gas emissions. She went on: "For far too long adaptation has been the neglected half of the climate equation. And that's why we have called [for] a breakthrough on the issue of climate financing, and the need for a 5050 split between funding that goes towards mitigation and financing that goes towards adaptation."
Former World Bank VP, Jingdong Hua, IFRS Foundation, believes that finance has a key role to play in accelerating the green transition, but asked: "how do we unlock the trillions needed to finance climate resilience, especially in the Global South?" He went on to say that companies should not only disclose their carbon emissions, but also share their resilience plans and sustainability standards in order to be eligible for investment.
Intergenerational Climate Action: It's time to pass the torch
COP27 is the first time that a youth representative has been appointed by the COP presidency. Omnia El Omrani, youth envoy, COP27 President Team asked: "How can we pass the torch in a pragmatic way?" She made the good point that young people "are not the leaders of tomorrow or the future – we are already leading climate action at the grassroot level, and working tirelessly to… impact the global decision making processes." This is the first COP in which "young leaders will deliver their solutions, their questions directly to ministers and the negotiators… work[ing] together as equal and natural partners to the climate agenda. Wonderful."
There are bold, brave and creative ideas coming from young climate activists and advocates, but how do you bring younger generations into the discussion? Paul Polman has a message for CEOs: "give [young people] a voice in your boardroom." Young people will be disproportionately affected by climate change – they will experience the most loss and damage.
At COP27? Join us at the Climate Action Innovation Zone by registering today. Or if not, don't worry - you can watch all sessions live here.