COP27: Air Products highlight key role hydrogen will play in the energy transition
At the Hydrogen Transition Summit we heard from governments, the energy industry, corporates, investors and policymakers on how to navigate the challenges of scaling up green hydrogen in the transition to net zero. EU-Africa collaboration, the importance of private and public sector collaborations and how to address supply chains to bolster hydrogen infrastructure were all high on the agenda.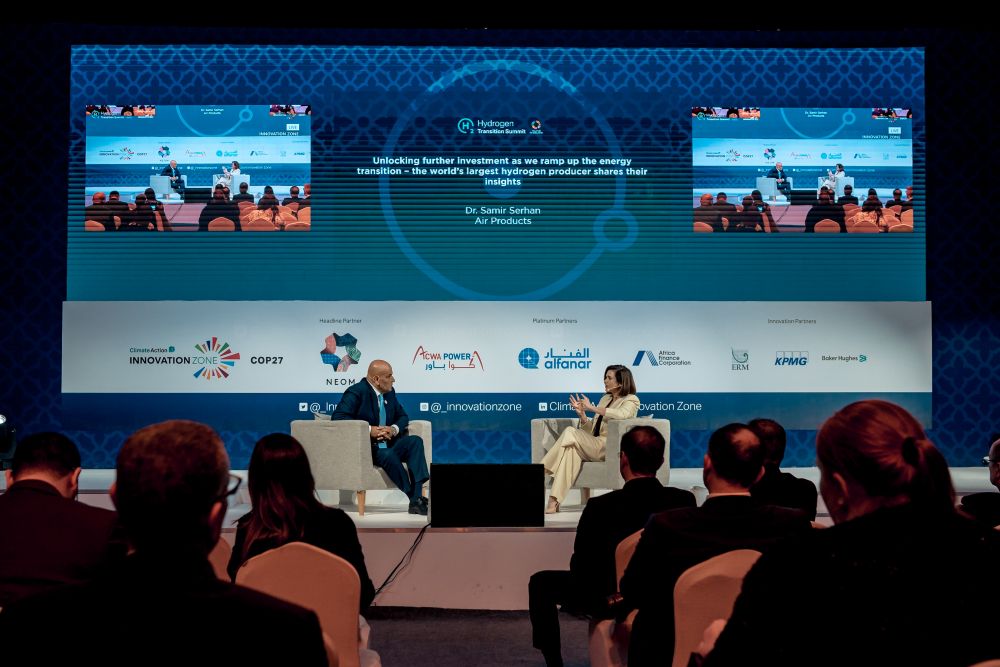 At the Hydrogen Transition Summit we heard from governments, the energy industry, corporates, investors and policymakers on how to navigate the challenges of scaling up green hydrogen in the transition to net zero. EU-Africa collaboration, the importance of private and public sector collaborations and how to address supply chains to bolster hydrogen infrastructure were all high on the agenda.
Hosted in the Climate Action Innovation Zone, the Summit highlighted the vital role hydrogen will play in the energy transition, but as Dr Samir Serhan, COO of Air Products, says: "We need to go faster, dig deeper, go bigger, stronger… more decisive steps [must] be taken…" He goes on to say: "Renewable energy and electrification… alone cannot really accommodate the energy demand of today and the future while delivering on critical climate objectives. This is why hydrogen comes in. Hydrogen is the best source of low carbon energy to address the emissions from sectors that really use high density energy."
Hydrogen projects are already underway around the world
North America, Africa, Europe and the Middle East are all driving the hydrogen agenda forward. Torsten Lichtenau, Global Head, Carbon Transition, Bain & Company has witnessed a 40-50% increase in hydrogen projects worldwide over the last 10 months and comments: "We think hydrogen will play a critical role in the energy transition." As Javier Canada, Mitsubishi Power EMEA, says: "The technology exists – we have it proven at commercial scale, in the Americas, in Europe, in Japan – so we need to bring it to the market in massive scale, because volumes of scale are the key factor to deploying fully… As it happened with solar [many] years ago… It quickly became the lowest cost power generation technology…"
Europe
With current high energy prices and concerns over the security of energy supply, the European Commission has "come up with ambitious new targets for 2030 which include 10 million tonnes of domestic hydrogen production and 10 million tonnes of hydrogen imported to the EU…[from] neighbouring counties" such as Egypt, says Mechthild Wörsdörfer, Deputy Director General of Energy, European Commission. "We need to scale up production, we need to scale up demand." With this in mind, the Commission will focus on creating a regulatory framework, funding and infrastructure. They are looking at dedicated hydrogen infrastructure, including ports, proximity to energy intensive industry sites, trans-European networks and mapping hydrogen corridors, as well as using existing gas infrastructure. They are also developing the exciting concept of a "hydrogen bank – a facility to really ramp up the markets."
For energy security in Europe, it's essential that the local production of low carbon hydrogen is supplemented by imports, but it's also important to create "a level playing field in Europe between imports and local hydrogen production… This requires immediate and targeted policy action," says Dr Samir Serhan of Air Products.
Africa
Siegfried Huegemann, Director General, African Hydrogen Partnership says: "The African Hydrogen Partnership is the only continent-wide association dedicated to green and natural hydrogen." He continues: "The large-scale commercialization of green has already started in Africa, so it's not theory anymore. It's not about feasibility studies. It's really happening in Namibia, as well as in South Africa." Egypt, Morocco, Kenya and Mauritania are also considered rising stars in hydrogen production.These projects are "commercially feasible – bankable." A "super strong domestic market potential in Africa… is really the change in the paradigm… We will support the development of the export markets greatly by developing domestic markets in Africa… The best thing [other countries] can do is to become offtakers."
Andrew Kamau CBS, Ministry of Petroleum and Mining, Kenya took us on a journey, describing how Kenya connected its primary schools to electricity, moving from 20% to 70% electrification in under a decade through applying off-grid solutions. In 2020 Kenya formed a green hydrogen working group, bringing in people from the Ministry of Energy and across agriculture, transport, urban development, industrialization and the private sector. They are concentrating on hydrogen fuel cells for vehicles, on fertiliser projects and on how to integrate hydrogen into construction for housing, as well as looking at the infrastructure, skills and job creation connected to this.
The Middle East
A theme that came up time and again during the summit was the optimum position of countries in Africa and the Middle East for generating clean energy – solar, wind and the availability of land make the cost of financing green hydrogen relatively low. Dr. Andrea Lovato, Executive VP Global Head of Hydrogen at ACWA Power described the Middle East's appetite for exporting green hydrogen as "bullish".
Javier Canada, Mitsubishi Power EMEA says: "Egypt is one of our main countries globally – it is the country of the sun. [At Mitsubishi Power] we're looking at how to drive the energy transition, how to make sure that we can decarbonize, to solve this climate challenge… [Africa] is the place where you have so much energy that can feed the rest of the planet. So fasten your seat belt… So we have the biggest… potential to become the hub for production of clean fuels and clean solutions for the energy transition."
Dr. Maged Mamoud, Lead Renewable Energy Advisor, RCREEE talked of helping countries in the MENA region in the formulation of their renewable energy strategies, including setting up bilateral agreements and creating legal and regulatory frameworks to accelerate the scaling up of the hydrogen market: "The beauty of hydrogen is that we are [creating] a lot of solutions."
North America
The US Government has already taken huge strides with its game-changing enactment of the Inflation Reduction Act 2022 (IRA), as well as last year's Infrastructure Investments and Jobs Act, both of which will enable more blue and green hydrogen projects. While "Europe seemed to be ahead of the US when it came to its incentives for producing clean hydrogen… [the IRA] has "really turned the tables," according to David Burns, VP Clean Energy, Linde. He went on to say: "We're very hopeful it will start to trigger some mass in demand as well… it's not just that funding be made available, it's the type of funding and how you can deploy it… a lot can be learned from the US system."
Dr. Kathryn Huff, US Department of Energy comments: "The Biden and Harris administration has levied a handful of incentives for our industry…The Inflation Reduction act not only provided some production tax credits to encourage clean electricity on the grid, with which one might choose to make hydrogen, but also if you choose to make hydrogen as a utility or operator of a particular generation source, you can now get $3 per kilogramme generated. And this is all starting to… incentivise the first movers in the hydrogen space, so that soon we can get to a space where hydrogen is $1 a kilogramme."
The US faces challenges in the transportation of hydrogen: "Getting hydrogen from place to place either requires pipelines or… highly pressurised containers." However, Dr Huff described a "programme that seeks to bring pilot scale hydrogen activities either in storage, transportation or production into scaled capabilities… right now we've unleashed $8 billion for a programme to support regional hydrogen hubs across the US… We think that there'll be 6 to10 regional hubs of hydrogen production and consumption and transport, and that should enable the United States to have a sort of multi-grid plan for our hydrogen infrastructure."
The region of Alberta in Canada has also been "fostering innovation… [and] creating the right conditions for hydrogen," says Amarjeet Sohi, City of Edmonton, Canada, through collaboration between the public and private sectors, "bringing down barriers, aligning… approval processes and other regulations" and reducing bureaucracy. Canada recently announced new initiatives to unlock the potential of hydrogen and is focusing on creating green jobs and becoming a hydrogen hub, as well as using procurement to advance the hydrogen economy – for example, by purchasing buses that run on hydrogen.
Driving hydrogen forward
Torsten Lichtenau, Bain & Company sees four key enablers to drive the industry forward: policy, scaling up volume to bring down costs, consumer demand (from key industries such as steel and shipping) and infrastructure.
Policy will be "critical"
Supporting almost 170 governments across the world in their policies for the energy transition, Gauri Singh, Deputy Director General, IRENA is in a unique position to comment. "By 2050 we're probably looking at hydrogen being about 12% of the final energy demand… five times … what we have right now." She went on to say that we need not only cheap renewables, but also access to technology, but "I really see no reason why it can't happen since you've seen it happen with renewables in solar and wind as well."
Bringing down the cost of hydrogen
As Dr. Andrea Lovato, ACWA Power rightly says: "As prices of renewables become more and more competitive and economically viable, "green hydrogen will become a pillar of the energy transition." David Burns, VP Clean Energy, Linde comments: "In Europe… with very high pricing… it's very difficult to see blue [hydrogen] developing with the discount pricing structure… The production tax credit [in the US]... significantly helped reduce the cost of green, but it's still not below blue, it's still not below grey… but we're looking forward to seeing costs coming down over the long run as the scale develops." Dr Samir Serhan, Air Products: "At the end of the day… we want to have the ultimate cost competitive product that we can sell to the end user... Lots of investment and innovation is required."
Consumer demand
Torsten Lichtenau, Bain & Company thinks "the demand will come in waves… across all industries at once… government subsidies and policy intervention can really help accelerate… bring the costs down and then stimulate demand… Developer[s need] to think about what are the specific economics in a region and also who could be the anchor customer that you need to secure early on to get the project to fly?"
The key message of Lord Adair Turner Chair of the Energy Transitions Commission, UK is that "alongside the extraordinary fall in the supply cost of hydrogen, and in particular green hydrogen (but not excluding blue) that we are now seeing – we really need to force the pace of demand. We need to get governments to be helping that demand to get going. And if we can do that, we will unleash this amazing virtuous circle which will give us a green technology which I am confident is going to play a very fundamental role in the path to net zero emissions and to limiting harmful climate change."
Improving infrastructure
Gauri Singh, IRENA suggests that potential hydrogen producers ask: "What is the existing state of infrastructure in the country that you want to produce? A quarter of the hydrogen that gets produced will be for international trade, of which half maybe through shipping and half through pipelines… these are the aspects that need to be considered while moving ahead."
Realism and ambition: from blue to green
A number of speakers want to abandon the idea of colours as a way of categorising hydrogen, particularly Dr. Kathryn Huff, US Department of Energy, who wants to focus on "clean" rather than "green" hydrogen. Gauri Singh, IRENA says that "current energy producers are looking at pivoting to blue hydrogen," but is also hopeful that "the colour of the gas will change." David Burns, Linde, comments: "We mustn't forget blue, which is going to be at the forefront of transitioning from a hydrocarbon based economy to a decarbonized economy."
Peter Terium, Head of Energy, Water & Food, Neom: "Hydrogen… is not a hype… It's a paradigm shift... We are at a tipping point where it all makes sense to use that green electricity and do something with it that you couldn't imagine in the past. It's not only about the production cost, it's also about the logistics, the infrastructure and the policies that need to be developed and they can only be developed at scale and it needs green and blue hydrogen to do both."
Tengku Muhammad Taufik, President and Group CEO, PETRONAS says the oil company has "set aside, up to 20% of its capex… to tackle the shift… to decarbonize as well as build those foundations within cleaner renewables. And one of them is hydrogen. We believe… that eventually green hydrogen will make it, but in the near term… we are going to start producing blue hydrogen."
Creating an attractive environment for investors
We need technology, new skills, investment and innovation throughout the entire value chain to develop a clean energy ecosystem, from product development, through production, infrastructure and consumption. Gauri Singh, IRENA comments: "equally important [as the cost of renewable energy] in this scaling up will be the rates at which developers can access capital."
De-risking the process is also important for attracting potential investment into hydrogen, whether in the public or private sector. "Countries like Namibia, Chile, Morocco and Japan… are looking at very clear bilateral agreements to be put in place that gives them security of supply. [For example] Namibia [is] not going to be using [green hydrogen] in the country, so they need to have a very strong offtake agreement with countries to be able to move forward with that investment… You will need a risk guarantee mechanism, whether it's in the shape of a strong offtake agreement or it's in the shape of a long term visibility…"
Heavy emitters are getting on board…
Elizabeth Gaines, Non Executive Director, Fortescue admitted that the iron ore producing company was a "heavy emitter through our use of fossil fuels" but said that the company's next venture was "green energy and decarbonisation technology for heavy emitters." Fortescue became the first major heavy industry company to have a fully funded plan to step beyond fossil fuels and achieve net zero by 2030. Gaines promised: "Operations will be running on green energy within the next eight years and that includes our fleet of haul trucks, our iron ore trains and power stations… and to achieve this, we're investing US$6.2 billion to fully decarbonize Fortescue." The bottom line is that the company will save "$3 billion before 2030 by reducing our reliance on fossil fuels, and then from 2030 onwards, we're going to save an additional $820 million every single year…. It makes long term business sense." Green hydrogen is "a practical and implementable solution that will help revolutionise the way that we power our planet, decarbonising heavy industry and creating jobs globally… The cost of producing green hydrogen is coming down as technology evolves."
Accelerating the change
Javier Canada, Mitsubishi Power EMEA says we need "Speed and courage… This is not about us doing it, it's about creating the community to make the change faster… We are not asking to make a huge change. What we are asking is… Don't reconsider. Don't let big events like the pandemic like the Ukrainian invasion, don't let those terrible events slow us down… I see [geopolitical challenges] as an opportunity… This crisis is showing how dependent we are on… the old way of doing things and how urgent it is becoming to really transform ourselves…" He cites the global response to the pandemic and asks us replicate that response: "we could really put all… minds together – science and technology together – to tackle one case to make sure we survive."