Climate coalition launches with support of Bono, Gates and Malala
Action/2015 will bring together over 1,000 organisations from 120 countries with the aim of urging leaders to deliver ambitious new agreements at the UN Climate Change Conference in Paris in December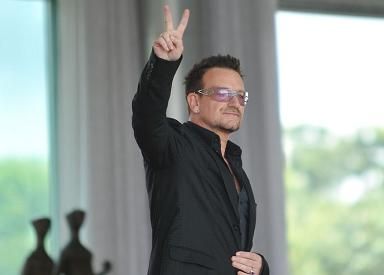 One of the largest alliances of civil society and development groups ever created is launching a global campaign on Thursday and will call on world leaders to take urgent action in 2015 to tackle climate change and poverty.
Action/2015 will bring together over 1,000 organisations from 120 countries with the aim of urging leaders to deliver ambitious new agreements at the UN Climate Change Conference in Paris in December.
The coalition will be launched via a series of global events on Thursday with a warning that around a billion extra people will face extreme poverty by 2030 unless agreements are reached in 2015.
Citing new research from the University of Denver, Action/2015 suggests that the number of people living in extreme poverty (on less than US$1.25 a day) could be reduced dramatically from over a billion currently to 360 million by 2030.
But the group warns such progress will only be possible if critical policy decisions on inequality, investment and climate change are made this year.
Indian anti-poverty activist, Amitabh Behar, said: "If we get this wrong, we could see the number of people living in poverty increase for the first time in our generation. But if we get it right - tackle poverty, inequality and climate change - we could eradicate extreme poverty within a generation. With two summits of this importance within just months of each other, 2015 could be one of the most important years for our planet since the end of the Second World War, but only if we rise to the occasion."
The group has set four specific targets that include: "An end to poverty in all its forms; the meeting of fundamental rights, tackling inequality and discrimination; an accelerated transition to 100 per cent renewable energy; a world where everyone can participate and hold their leaders accountable".
The coalition brings a range of high profile NGOs together including Amnesty International, Save the Children, and the Natural Resources Defense Council, as well as grassroots campaign organisations and charities.
The group also has the support from a number of household names, including Nobel Prize winner Malala Yousafzai, Bono (pictured), and Bill and Melinda Gates.
A handful of business organisations, such as Australia's G20 Young Entrepreneurs Alliance, are included amongst the list of members but high profile green business groups are currently notable by their absence.
The coalition will launch today with a series of events around the world and youths are expected to play a prominent role with a group of young people set to meet UN Secretary-General Ban Ki-moon and in India groups of 15 year olds will meet leaders in 15 states.
Rallies are also planned in Bolivia and Costa Rica.
In the UK leading youth activists are due to meet Prime Minister David Cameron and Labour leader Ed Miliband.
According to reports, Miliband will speak at an official launch event in North London where he will underline his promise to prioritise climate action.