Climate Action releases second edition of Sustainable Cities
New edition features special European focus in the lead up to COP19 in Poland; exclusive interviews with key figures including José Figueres, President of the Carbon War Room; articles from worldwide mayors; and solutions to urban challenges from companies such as Metso and Somfy.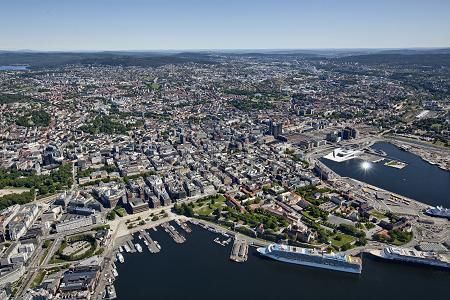 Climate Action has unveiled the much anticipated second edition of Sustainable Cities; the essential title for the sustainable urban development community.
The first edition of Sustainable Cities was released at the RIO+20 Earth Summit in June 2012 and the current edition will be presented at the key sustainability conferences and events this year.
With urbanisation and the transition to a green economy two of the greatest challenges of our time, cities present a unique opportunity to reduce our ecological footprint and adapt to a changing climate.
Improvements in transport, energy, construction, technology, and utilities hold the key to sustainable development and Climate Action, the United Nations Environment Programme (UNEP) supported communications platform, addresses these topic head on in the latest editon.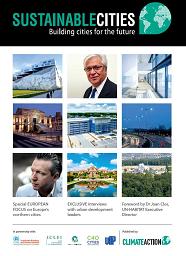 European focus
Sustainable Cities June 2013 features a special European focus in the lead up to COP19 in Poland. This section includes an exclusive article from Karl Falkenberg, Director-General of the DG for the Environment at the European Commission, that highlights the latest initiatives and policies being undertaken in the European Union.
This section also features the Mayor of Warsaw, Hanna Gronkiewicz-Waltz, who gives an insightful update on the work being done in Poland in preparation for the COP19 UN Climate Change Conference.
Exclusive interviews with Climate Leaders
The June edition also includes exclusive and extensive interviews with José Maria Figueres, the former president of Costa Rica and current President of the Carbon War Room; David Miller, former Mayor of Toronto; Patrik Schumacher, Senior Designer at Zaha Hadid Architects and Jane Burston, Head of the Centre for Carbon Measurement at the National Physical Laboratory.
The interviews go into detail and address the central topics in the sustainable development debate including policy and legislation, carbon management, green buildings and design and architecture.
Mayor's from around the world
The new edition also features perspectives from serving Mayor's from seven of the world's cities. These include Gustavo Fruet of Curitiba, Brazil; Emiko Okuyama of Sendai, Japan; Stian Berger Røsland of Oslo, Norway and Mohammad Bagher Ghalibaf of Tehran, Iran. They all give detailed updates of developments in their respective cities and examples of best practise that can be emulated by other cities.
Solutions from the private sector
This edition also includes strategic and technological solutions to today's urban challenges from the private sector. Companies such as Metso, Somfy, Ertzberg and Kingspan give examples of products, innovations and inventions that are giving cities a wider set of options and a greater chance to develop sustainably.
Sustainable Cities is circulated twice a year to ministers, global mayors, senior policy, planning and procurement staff, as well as international developers, facility heads and architects.

To order copies please contact:
wbrittlebank@climateactionprogramme.org