Amazon signs deal for 100% renewable electricity in their UK buildings
Amazon has announced a new deal to provide 100 per cent renewable electricity in all of their UK buildings.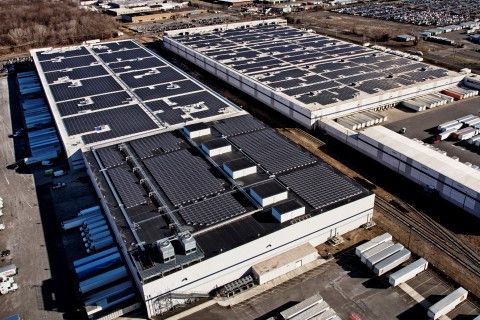 Amazon has announced a new deal to provide 100 per cent renewable electricity in all of their UK buildings.
The electricity will be fully backed by Renewable Energy Guarantee of Origin Certificates (REGOs) and will be generated from renewable sources such as solar or wind.
In addition to this, they will also install up to 20 megawatts of solar storage systems on fulfilment centre rooftops across the UK in the next eighteen months. This is part of Amazon's commitment to deploy solar systems on 50 customer fulfilment centres globally by 2020.
The solar panels are expected to generate the equivalent amount of electricity required to power over 4,500 UK homes and will reduce the company's carbon footprint by 6,000 tonnes of CO2 annually.
Stefano Perego, Operations Director for Amazon UK, said: "As our fulfilment network continues to expand, we want to help generate more renewable energy at both existing and new facilities around the world in partnership with community and business leaders. We are putting our scale and inventive culture to work on sustainability, which is good for the environment, our business, our customers, and the communities in which we operate. By diversifying our energy portfolio, we can keep business costs low and pass along further savings to customers."
Amazon also plan to install battery systems at a number of its fulfilment centres. These batteries will be charged at times of low demand and then used to power its buildings when commercial and consumer use is highest to ensure the grid can meet customer needs at peak times.
This announcement follows the UK Government's Green GB week with several companies such as BT and John Lewis committing to a sustainable future.
Photograph: Amazon
Interested in learning more about energy transition? Join us in Katowice for the Sustainable Innovation Forum 2018 alongside COP24 for the latest insights on the Green Economy, Sustainable Mobility, Energy Transition and Climate Finance.
Click here for further information.