Africa's largest wind farm to offset 900,000 tonnes of CO2 annually
Tarfaya on the southwestern coast of Morocco is home to Africa's largest onshore wind farm with a capacity of 300 megawatts (MW) – enough energy to power 1.5 million homes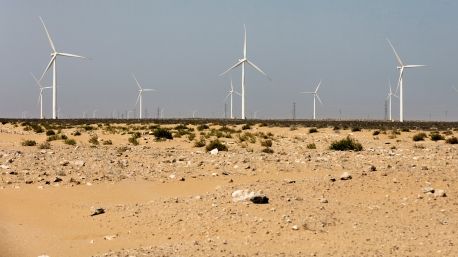 Tarfaya on the southwestern coast of Morocco is home to Africa's largest onshore wind farm with a capacity of 300 megawatts (MW) – enough energy to power 1.5 million homes.
In 2015 – the year the Tarfaya wind farm opened – 97 per cent of Morocco's energy came from imported fossil fuels, according to data from the World Bank.
However this is set to change as Morocco aims to increase the share of renewable energy sources in the nation's power mix to 52 per cent by 2030, with an interim target set at 42 per cent by 2020.
According to the Moroccan Investment Development Agency projections, the country's wind energy potential is around 25,000 MW.
The 131 wind turbines at Tarfaya are specially designed to withstand the region's corrosive conditions of both the salty ocean winds, desert sandstorms and the year round hot weather, Siemens – the project's developer – said.
The turbines have been fitted with a cooling system designed for high performance in harsh environments, which results in less turbine downtime and higher annual energy production.
Siemens energy management solutions – including transformers and control systems – mean that the renewable energy generated is fed into Morocco's power grid, providing a reliable supply of electricity for homes and businesses.
According to the automation company, the wind energy project is expected to offset 900,000 tonnes of CO2 emissions each year.
Furthermore, the Tarfaya wind farm provides an impressive 15 per cent of the 2,000 MW target set by the Moroccan government.
Morocco has also switched on the first phase of what will be one of the world's largest solar plants.
The plant, located just outside the town of Ouarzazate, will be the size of Marrakesh by the time it is finished in 2018, and provide enough electricity for 1.1 million people.
The Climate Investment Funds estimates that the plant will decrease CO2 emissions by around 760,000 tonnes each year.
According to research published by Stanford University, Morocco has the potential to run 100 per cent on renewable energy by 2050.
The report detailed that the optimal energy portfolio for Morocco would be composed of 65.6 per cent solar energy, 29.7 per cent onshore and offshore wind energy, 2.5 per cent hydropower, and an additional 2.1 per cent from marine energy.
To receive similar updates, sign up to our free newsletter here.
Image source: Siemens