Air Cycle set the bar high
Valerio Maria Speziali, CEO of the MIRAI INTEX SAGL, discusses innovative solutions providing refrigeration and air conditioning without an ecological footprint.
The development of clean technologies – research, innovation and funding – was a central focus of discussion at this year's COP22 in Marrakech. There has emerged a consensus among climate leaders that the creation of new, climate-resilient technologies is crucial if we are to stand any chance of adhering to the Paris Agreement, and blunting the most serious effects of climate change. As Solar Impulse II initiator and pilot, Bertrand Piccard, pointed out in an inspiring speech about green innovation: "You can't have growth if you produce what people already have."
Swiss engineering company, MIRAI INTEX, is one such organisation that has dedicated itself to the protection of the environment through the implementation and development of clean renewables based technologies. With innovative solutions based on air cycle technology and achieved through advanced scientific and technological developments, the young team provides environmentally friendly equipment aiming to make the world a better, cleaner place to live.
The Problem
In recent years, increasing concerns have been raised over the emission of greenhouse gases, and particularly harmful hydrofluorocarbon gases (HFCs) that are found in refrigerators and air conditioners. Whilst the emission of greenhouse gases generally is the main contributor to global warming, synthetic refrigerants like HFCs have the highest Global Warming Potential of all. In a landmark deal signed in Kigali, Rwanda, this October, 200 nations are now legally bound to cut back on HFCs, starting with a 10 per cent reduction by 2019 and reaching 85 per cent by 2036.
Although the Kigali Deal is a very important step in the right direction, common substitutes for HFCs can be just as harmful. To get around the new restrictions, industries have switched to natural refrigerants such as propane (R290), isobutene (R600a) and carbon dioxide (R744) - which are all greenhouse gases - or even ammonia (R717) - a toxic substance. Difficulties surrounding fire safety and impacts on the human body are linked to all of these options, not to mention the significant impact the extraction of natural refrigerants on an industrial scale will have on the environment. This is where MIRAI comes in.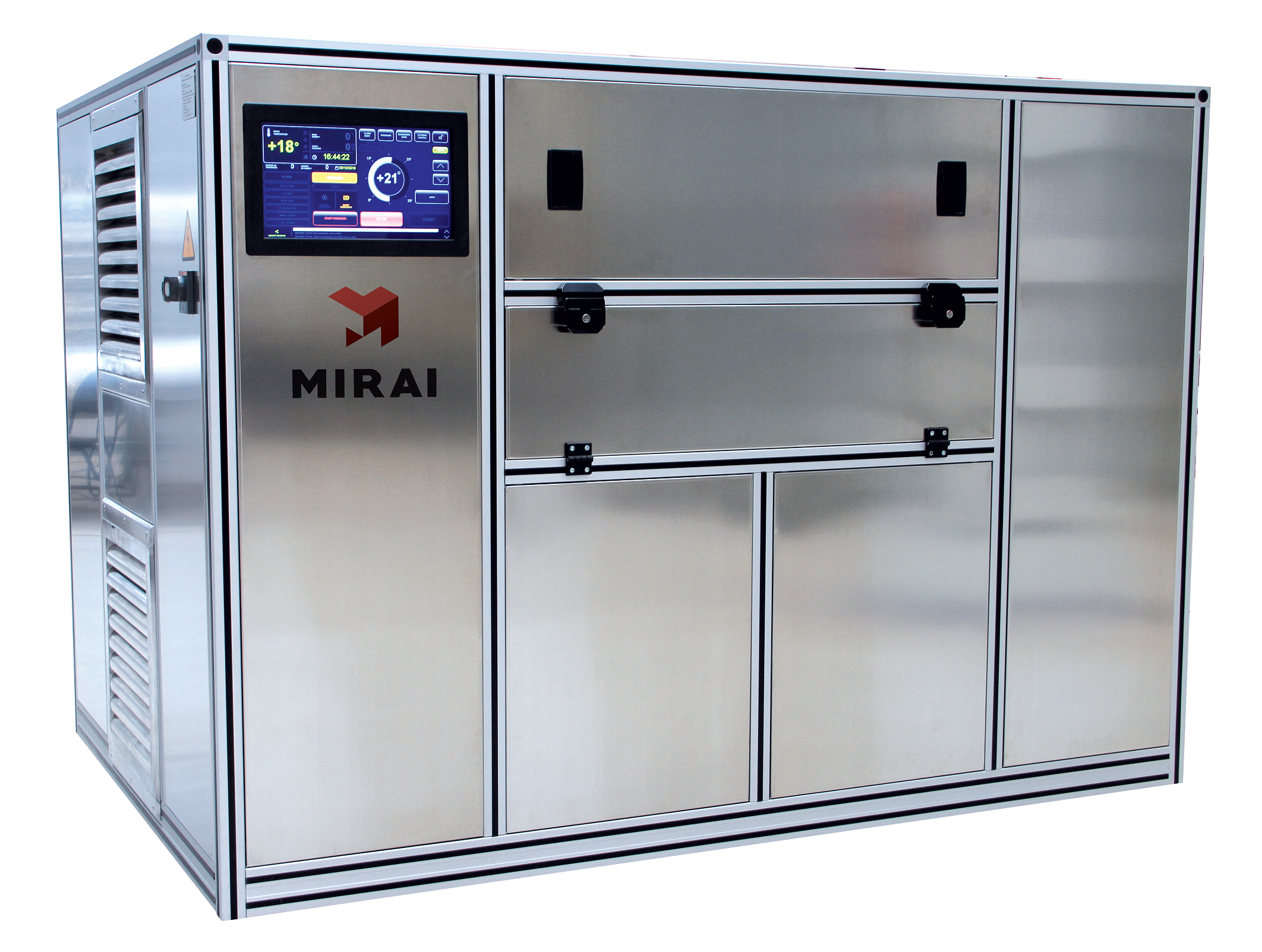 The Solution
The MIRAI team has spent many years researching and developing technology which offers a viable alternative to these harmful, chemical refrigerants. The result is remarkably simple: Natural, clean air (R729).
Air Cycle refrigeration technology is based on the application of the hot or cold air that is produced when compressing or expanding gases, utilizing natural air as a refrigerant. The hot or cold air produced from this clean, one-of-a-kind technology system can then be used for ventilation, heating and air conditioning purposes. Utilising this innovative technology system, MIRAI have produced two products: MIRAI COLD – a refrigerating machine and MIRAI CLIMATE – an air conditioning system. MIRAI INTEX is the first company to manufacture both commercially effective refrigeration and microclimate units based on Air Cycle technology, which is seen as a great opportunity to reach the European target for a reliable, affordable and sustainable energy supply.
The Science
'MIRAI COLD'
Firstly, MIRAI's Air Cycle technology is used in the MIRAI COLD refrigerating machine. Using a complex Air Cycle system involving numerous cooling stages, the MIRAI COLD Air Cycle machine solves the problems of refrigeration supply in the temperature range of –40°С to –80°С and lower, for use in freezing and storing purposes. The unit uses a system in which the compressor, expander and electric motor are located on the same shaft, allowing for the maximum and most effective utilization of the power being delivered from the expander to the compressor's drive. This technology makes it possible to cut energy consumption by 30% in comparison with standard systems.
Another key feature of the MIRAI COLD technology is the use of foil air bearings which ensure an absence of lubricants in the system, while guaranteeing no possibility of leakage into the system's flow channel. Using the MIRAI Cold system makes it possible to provide efficient, effective refrigeration supply in important fields such as storing biological materials and premium quality food products as the temperature can be regulated.
The machine is perfectly suitable for long-term storages of biomaterials and pharmaceuticals and food storages at ultra-low temperatures.
'MIRAI CLIMATE'
MIRAI's Air Cycle technology is also applied to create the MIRAI CLIMATE air conditioning unit. The key feature of this technology is that it allows for the recuperation of heat and exhaust air into the refrigeration cycle. Because of this, energy efficiency is equal to ordinary air conditioning during cooling operations, and more efficient during heating. This procedure therefore provides a constant supply of fresh air regardless of the operational conditions of the microclimate system, and means there is no negative impact on the environment.
Moreover, in extreme cold conditions, when the efficiency of classical heat pumps dramatically drops, an alternative Air Cycle heating system continues to transform renewable energy from air with growing coefficient of efficiency. This alternative uses the potential of renewable energy source and therefore will increase the global efficiency of the heat production throughout the year (from -50°С to +50°С) and its environmental sustainability.
The machine is perfectly suitable for ventilation, air conditioning and heating of private residences with floor space upwards of 300 m2 and public facilities (shopping centres, schools and kindergartens, cinema theatres, sport and medical centres, restaurants, industrial facilities etc.)
The Benefits
In terms of reducing environmental footprints, the benefits of switching to Air Cycle based machines are endless. Only electricity and natural air are required to power the equipment, offering a renewable, easily accessible, safe and free alternative to harmful HFC-powered products. There is no risk of leakage, nor of potential noncompliance with new legislation; creating a healthy, future-proof product. Moreover, the complete absence of harmful and dangerous chemicals such as HFCs, oils, high pressure vessels, noise and vibration make MIRAI's products an undisputed leader in terms of human healthcare.
Since the Kigali Deal, the search for environmentally safe refrigerants remains a priority in the global fight against climate change. The use of natural air in refrigeration and climate systems is without a doubt the most promising option. We must now bring together engineering companies, environmentally-focused NGOs and government agencies, to raise awareness of the great potential of this new technology, and facilitate the necessary global switch towards zero-emissions machinery.
Visit www.mirai-intex.ch for more information.