Sarah Collins: Wonderbag's founder explains how her invention is changing lives
The Wonderbag is made from an insulated material in which people can cook anything without the use of additional energy and so significantly reduces carbon emissions. Climate Action sat down with Sarah Collins, Wonderbag's founder, to find out more.
Sarah Collins has worked in social development for over twenty years. She spent the majority of her early career in the field of community-based ecotourism, founding two projects in Botswana. She founded an NGO, Take Back the Future, which trains young people to take ownership of their natural resources, game reserves and parks. Sarah also started Woman Forward, a political party in South Africa focused on rural development for women.
Since 2008, the Wonderbag has been her passion and focus. The bag is made from an insulated material in which people can cook anything. Food that has started cooking is placed in the Wonderbag and the insulating properties allow food that has been brought to the boil to finish cooking without the use of additional energy and so significantly reduces carbon emissions. Climate Action sat down with Sarah Collins, Wonderbag's founder, to find out more.
Having been involved with community-based ecotourism, founding the NGO, Take Back the Future, and founding the Wonderbag business, what has given you the inspiration and drive to achieve so much?
I think the answer is that I grew up in apartheid South Africa- which was quite traumatic in some ways- I became political from a very young age. We were an entrepreneurial family too- my dad said you never say "no" you say "I'll make a plan", so that's how we grew up. We grew up in a solutions based family- instead of looking at something as just a problem we always saw a solution. In Africa we were fortunate to have travelled a lot and spent time in the bush – you become quite resilient. I always wondered why I was constantly involved in social development and my father said I was like that as a young child; I questioned the discrepancies in South Africa. I just deeply care about people and I knew the only way to be successful was to turn my ideas into a business.
Can you explain the inspiration behind the Wonderbag?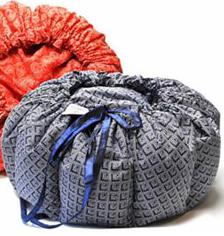 It was very simple really, I had my own business in community based tourism in Botswana and everyone there cooks on open fires, the issue was really a lack of firewood. And cooking all day on fires, what worried me was smoke in people's homes; children were exposed to a lot of fumes. And in 2008 in South Africa we had load shedding; we had no electricity for 4 months- so we had a very intermittent electricity supply. I thought "there has to be something". My grandma used to cook with cushions; she used to bring food to boil and then put the food inside them. Heat retention cooking is really an age old thing- and I knew there has to be a way we can do this on a big scale- so I made my own cushions and started to experiment. I brought them into communities and really saw the impact they could have. I bumped into a woman on plane- she was wearing a beautiful dress and she said could make them as she had particular contacts at NGO's - I explained to her about these cushions and she came to me the next day with my first bag! She had spent the whole night having interpreted what I'd said and she'd turned it into the bag! So that was the first of the Wonderbag and she's now my manufacturing partner and has 2,000 people making them.
The Wonderbag uses significantly less fuel than other forms of cooking and reduces emissions. Could you expand on the environmental benefits?
The bag can reduce the amount of fossil fuels that people use for cooking by 90 per cent. It has a massive impact on carbon released into the environment through cooking. When 7 billion people are cooking you realise the impact something like the Wonderbag can have. Business model we have is selling carbon credits- we harvest the carbon and the energy saved from bags is converted into credits; we save one carbon tonne per bag per year- a really significant amount. We sold our first carbon offset to Microsoft at the end of last year which was a big day for us; it's taken me 4 years to get verified carbon. So we sold that to Microsoft who announced in May last year that they're going carbon neutral as an organisation. There's a huge saving on water as well as the bag uses a quarter of the water you would normally use. So the environmental benefits are absolutely massive.
"The bag can reduce the amount of fossil fuels that people use for cooking by 90 per cent"
Unilever are a now a distribution partner; how did that come about and what are you hoping they will bring to the partnership?
That was quite a chance of luck really. I met with a brand manager from Unilever but there wasn't much interest initially. But Paul Polman (Unilever's CEO) saw the bag at the 2010 South Africa World Cup by chance and thought it was an amazing product. They gave it a go and the bag increased its rate of sale to 247 per cent which is the highest increase ever of a Unilever operative sale; it's unbelievable. Paul called and we met in London and have really developed that partnership- it's been fantastic from a Unilever perspective because the Wonderbag drives their bottom line. That's why we went to Davos (for the World Economic Forum); this is a solution that all corporations should be incorporating into their strategies in some form or another. So as one of our distribution partners- it's helped us get traction and they have huge brand loyalty; they're trusted and they wouldn't put something into the market that doesn't work and isn't good for consumers.
What was you experience at Davos and what do you think world leaders will come away with from this years Forum?
We went with Paul Polman and he got us in front of the right people at the right time. My experience was extremely positive; on the last evening we were invited to cook a private meal for Muhammad Yunus (Chairman, Yunus Centre, Bangladesh- Pictured Right) and all the people who work around him, we had a dinner with them with the Wonderbag- all of these people are working on really amazing social businesses and social solutions so that was fantastic. People have realised that the time has run out to talk and it's what you do that matters. If everybody gets together you can make a substantial difference if you back the right things. I was interviewed by a German radio station and they said what can be achieved at Davos or was it just talk: for me the experience wasn't at all like that, people genuinely want to make a difference. Having been to so many conferences in my life I really felt that this had traction and when people make commitments they are in a position where they have to see them through. I've had a lot of contact from CEO's we met at Davos and they've said they are really interested by the Wonderbag and want to get it into peoples homes. My experience has been very positive and people are really looking for innovations that are going to change things.
How successful is the Wonderbag in developing countries and what are the benefits of it becoming widely available there?
My primary focus are the people who live on a dollar a day in the developing world. They can't afford these products- so I've spent 2 weeks in Jordan and Syria looking at expanding our partnership with certain agencies. They help to feed millions of people around the world- so we're looking at the humanitarian side and getting bags into the poorest and most rural communities in the world. The business model we have in the UK is that consumers buy one and subsidise one in the developing world. If you look at Rwanda where they use charcoal and they've run out of trees from deforestation, the Wonderbag is a great option and really helps to solve these issues. Fuel costs are going up all over the world - while I was in Jordan there were riots at the cost of gas. One of the issues that encouraged me to begin the business is that in Africa girls are sent to get firewood and 68 per cent of rapes occur when they are collecting wood - so there are multiple benefits.
How do you feel the industry is shaping and developing, and what do you feel governments can greater do to help business within this sector?
For me, it's time for governments to put away quibbles and personal agendas and start supporting things on the ground. The government in South Africa needs to stimulate sustainable development and promote innovative solutions and social entrepreneurs. Governments need to start talking and listening to some of the 'smaller' people as there are some incredible solutions out there that are being ignored. I hadn't had any South African business or government representatives that were supporting me and I laid my cards on the table at Davos; I asked these people where the support has been. It's the same with other people who have innovated and have really important products and ideas- governments need to start supporting them.
"it's time for governments to put away quibbles and personal agendas and start supporting things on the ground"
What have you found to be the biggest challenges in the industry?
Money, and the volatility of carbon market. When I started carbon was €34 a tonne and it's now below 50 cents. I'm lucky because we're not about purely carbon credits. To sum it up it's been the 'crash'- the last 4 years- and starting business in this climate has been really tough. My advice to aspiring investors and entrepreneurs is that things take longer than one thinks - plenty of people will say "no" and there will be negativity but you've got to be fearless and find a way. I thought I'd be a global player in 6 months and it's going on 5 years.
One of the barriers is getting it to people and communities that don't have the money and can't afford these sorts of products. We're looking for businesses that will promote the bag and get it to people at right the price. A big challenge for the next 2 years is Kenya and Nigeria, also South East Asia. India is also a big market that would really benefit. We to get the right partner in the right countries- most important thing for us is really distribution.
One of the challenges we have in the developed world is the perception that the bag represents a 'behaviour change'. But there is no demand for any real change. It's a non electric slow cooker-slow cooking has been around for hundreds if not thousands years. In the western world there's a big drive to slow cooking and one pot cooking, and health and nutrition. The Wonderbag really caters for this; keeps it all in one bag, doesn't boil off and promotes healthy eating. It surpasses all cultural barriers; I never thought I'd produce product that could appeal to so many people!