Marcelo Castillo Agurto on the important role power grids will play in the energy transition
After the Sustainable Innovation Forum at COP27, Climate Action caught up with Marcelo Castillo Agurto, Head of Business Development at Enel Group, to discuss the important role power grids will play in the energy transition.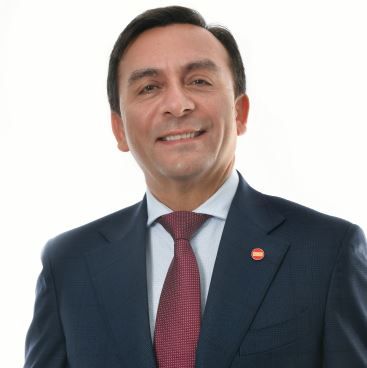 After the Sustainable Innovation Forum at COP27, Climate Action caught up with Marcelo Castillo Agurto, Head of Business Development at Enel Group, to discuss the important role power grids will play in the energy transition.
Why are power grids key to reach the decarbonization targets and how can Enel contribute to accelerate this journey?
Power grids will play a fundamental role in the energy transition acting as enabler in accelerating energy system sustainability, reliability, development, and digitalization. Power grids favor renewable energies integration helping in decarbonizing the whole system as well as facilitate energy access to communities and countries ensuring its economic and social progress.
In this scenario, Enel Grids has adopted Grid Futurability as its global and customer-oriented industrial approach through which, based among others on digitalization and innovation, achieve zero emission ambitions.
As Grid Futurability, grids infrastructures must become smart inclusive and participatory platforms, fostering the engagement and interaction of all stakeholders, unlocking at the same time new innovative business models, electricity services and shared value opportunities. Considering climate change impact on one side and increasing system electrification rates on the other, grid infrastructures must be resilient enough to improve customer service reliability and quality, ensuring that no one is left behind, preventing Climate Change from exacerbating existing inequalities. Furthermore, grids must become more and more sustainable, leveraging also on circular-economy approach within its strategy and operations to maximize economic value, reduce environmental footprint and raw materials consumption, or extending grid component life span or ensuring new life cycles through new business models and closed/open loop solutions. Some specific Enel Grids' examples that can be mentioned: new smart meters produced by a 100% recycled polycarbonate coming from old meters once reached their end of life; transformers with biodegradable insulation oils; SF6 free solutions for HV and MV components, substitution of electric concrete poles and grids cables with new ones produced with low impact materials leveraging on circular economy.
Grid Futurability, triggered by technology, digitalization and innovation, reinforces and strengthens power networks transforming them into robust, resilient, participatory and sustainable Smart Grids with high level operational performances.
How can private players support the overcoming energy sector challenges of developing countries (in particular, in the African context)?
The private sector, working together with public institutions, can support sustainable growth by securing renewable energy access and power grids development. Global private utilities play a key role to accelerate electricity access, to improve quality of service, to raise efficiencies and to foster economic and social prosperity by promoting investments and contributing to communities' sustainable progress.
Africa accounts for only 6% of the global energy demand and little more than 3% of the global electricity demand[1], concentrated in the North region and South Africa. The expected electricity demand is foreseen to grow faster than anywhere else with the fact that African population expected to double by 2050[2], and therefore rapidly developing economically and demographically.
Nevertheless, energy access and energy transition in most of African countries are still topics to deal with (still 580 million people lacking access to electricity[3]), therefore first step is to enable a Just Transition to ensure access to electricity also preventing Climate Change from exacerbating existing social inequalities.
Advanced power grids will significantly contribute to reach a variety of long-term sustainable developments in the continent, such as socio-economic growth, job creation, improved health systems achieved only by leveraging on an open ecosystem made of robust national and international partnerships that work together to implement scalable solutions across the continent.
Energy access, innovation and digitalization must be the focus for investments, to manage risks and resources and provide reliable, affordable, and sustainable electricity supply to all African people and businesses. Operating a distribution network successfully is far beyond simply giving electricity access to customers or solving pure technical issues. It means to interact with different stakeholders (i.e.: regulator, policy makers, institutions), to deal with daily customers' needs, providing new technologies and services while accelerating a just energy transition.
Enel has proven experience in managing networks in developing countries around the world. By continuously introducing technology and making its operational processes more competent by implementing digitalization on them, Enel has contributed with energy access in the areas in which we operate as well as supplying customers a better quality of service with lower costs. So, more technology, more quality of service, more engagement of local ecosystem to co-design a grid that is harmonically integrated in the local context, efficiencies for the sector.
Thanks to initiatives such as the "Grids4Africa" program, the private sector can also support, share experiences and know how to contribute to the definition of a political and regulatory roadmap of electricity distribution services support in Africa.
How can digital power grids favor the achievement of sustainability goals of the electricity sector?
To ensure grids are able to supply electricity to customer with the quality of service they expect and need, investments in digitalization, innovation and in a data driven approach are necessary.
Smart meters, already at an advanced stage of implementation in Europe, represent an excellent starting point for grid digitalization, acting these devices as sensors on field supplying many useful information to improve operations and performances when managing the network (alarms from failures on field, accurate billing process, possibility of limiting customers consumption if necessary due to system constraints, etc.).
Also, customers and other stakeholders get benefit from them, for example: customers become more conscious of their energy use making their consumption more efficient and their billing more accurate, while the electric system evolves towards higher efficiency standards with more efficient tariffs due to the management performance improvement.
Enel has been the first operator in the world to implement a massive roll-out of smart meters (2001 in Italy with 32M meters), continuing later on in other countries in which the company operates, so we have quite an extended experience on this field to contribute with.
Another relevant step is the implementation of remote control and grid real-time monitoring, able to quickly identify grid faults, minimizing duration and number of physical interventions, and so guaranteeing adequate levels of quality and resilience. The quality of service is further enhanced by automatic operation of the distribution grids, through the adoption of advanced technologies and automation tools that will unlock innovative functionalities such as MV-LV networks self-healing.
All this can be addressed only by accelerating energy transition, promoting grid investments, and adopting digital and innovative solutions that can help in reducing operational costs; long-term energy planning under a forward-looking perspective is key for achieving this goal, as well as the support of a stable, transparent, and robust policy and regulatory framework.
Gridspertise, the company launched by Enel Grids in 2021 fully dedicated to accelerating the digitalization of power grids through cutting-edge and flexible solutions, can address some of the main challenges for Africa in collaboration with local DSOs. Among others: revenue protection can be improved with an ecosystem of smart meters and field devices; power reliability can be upgraded thanks to the Grid Automation Management solution and new solutions like QEd - Quantum Edge® Device; efficiency can be enhanced thanks to the prompt identification of vegetation and other elements that can interfere with distribution networks through Digital Asset and Vegetation Intelligence; and fast response and restoration can be ensured by digital Enhanced Workforce applications prompting safe intervention in case of outages
[1] RES4Africa (2020), Connecting the Dots
[2] https://www.economist.com/special-report/2020/03/26/africas-population-will-double-by-2050
[3] IEA Africa Energy Outlook 2019