Dr Jennie Dodson on the role public-private collaborations have played in the energy transition
Ahead of the Energy Transition Summit, taking place on the 25 & 27 May, Climate Action caught up with Dr Jennie Dodson, Head Mission Innovation Secretariat and Head UK Mission Innovation team, UK Department for Business, Energy & Industrial Strategy, to discuss the role public-private collaborations have played in the energy transition.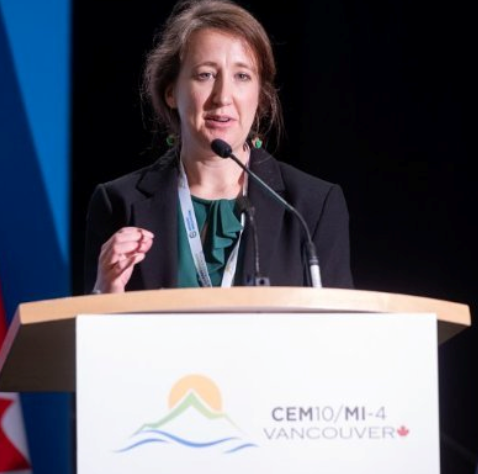 Ahead of the Energy Transition Summit, taking place on the 25 & 27 May, Climate Action caught up with Dr Jennie Dodson, Head Mission Innovation Secretariat and Head UK Mission Innovation team, UK Department for Business, Energy & Industrial Strategy, to discuss the role public-private collaborations have played in the energy transition.
Jennie, wonderful to have you join us. Mission Innovation was born at COP21 in Paris, a testament to the role these meetings play in forging cross sector partnerships and aligning national objectives on key climate issues. Whilst 5 years is not a lot of time to get this project off the ground, but Phase One of the MI has achieved so much to date, what have been some of the biggest moments over the last years?
In the first five years, Mission Innovation (MI) has seen country members strengthen their collaboration and increase their investments in clean energy innovation by USD 4.9 bn annually. During this period a number of countries have already doubled their MI related investments including Netherlands and the UK.
In terms of international collaborations, which counted more than 70, notable were: the Global Cooling Prize (US$3.0 million), led by the Indian Government, the Rocky Mountain Institute, and Mission Innovation, which has led to demonstration of residential cooling technologies with the potential for five times less climate impact than market offerings – at no more than two times the first investment cost; the Innovation Challenges - MI members have worked together on eight innovation challenges, to increase collaboration in priority technology areas. For instance on Carbon Capture and Storage, members have worked with the Accelerating Carbon Capture and Storage Technologies (ACT) Platform, which provides a mechanism for countries to pool funding for CCUS research and enable collaboration between members on priority areas that have been identified by the Innovation Challenge; the Breakthrough Energy Ventures – Europe (BEV-E), a new €100M public-private investment fund launched in October 2018 by the European Commission and the Bill Gates led Breakthrough Energy which will invest in technologies that can make material greenhouse gas emissions reductions in five key areas that are essential to combat climate change: electricity, transportation, agriculture, manufacturing, and buildings; finally, Breakthrough Energy Solutions Canada (BESC), launched at MI-4 in Vancouver in 2019 by Canada, in partnership with Bill Gates' Breakthrough Energy, to increase the impact of clean energy investments and enhance the pace and scale of the adoption of clean energy technology. This initiative seeks to advance breakthrough technologies that have the potential to reduce GHG emissions by 0.5 gigatonnes annually (by 2050) in manufacturing, electricity, transportation, and buildings.
If you look at the numbers, not every MI member is on track to double investment into clean energy research. But an additional $4.9bn USD is being invested annually by reporting members, up 60% since the initiative's inception in 2015. MI members are responsible for almost all innovation investments globally and their efforts are bringing down the costs of technologies dramatically, what impact has this had for the global energy transition?
You're right that costs for clean technologies have fallen dramatically, and probably more than anything else that's what helping accelerate shifts towards clean energy globally. Just look at solar. Predictions about solar power's global penetration dating back to 2015 when MI was founded are proving to be wildly off the mark. And that's a good thing! As costs for renewables come down – in many markets solar now provides the cheapest electricity in history – deployment increases. And thanks to more innovation and economies of scale, that keeps lowering costs more and more. It's a virtuous cycle. But frankly, it's not enough. Every sector we focus on needs this dynamic of innovation, followed by cost declines, followed by an increase in deployment, and so on. This really has to be the decade that we make sure there are affordable solutions for every decarbonisation challenge.
Bill Gates really pushed for the first Phase One of Mission Innovation. Along with other investors Mr Gates set up Breakthrough Energy Ventures. What impact have public-private collaborations such as these, and a more active investment community played in clean energy progress since Paris and how do we take this momentum forward?
The private sector is absolutely a key partner in decarbonisation. It's not just their vast supply chains and investment dollars, it's also their staggering ability to innovate. You mention Breakthrough Energy. Breakthrough is really helping enhance how the private sector approaches climate innovation. For example, Breakthrough's "Catalyst Program" identified a handful of technologies like sustainable aviation fuel and green hydrogen where the technology is basically there, but the know-how to scale them up to actually compete with fossil fuels in the marketplace is not. Making these technologies commercially viable – helping them reach a tipping point – not only boosts companies and rewards investors directly involved in these technologies, it has a ripple effect that helps other companies in totally different sectors lower their own emissions, increase their bottom lines and deliver what their own customers and investors increasingly demand – which is bold climate action now.
Taking this kind of momentum forward I do think requires government to help. Government is essential to enable businesses focused on low-carbon technologies to grow and thrive, which means stronger economies and more jobs. Whether it's green standards, public procurement, RD&D funding or public investments in clean transportation and grid infrastructure, governments build policy frameworks that help the private sector turbo-charge our transition to net-zero.
We are in a very different place globally than we were in the lead up to COP21 in Paris. A lot has changed for the better, but many fear the global pandemic and the economic cost to many countries will slow down investment and financing by governments into climate action and clean energy technologies. Are you worried that the pandemic will impact your progress in the next chapter of Mission Innovation? Could this also be an opportunity for governments to look at innovation as a means to navigate economic recovery and jobs?
This has I think for a lot of us been a year of incredible sadness, faith, hope, stress, community and constant change. At the same time, it's also hard not to think back on the past year without acknowledging the role innovation has played in our lives, especially as vaccines that didn't even exist a year ago are now slowly leading us out of the pandemic.
As far as Covid's impact on Mission Innovation's progress, I think the jury is still out. If governments in areas like Europe use this as a moment to imagine what globally competitive economies and workforces will look like in 2050, and if they are truly serious about addressing climate change, I think they will see that putting climate- and energy-related innovation and workforce training at the core of any recovery plans is absolutely essential. So stay tuned.
Climate action is what people want, and it's what they expect from their leaders. Mission Innovation is trying to help their governments deliver it.
MI 2.0 is on the horizon. Last year the member countries agreed to a 'phase two' of the initiative. What are the key differences in terms our goals and outcomes from MI 2.0, are you taking a different approach to phase one or keeping to the same approach?
You'll have to join the launch on 2 June at our Innovating to Net Zero Summit! As you say last year governments agreed that the space for collective action in Mission Innovation is incredibly valuable and delivering real impact. But they also recognised that the world has changed from when MI was first launched in 2015 and the urgency means that we need to shift to focus on outcomes that will accelerate climate action.
We're launching global missions which are public-private alliances setting ambitious goals that can lead to tipping points in the cost and scale of clean energy solutions. I'm really excited about the first three of these on hydrogen, shipping and power which will be a completely new approach for international climate action. The second key focus is on giving everyone confidence in these emerging solutions so that they can build them into national or business planning. We'll have an increased focus on data, knowledge sharing and working with the investment community.
When and how can our audience find out more about phase 2?
I encourage everyone to attend the events hosted by Chile for the 6th MI Ministerial and 12th Clean Energy Ministerial from 31 May – 6 June. On 2 June, we will be launching at MI 2.0 at the Innovating to Net Zero Summit. Attended by world leaders, business leaders, Ministers and renowned experts this will be the most important innovation event of the year. You can read more about it here and register to watch the launch event live here.
Confirmed guests include U.S. Special Presidential Envoy for Climate, John Kerry; businessman and former New York Mayor, Michael Bloomberg; World Energy Council´s Secretary General Angela Wilkinson; and the World Economic Forum President, Borge Brende; COP 25 and COP 26 Climate ChangeChampions, Gonzalo Muñoz and Nigel Topping, respectively; Environmental Explorer Bertrand Piccard, and Undersecretary General and Executive Director of the United Nations Environment Programme, Inger Andersen.
The main issues the Summit will address are social, economic and climate challenges, such as decarbonizing, electromobility, green hydrogen and the necessary innovations for achieving carbon neutrality.
The event will be hosted on a specially created digital platform which will allow everybody who is interested around the world to access on-demand content, like talks, panels, ministerial plenary sessions, themed side events and lectures by renowned public figures. Alongside with this, a virtual Fair with 36 stands of companies and institutions leading the energy change will take place.
COP26 is a matter of months away. Mission Innovation was born out of COP21. What are your expectations of COP? 2 weeks in Glasgow certainly isn't going to fix the climate crisis, but for many it is the last best hope of setting a course for net zero?
COP 26 is important, no doubt. But there's no last best hope for us. Climate change is the central environmental challenge of our time, and I know that all of us working on this issue will rise to meet that challenge.
MI is in the unique position of closely working with dozens of governments, businesses, energy and environment experts, and world leaders, all of whom have committed to focus on accelerating innovation, and all are in a position to actually follow through on those commitments and actually do something about them. From where we sit, it's hard not to be optimistic.
Rather than worry too much about what's happening in Glasgow over the course of two weeks in November, we're much more focused on– and we invite everyone to join us.
You can read more about it here and register to watch the launch event live here.
---
The Energy Transition Summit is taking place on the 25 & 27 May! Register now to connect with key players in the energy sector to further drive this net-zero transition through policy and regulation, to innovation, technology and investment.