Solar-powered ambulance to save lives in Bangladesh
The solar three-wheeled ambulance can run entirely on solar power and is perfect for Bangladesh's many rural areas without adequate services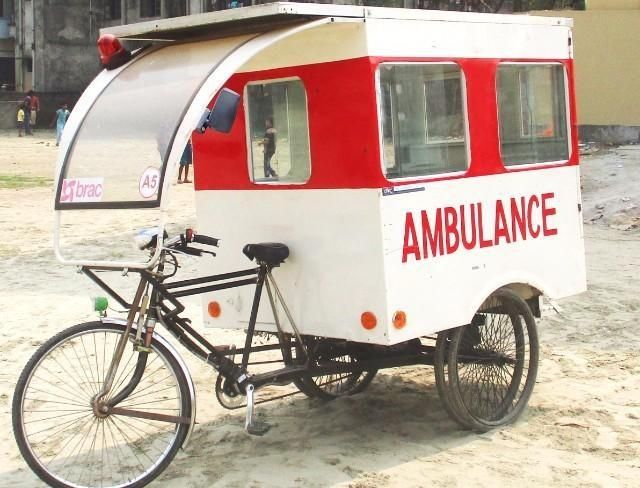 The solar three-wheeled ambulance can run entirely on solar power and is perfect for Bangladesh's many rural areas without adequate services.
According to the developers, the ambulance is as well-equipped as the conventional ambulances used in Bangladesh's cities and costs a fraction of the price at just $1,900 to $2,500 compared to at least $30,000.
The vehicle is able to accommodate three people, has a maximum speed of 9-12 miles per hour (15-20 kilometres per hour) and a range of up to 30 miles (50 kilometres).
The solar ambulance includes four 100-watt solar panels and can be used in rural areas with no grid electricity.
In addition, the vehicle's bank of four 12-volt solar batteries mean the ambulance can also operate outside daylight hours.
In many rural areas, emergency patients are often taken to hospital in slow hand-pulled rickshaw vans, but the new, small three-wheeler ambulance is capable of travelling along narrow rural roads unlike larger conventional vehicles.
The project is the result of collaboration between BRAC University in Dhaka and local vehicle manufacture Beevatech.
The World Bank via Bangladesh's Infrastructure Development Company Limited financed the project, with seed funding provided by the U.S. Institute of Electrical and Electronics Engineers.
Abdul Malek Azad, Professor at BRAC University and project leader, said: "I thought a low-cost ambulance service would be a good idea for these rural clinics. And by using solar power we can reduce operational costs and save the environment."
The inspiration for the project came from solar-powered racing cars in Australia.
Azad said: "I thought if researchers can develop a solar racing car, there is potential to develop a solar ambulance."
The vehicle is currently in the field testing stage and is expected to go into production by the end of 2017.
Azad went on to say: "The last layer of the development includes installation of a battery charging station (at a hospital or other site close by) that is completely fuelled by a solar canopy."
For the latest news on green innovation, sign up to our free newsletter here.
Source: Thomson Reuters Foundation, the charitable arm of Thomson Reuters, which covers humanitarian news, climate change, resilience, women's rights, trafficking and property rights.
Image source: Gas2