Google steps offshore in search of sustainability
In an effort to reduce its rapidly rising energy consumption, Google is now expanding into offshore wind power in the US. Its new 'Atlantic wind connection' project will power around two million homes and stretch for 350 miles from New Jersey to Virginia.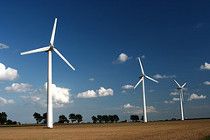 You may have heard of Google's sustainability efforts; from 'green' data centres and offices, to bringing in goats to chew down the grass on their corporate campus. Now Google is embarking on another effort in sustainability with offshore windmills to power their company.

A few facts about wind power's renewable energy:
A single wind turbine can power over 300 homes if it is well designed. To start a turbine, the winds only need to reach fourteen miles per hour, so places with light wind such as the UK are able to use it with ease.
Wind power was used as far back as 5000 BCE for ships, wind mills, and power pumps.
Contrary to popular thought, wind power is not harmful to birds. A study by NASA has shown that windmills have no significant impact on birds.
In 2008, enough wind power was generated in the U.S. to power the entire state of Colorado

While these facts are impressive, even more information is being discovered about wind power all the time. It seems only fitting that Google, a company that is based on information and technology, can start funding a project that will lead to more wind power findings. In the Atlantic Ocean, Google is investing $5 billion on a 350 mile stretch of land from New Jersey to Virginia to create a large scale wind farm. The strong winds that blow over the sea are ideal for a wind farm because of all the energy they can produce. It will be a pioneer effort to become the first U.S. offshore wind farm in full operation. Google is hoping to attract other companies to the project by investing a substantial 37.5 percent of the initial funds.
Google representatives are as excited about the project as the "green geeks." The Director of Green Business Operations and Strategy at Google, Rick Needham, describes the project as a "superhighway" of energy. He stated that not being afraid to take risks has gotten the company to where it is today and that they hope that this will be a good example to other companies on what can be possible. The project is called the Atlantic Wind Connection and once completed it will bring wind energy to an estimated 2 million homes.
Last year, Google invested in 20 years of wind energy and created a branch in the company called Google Energy. This doesn't necessarily mean that Google is taking over everyone's power bills. Rather, it means that the company is actively seeking alternative, greener, sources of energy to power its infrastructure in the future. Any excess energy the company might generate it plans to sell to back to the grid, so that everything from our home computers to our garage doors can be powered by clean energy.
Chris Keenan is a green and general blog writer. He writes for many sites including Precision Garage Door. Chris also maintains a personal blog at The Keenan Cookbook.